Posted On: 12/20/18 11:06 AM
The 2021 class has some serious stud liberos.   Samantha Naber Samantha Naber 5'7" | DS/L Burlington | 2021 State WI  (Burlington – Sky High) was one of the first to make her verbal commit heading to Marquette in the Big East.  Next came  Anna Holland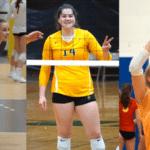 Anna Holland 5'6" | DS/L Waukesha West | 2021 State WI  (Waukesha West – Milwaukee Sting) is going to Seton Hall (also in the Big East).  Who will be next?  With a big club season about to start, there are plenty of talented liberos who will make a huge impact for their club teams.  Here are some defensive players that have been operating under the radar.
Isabella Halcomb – 5'5 - Milwaukee Sting 16 Black – Catholic Memorial (36-13)
Catholic Memorial was not deep in high level defensive specialists like some other schools that had big high school campaigns.  After graduating Paiton Kujawa and Lauren Mudlaff Lauren Mudlaff 5'8" | OH/DS Catholic Memorial | 2018 State WI in 2018, the Crusaders looked to Halcomb to lead their defense.  She is currently ranked #33 in the Prep Dig Class of 2021 Rankings.    
Grace Antifinger – 5'5 – Catholic Central (39-7)
Central was one of the most dominant teams to watch this fall in the state tournament, and that started with their first contact by Antifinger.  She is gritty on defense and finds a way to get