Posted On: 02/20/20 1:30 PM
Going to a big time tournament like Triple Crown, you see athletes who are future teammates, future rivals, and future matchups in the NCAA tournament.  They will be on ESPN, the Big Ten Network, and other volleyball publications. Who knows, with new rules coming down the line they might even be able to make money off their own name, I digress.  We aren't even two months into the club season and I've seen plenty of future Big Ten athletes and yes, the Big Ten is going to get better and better. These are athletes I have seen with the "Live Eye".  This isn't hear say, this isn't what I've researched, it's what I see on the court. Here is a quick glance at what we can see in the Big Ten in years to come.
[player_tooltip player_id="21869" first="Brooke" last="Mosher"]
Illinois 
The incoming Illini are extremely dynamic, seeing Sophia Gregus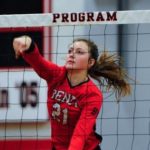 Sophia Gregus 6'1" | OH Benet Academy | 2020 State IL who is playing for Adversity 18 Adidas out of the Chicago area.  Class of 2021 setter Brooke Mosher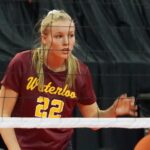 Brooke Mosher 5'11" | S Waterloo | 2021 State WI is the real deal. She is playing on the FC Elite 18 Elite team where she can do anything and everything.  She will be going to Illinois to set, but she can hammer on the pin and can be used in multiple ways. She can also score plenty of points from the service line with a hard-driven jump serve that just sinks at the end.  There are times where her serve will hit the floor before anyone can touch it and this is at the 18 Open level.  
Indiana 
Indiana was able to get two Class of 2022 athletes before the recruiting rules changed in May of 2019 and they are two top athletes from Illinois.  Katie Hurta Katie Hurta 6'0" | S Nazareth | 2022 IL is a setter/right side for 1st Alliance 16 Silver and Ella Holmstrom Ella Holmstrom 6'1" | OH Guilford | 2022 IL is an outside hitter for VC United 161. Holmstrom is long, athletic, a great jumper and a major point-scoring machine.  She is part of a really strong training program at VC United where she is a true six rotation athlete who is extremely well rounded. Hurta is a six rotation player meaning for three rotations she swings from the pin and in the backrow she sets.  So athletic and extremely high IQ, Hurta gets it done. She's gritty and the type of player you need to take your program to the next level. 
Future @IndianaVB commit and @1stAllianceVBC setter/outside so fun to watch- she contributes everywhere. Her IQ is beyond her years. pic.twitter.com/mNBgMbdxzI

— Chris Fitzgerald (@PrepDigChris) February 17, 2020
Iowa 
Sydney Dennis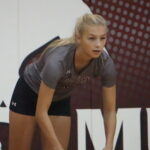 Sydney Dennis 5'5" | DS/L Mount Vernon | 2021 State IA and Lauren Schrock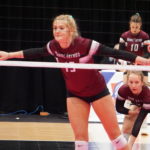 Lauren Schrock 6'2" | OH Mount Vernon | 2021 State IA are two of the top athletes in Iowa out of the Class of 2021.  Dennis is the top libero in the state while Schrock shows power at the pin from the left or right side.  They are playing on Adrenaline 18 Austin which they snagged a bid to nationals at the Northern Lights Qualifier.  Dennis has really stood out with her ability to have a huge range on the court and her all around athletic ability.  She was part of the 17s Eastern Iowa Xtreme team that won the 17s National Division title at USAV in 2019.
Maryland 
Have not seen any Maryland commits yet this season. 
Michigan 
[player_tooltip player_id="14097" first="Kendall" last="Murray"]
Kendall Murray Kendall Murray 6'2" | MB Ann Arbor Skyline | 2020 State MI will be a great addition to Michigan's uber athletic squad as someone who makes touching over ten feet look relatively easy.  She is long, athletic, a point scorer no matter where she is on the court and has been nothing but successful in her high school and club careers.  Who knows, maybe another Murray will be joining her in younger sister, Harper who has been a star at the 15s level for Legacy out of Detroit who won a Triple Crown title along with their 18s team.  Another Triple Crown winner who is coming into Michigan is Class of 2021 middle blocker, Jaque Boney who was on the A5 17-Jing squad who took home hardware. Boney will be coming in with another middle in Mira Chopra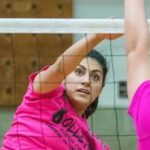 Mira Chopra 6'3" | MB Champaign Central | 2021 State IL who plays for Illini Elite.  Both can change the game with their play in the middle and the two of them coming in will be an immediate force in their gym. 
Michigan State
Michigan State is bringing in a strong trio of in-state athletes with 2021 commits in setter Julia Bishop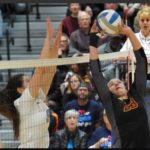 Julia Bishop 5'10" | S Mercy | 2021 State MI (title photo far right) and middle blocker Aubrey O'Gorman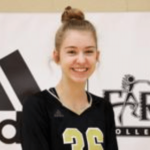 Aubrey O'Gorman 6'3" | MB Lakewood | 2021 State MI .  Class of 2022 right side Maradith O'Gorman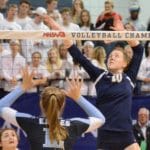 Maradith O'Gorman 6'2" | RS Lakewood | 2022 State MI will bring a high touch and a big left-handed swing as well as a major blocking presence on the right side.  Bishop has been the nucleus for the Michigan Elite 17 Mizuno squad where she just has this savviness to her game where she runs a fast-tempo offense and can find the open spot for herself on the other side of the net.  The O'Gorman's play for FaR Out 18 Black and have been a big-time tandem their whole career.
Carter Booth
Minnesota
Plenty of future gophers were at Triple Crown this weekend where I got to watch a few from the Class of 2022 in Carter Booth (Colorado Juniors), Mckenna Wucherer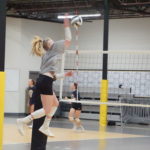 Mckenna Wucherer 6'1" | OH Brookfield Central | 2022 State WI (Milwaukee Sting), and Julia Hanson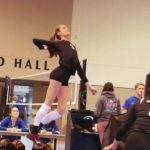 Julia Hanson 6'0" | OH Prior Lake | 2022 State MN (Northern Lights).  Booth has the size, speed, and physicality to be an elite player at the 18s level, and then I remember technically she could be on a 16s court – wow. She plays with a smile and an intensity that will be a joy for Gopher fans.  Wucherer and Hanson are major high flyers on the pin. Wucherer is playing on the 18 Gold squad for Sting where she just finds a way to score points with a variety of angles and shots. Hanson is so dynamic for Lights where her versatility will be fun to watch develop the next couple of years. 
Nebraska 
Yep, Nebraska is going to still be good for a long time.  There is no doubt in that with the type of athletes they have coming in.  VCN 18 Elite out of Lincoln is the minor league of Nebraska with the likes of future Huskers in Annika Evans, Kalynn Meyer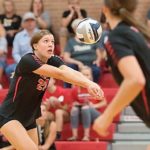 Kalynn Meyer 6'3" | MB Superior | 2020 State NE , Whitney Lauenstein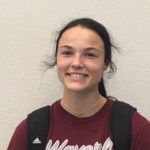 Whitney Lauenstein 6'1" | OH Waverly | 2021 State NE , and Class of 2022 middle/right side Bekka Allick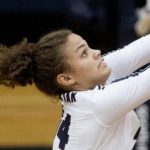 Bekka Allick 6'3" | MB Waverly | 2022 State NE .  The recruiting Class of 2021 is definitely prized with seeing Lindsay Krause (Nebraska Premier), Kennedi Orr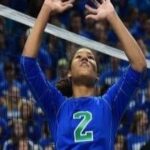 Kennedi Orr 6'0" | S Eagan | 2021 State MN (Northern Lights), and Lexi Rodriguez (Fusion). These athletes are among the best in the country and played together on the USA Youth National Team this past August.  Orr is a special type of athlete with how she can play at such a high level. This was the first time I had seen her rally her teammates and be the vocal leader on the court, it was great. Krause is also so refreshing to watch with a blend of power and athleticism.
Rousseau
Northwestern 
Natalie Chizzo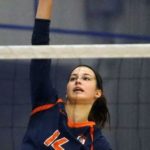 Natalie Chizzo 6'3" | OH Oak Park River Forest | 2020 State IL (Adversity) and Alexa Rousseau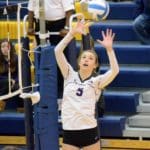 Alexa Rousseau 6'3" | S Bloomfield | 2020 State MI (Legacy) are two athletes I've seen at multiple events so far this season and Northwestern will be extremely happy to get them on campus with what they can do on the court.  Chizzo just packs a punch with her swing on the pin and is so physical. Rousseau is 6'2, left handed, and is such a threat at the net as a setter, but also finds a way to get her attackers open at the right time. Combine that with Temi Thomas who will be back for her Sophomore year and these athletes will have a chance to compete right away. 
Ohio State 
Have not seen any Ohio State commits yet this year. 
@adversity_vbc holds off @MilSting18Gold 25-23 in set two to close the match. pic.twitter.com/mlXL1N7S4U

— Chris Fitzgerald (@PrepDigChris) January 19, 2020
Penn State
Penn State has had a lot of success bringing in athletes from Chicago and the Midwest.  Rachel Muisenga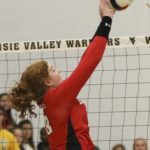 Rachel Muisenga 6'1" | S Benet Academy | 2021 State IL (blocking on the twitter highlight) is next in line out of the Chicago area who will be heading to Penn State as a Class of 2021 setter.  I saw Muisenga play last year at MEQ knowing she was heading to Penn State and thought she was impressive, but this season it's a little different.  She is dominant, there's a certain physicality to her, she's got a grit, and she is going to be one of those who can change the game for her side of the net.  The Class of 2021 of setters coming into the Big Ten are ridiculously talented, you have to be in order to compete in the best conference in the country. 
Myers heading to Purdue
Purdue
If I'm picking teams, I'm looking at Taylor Trammell Taylor Trammell MB Henry Clay | 2020 State KY and Lourdes Myers to be on myself.  Trammell is a middle blocker from Lexington United where I saw her play this high school season for Henry Clay out of Lexington at the Asics Challenge in Chicago where Myers I saw play for AVC Cleveland this past weekend.  Both of these athletes fit the Big Ten middle style where they are extremely athletic and will bring a physical presence to the net. Their pictures attacking and blocking look photoshopped with their ability to get over the net and press, causing a major mismatch on the other side. 
Rutgers
Have not seen any Rutgers commits yet this year.
Wisconsin
Damrow
Saige Damrow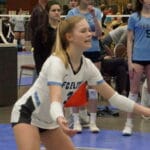 Saige Damrow 5'8" | DS/L Howards Grove | 2023 State WI is from the Class of 2023 and committed to the Badgers as an 8th grader, being the top player out of the Class of 2023 in Wisconsin and one of the top of her class in the country.  Damrow has always played multiple age levels up as a libero and is on the FC Elite 18 Elite squad with Illinois commit, Brooke Mosher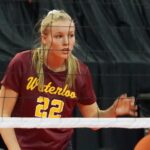 Brooke Mosher 5'11" | S Waterloo | 2021 State WI . Extremely athletic and just a knack for the big play in the big moment when her team needs her, and this is at the 18 Open level where she could technically be playing 15s.  Just a fun athlete to watch who will be more than ready by the time she heads to Madison in a few years.