Posted On: 03/18/20 10:20 PM
The Class of 2021 is loaded with talented setters that hail from Louisville. 
Multiple junior setters from Louisville — some of whom are among the best high school volleyball players in the state — were catalysts for prep squads in 2019. 
Here are six Louisville junior setters to watch.
Alyssa Eaton Alyssa Eaton S Assumption | 2021 State KY : A 5-8 junior setter, Eaton is a student-athlete from perennial state frontrunner Assumption High School. Helping to pace the back-to-back-to-back KHSAA volleyball state champion in 2019, Eaton led her prep team in assists. The highly productive Eaton is competing for KIVA 17 White in the 2020 club season. 
Julia Kupper: A 5-6 junior setter, Kupper is a student-athlete from Sacred Heart Academy. Following the graduation of teammate and standout Taylor Eisert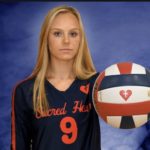 Taylor Eisert S Sacred Heart | 2020 State KY , a Middle Tennessee State University signee, Kupper will take on a larger role for the Valkyries. Kupper, who contributed for Sacred Heart Academy during her junior season, passes well and is efficient.
Maria Mardis: A 5-6 junior setter/defensive specialist, Mardis is a student-athlete from Christian Academy-Louisville. A leader for Christian Academy-Louisville throughout the 2019 high school season, Mardis paced the Centurions in assists. A consistent setter and solid communicator, Mardis is expected to help lead