Posted On: 05/14/20 3:28 PM
The Class of 2021 has been through the ringer when it comes to an odd recruiting journey.  As we update our rankings, many of these athletes have continued to soar being hidden gems, working their way up while some have been able to make their verbal while other highly touted prospects had visits lined up and most likely ready to commit this spring before quarantine started.  Either way, this class if full of talented athletes and here are a few to highlight in our most recent Class of 2021 rankings. 
Kuhn
Ashlynn Kuhn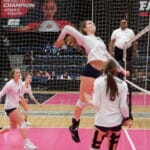 Ashlynn Kuhn 5'10" | MB Hudson | 2021 State IA Moves To Top Three
Ashlynn Kuhn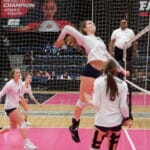 Ashlynn Kuhn 5'10" | MB Hudson | 2021 State IA who preps at Hudson High School and plays her club at Six Pack continues to impress.  Seeing her at the JVA Showcase in the Dells really captured how dynamic she is with her ability to score in a variety of ways.  She can run so many different tempos out of the middle and is someone that is so tough to stop when her side of the net is in system.  An explosive leaper and solid hand contact every time to really make an impact.  She has committed to Drake.