Posted On: 05/3/20 8:24 AM
The pockets of Indiana with high level volleyball are numerous. West of the city of Indianapolis, however, are a few gems that aren't necessarily on the beaten path. Here are five you should know about from west of Indy.
Quinci Thomas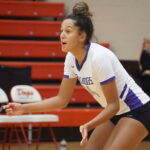 Quinci Thomas 6'3" | OH Brownsburg | 2023 State IN , 6-3, OH, Circle City 15 Purple (15-1), Brownsburg High School
If you don't know about Quinci by now, get on the train. She's big, she gets up, she terminates on the attack as well as the block, and is a great teammate. Two years ago, this kid was moving like a new-born giraffe. Now, she's on everyone's radar as THE pin attacker for the '23 class. Before the shutdown, she was working on her defense. Imagine how much better she'll get once that's in her volleyball rolodex.
Elle Patterson Elle Patterson 6'0" | OH Tri-West | 2023 State IN , 6-0, MB, Boiler Juniors 16 Elite Gold (16-1), Tri-West High School
Not normally known for their volleyball, Elle is easily the best player to come out of Tri-West since Liv Benner (TW class of '15, Mississippi State). She's also the only kid on this list to play up a year, which shows her ability to handle the big girls. She's an M2 who's slowly learning how