Posted On: 06/29/20 6:05 PM
Katie Butler Katie Butler 5'9" | S Old Tappan | 2021 State NJ - USA NY
Katie is a North Texas University commit who is currently playing at Old Tappen High School. The Golden Knights have the luxury of having two high leveled setters for their program with Butler and Chu (see below). Often Katie sees time at other positions to meet the teams of the team but has excelled at the club level with powerhouse USA NY.
Olivia Coughlin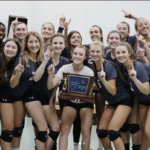 Olivia Coughlin 5'10" | S Immaculate Heart | 2021 State NJ - Digs
Olivia currently plays at the dominant Immaculate Heart Academy (7 State Championships the past decade). With the graduation of her setting counterpart Maeve Duffin, Olivia will seemingly have full reigns of the IHA offense. She totaled 440 assists throughout her junior season before leading Digs 17-1's this past club season.
Kyra Hissner Kyra Hissner 5'9" | S North Hunterdon | 2021 State NJ - USA NY
Kyra currently plays for her father (Kirk Hissner) at North Hunterdon High School where she lead the Lions to a 27-3 record in 2019.  She finished the season with 465 assists, 145 digs, and 40 aces. Expect major contributions again this upcoming fall season while leading the senior driven Lions.
Chrissy Chu Chrissy Chu 5'9" | S Old Tappan | 2021 State NJ - Pinnacle 
Chrissy plays at Old Tappen High School where they