Posted On: 06/12/20 9:19 PM
Several district runner-ups from the 2019 high school volleyball season are poised to contend for titles during the upcoming campaign. 
Here are five 2019 district runner-ups to watch. 
Central Hardin: After finishing behind rival Elizabethtown as the 17th District runner-up, Central Hardin pushed for the 5th Region title in 2019. The 2019 WKU Team Camp Champion, Central Hardin finished runner-up to familiar foe Elizabethtown in the 5th Region Volleyball Tournament as well. The Bruins concluded the 2019 season 30-10. Sophomore outside hitter Addie Atcher (359 kills, 32 kills), senior libero Kelsey Brangers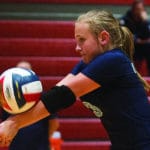 Kelsey Brangers DS/L Central Hardin | 2021 State KY (561 digs, 124 assists, 54 service aces) and senior setter/opposite Allie Blair (622 assists, 174 digs, 68 service aces) are among the top players headed back for the Bruins. 
Dixie Heights: The Colonels finished as the 34th District runner-up and made an appearance in the 9th Region Volleyball Tournament during the 2019 season. Dixie Heights compiled a 23-11 record in 2019. Sophomore Maia Long Maia Long OH Dixie Heights | 2023 State KY (312 kills, 298 digs, 28 service aces) and senior Hannah Lukey (965 assists, 229 digs, 38 service aces) are among the most experienced players due back for the Colonels. Highlands eliminated Dixie Heights from the 2019 9th Region Volleyball Tournament,