Posted On: 06/17/20 4:57 PM
The volleyball world is definitely close, there are connections everywhere, and for most of us, it is a form of family.  For the Class of 2022, it was opening week of college coaches being able to communicate with potential student athletes of their programs, Ava Reynolds Ava Reynolds 6'0" | OH Ankeny | 2022 State IA and Hayden Kubik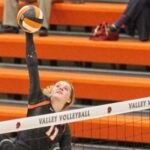 Hayden Kubik 6'1" | OH West Des Moines Valley | 2022 State IA of Club Ignit Select, went with a connection and for Kubik, she literally will have family on her side of the court.  Reynolds will go to Denver and Kubik will head Nebraska. 
Club Ignit Select is out of the West Des Moines area and the 16 Blue team was off to a blistering start before the coronavirus had other plans.  They competed against top teams in Omaha Power Leagues and then went down to the Triple Crown Invitational in Kansas City, knocking off top team after top team from big metros across the country to defeat Arizona Storm Elite in the championship on Presidents Day to claim the biggest prize in club volleyball outside of a national tournament.
I'm beyond excited to announce that I have verbally committed to the University of Denver to further my academic and volleyball career!! Thanks for everyone's support through the years. I feel like I've truly found my home and I can't wait to see what the future holds! Go Pios!! pic.twitter.com/HE2vBOZOWW

— Ava Reynolds Ava Reynolds 6'0" | OH Ankeny | 2022 State IA (@AvaaReynolds) June 16, 2020
Reynolds
Reynolds will be a Junior at Ankeny High School where she broke onto the radar this high school season as an outside hitter for the Hawkettes enroute to the state semifinals.  Her aggressive approach, big arm, and overall athleticism will transition extremely well to the college game.  Denver has consistently found themselves in the NCAA Tournament as one of the top teams out of the Summit League.  She will head West with another member of Club Ignit Select in setter, Lauren Carter Lauren Carter 5'11" | S Winterset | 2022 State IA of Winterset.  In 2019, Denver had a few Iowans on their roster in Ellie Anderson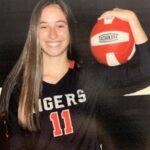 Ellie Anderson 5'11" | OH South Hardin | 2023 State IA of Linn-Mar, Lauren McManus of Waterloo Columbus, and Ari Winters Ari Winters 6'0" | OH Ankeny Centennial | 2019 State IA of Ankeny Centennial.  
Kubik has been on the radar of college coaches the past few years and has been one of the top recruits from the Class of 2022 not only from Iowa, but the country.  Hayden will not be the only Kubik on the roster, she will join her sister Madi who recently completed her Freshman year as a Husker where she earned National Freshman of the Year in 2019.  The last time Madi and Hayden teamed up was for West Des Moines Valley High School where they had a 41-4 record, finishing in the final four of Class 5A.  Hayden's ability to power through the seam, find the sharp angle on a cross court shot, has developed into an all around player who can also defend and attack in the back court, and block.  Husker fans will get a player who plays with intensity, but also has a cool, calm, and collected demeanor on the court where she is sure to be another fan favorite for one of the largest volleyball fan bases in the nation. 
[player_tooltip player_id="17322" first="Hayden" last="Kubik"]
With their college decision made, there is plenty of unfinished business for the both as they will be key pieces for what will be a power packed high school season where Ankeny and West Des Moines Valley will be heavy favorites in the hunt for a state title in Class 5A.  Reynolds will team with Notre Dame commit Phyona Schrader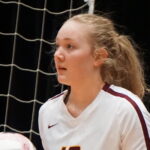 Phyona Schrader 6'1" | S Ankeny | 2021 State IA and one of the top uncommitted 2021 middle blockers in McKenna Scheib.  Valley will be back with Kubik and two top athletes in Payton and Olivia Lombardi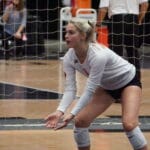 Olivia Lombardi 5'7" | DS/L West Des Moines Valley | 2023 State IA with Payton most likely playing the pin and Olivia as a rising Class of 2023 libero.  
I am so excited to announce that I have verbally committed to continue my education and volleyball career at the University of Nebraska! I want to thank my coaches, family, friends, and teammates for helping me along this journey. I can't wait to be a husker! GBR🌽❤️ pic.twitter.com/Zmz5P2Qu4N

— Hayden Kubik Hayden Kubik 6'1" | OH West Des Moines Valley | 2022 State IA (@HaydenKubik1) June 17, 2020
With not even a week of communication in the books, Reynolds and Kubik have made their mark joining other committed athletes from the Class of 2022 in Macy Daufeldt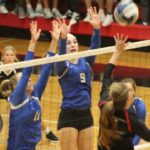 Macy Daufeldt 5'10" | OH West Liberty | 2022 State IA (Drake), Carter (Denver), and Alexis Moses Alexis Moses 6'3" | MB Cedar Rapids Prairie | 2022 State IA (South Dakota).  Let the recruiting journey continue!