Posted On: 06/10/20 4:24 PM
Moving through the Tour of Illinois, our next stop is in Aurora. Congratulations to the Seniors! Here are a few that left their mark during the 2019-20 high school season! They are followed by players to watch in 2020-2021.
Senior Superlatives, 2019 – 2020  
Abbie Croll, 2020, OH, Waubonsie Valley, Sports Performance, Elon
An outstanding pin hitter, Abbie tallied 277 kills, 289 digs, and 39 aces on the season.
Grace Hinchman Grace Hinchman 5'7" | DS/L IL , 2020, L, Geneva, Loyola
Hinchman, who's headed to Loyola University, had 557 digs and 34 aces on her way to all-conference honors. 
Kiley Mitchell, 2020, MH, Oswego East, Youngstown State.
The outstanding player for Oswego East closed 58 total blocks, added 215 kills and 39 aces in 2019. the Youngstown State-bound student-athlete was also an all-conference selection.
Melissa Walden, 2020, S/RS, Waubonsie Valley, Texas A&M
The DuPage Valley Conference Player of Year, Walden had 213  kills, 335 assists, 223, and 35 Service Aces.
Madi Malone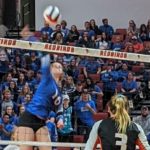 Madi Malone 6'0" | OH Newark | 2021 State IL , 2020, OH, Newark
Malone is an attack wielding player! She is a three-time all-conference selection. Named to three all-tournament teams in 2019 and b
roke her own school record with 506 kills. 
Players to Watch 2020-2021
Ava Wilkins, 2021, OH, Aurora Central Catholic, Fusion
The outstanding outside hitter also is a softball star as well. Expect her senior season to be an exciting one! 
Taylor Christian, 2021, S, Newark
One of the reasons that Newark is state champs. Christian gathered 916 assists in 2019. One of two new setters for Newark, Christian will be looking to continue the winning trend in 2020-21.
Chloey Myers, 2021, OH, West Aurora 
Myers finished the 2019-20 season with 249 kills, 151 digs, 30 service aces, 26 blocks, and all-conference honors.