Our way-too-early preview of Indiana's high school scene ends with the largest and most competitive class. In last fall's semi state and state final, we saw no less than twenty seniors who went on to play high-level collegiate volleyball this coming fall. Below, we preview what remains of the top four teams, and a possible dark horse to the party, with their respective to recruits.
New Castle, 35-1
This particular squad can be known as one of the best to ever grace the court at Ball State for the state champion Trojans. 2019 marked their third straight state title, and their main graduation, Melani Shaffmaster, is by far the best setter in the state. All this Minnesota signee did in the state final was record a triple double (13k, 12d, 47a) and run the offense to their third straight title. Some have even gone so far as to say New Castle will drop off with her graduation. I beg to differ. They return Melani's younger sister,  Mabrey Shaffmaster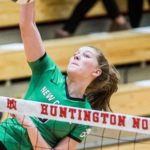 Mabrey Shaffmaster 6'1" | OH New Castle | 2021 State IN ('21, UNC Chapel Hill commit), who pounded 20 kills and dug 14 balls in the final. We also like  Laila Smith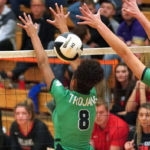 Laila Smith 6'2" | MB New Castle | 2021 State IN ('21, Alabama commit), who also contributed 20 kills in the final. One of the unsung heroes in that match was libero  Bailey Cox Bailey Cox 5'7" | DS/L New Castle | 2021 State IN ('21, Georgia commit), who had a match-high 19 digs in the final. Our favorite available player from this squad is  Nicole Wilkinson Nicole Wilkinson 5'11" | MB New Castle | 2021 State IN (Munciana 17 Pandas, '21, 5-11, MB), who saved her best offensive match for the title match, logging in 12 kills in the final. Do we see a four-peat? Only Yorktown, their conference and sectional neighbors have that answer.
Hamilton Southeastern, 29-5
It's not like HSE played poorly in the final. Of their five losses on the 2019 season, three came against eventual state champions (New Castle and Heritage Christian). The other two were against perennial top-five teams Providence and Yorktown. These are not cupcake matches, and coach Jason Young does not schedule easy. That being said, this author thinks their best is yet to come, even though they graduate five from the '19 squad. A few players that caught our eye during club season were  Emily Weber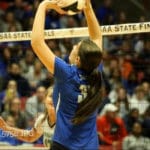 Emily Weber 6'0" | S Hamilton Southeastern | 2022 State #139 Nation IN ('22, Academy 17 Elite Tsunami, 5-11, S) and  Avery Hobson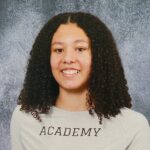 Avery Hobson 6'1" | OH Hamilton Southeastern | 2023 State IN ('23, Academy 15 Elite Venom, 5-11, OH). I am looking forward to watching their progress, and can't wait for the fall.
Center Grove, 29-7
The other Trojans on this list, CG started their season with a five-set loss to New Castle and ended their season with a four-set loss to……New Castle. They know what this season brings, and are looking forward to the rematch. What they lose, however, is all-state setter MJ Hammill (6-2, Wisconsin signee) and libero Ashley Eck (Indiana State signee). What might be the worst-kept secret in the state, however, is how sophomore  Katie Egenolf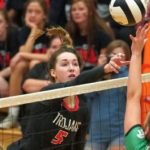 Katie Egenolf 6'1" | OH Center Grove | 2022 State #108 Nation IN  ('22, Circle City 15 Purple, OH, 6-0) carried CG down the stretch. In the semi state against New Castle, she had 28 kills and hit over .400, only to be outdone by Mabry Shaffmaster, who had 35 kills in that match.  Grace Boggess Grace Boggess 6'3" | MB Center Grove | 2021 State IN (6-3, Butler signee) also returns, but do they have enough to make another title run?
Crown Point, 30-7
The Bulldogs were viewed by some south of Lafayette to be the odd team out in this final four, yet despite their large graduating class from their second-place finish in 2018, they returned with a chip on their collective shoulders in this semi-state run. Considering what they had to get through just to make it this far was an accomplishment unto itself, with a five-set win over Munster in the regional semifinal and a four-set win over Penn in the regional final. However, this years' graduation losses might be too much for Crown Point. They do, however, return Prep Girls Hoops Indiana standout Lilly Stoddard ('22, 6-4, MB) and Kyla Oppenhuis ('22, 5-9, OH), but not much else. I'm sure the teams in northwestern Indiana will have something to say.
Dark Horse: Providence, 29-2
If Center Grove falters, it will be because of the Pioneers, who lost in a heartbreaker to CG in five sets to end their season. Although they graduate stud attacker Courtney Glotzbach (Jacksonville State signee), they still return attackers Ali Hornung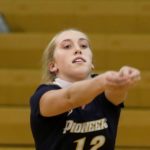 Ali Hornung 5'9" | OH Providence | 2021 State IN ('21, Purdue commit) and  Anna Purichia Anna Purichia 5'10" | OH Providence | 2021 State IN (Union 18 Asics, '21, 5-10, OH) along with setter  Emma Kaelin Emma Kaelin 5'10" | S Providence | 2021 State IN ('21, Indiana State commit) for another title run. If there's any squad that can steal a few matches and get to the title match, it's this one.