With our release of the new and improved 2021 player rankings in Indiana, we talk about the top five middles still available to play somewhere next fall. Here we go!
#34: Anna West Anna West 6'1" | MB Greensburg | 2021 State IN , 6-1, MB, Greensburg
I'm cheating here a bit, because I could have easily included Anna in the article yesterday about the top five available pin hitters. She hits a heavy ball and plays six rotations for her high school team, but placing her here is probably where she pans out at the next level. One could argue that she could play the right pin as well, but this is a diamond in an area of the state that doesn't have a ton of high-level volleyball. I'm still amazed that she's been available this long.
#36: Kayden Holcomb Kayden Holcomb 5'10" | MB Floyd Central | 2021 State IN , 5-10, Floyd Central
There are too many coaches hung up on size in the middle. I prefer speed and smarts. Lumbering middles might get by at a lower level, but Floyd Central is far from lower. So is Union, the club where Miss Holcomb trains. Kayden wins, and is successful because of her volleyball smarts and athleticism. Look past the size, and you have a middle that can do what all of the other middles can do…..just faster.
#38: Jaylynn Dunsmore Jaylynn Dunsmore 6'0" | MB Yorktown | 2021 State IN , 6-0, Yorktown
The ONLY big kid for the Tigers, Jaylynn's undefeated squad is on a collision course with Hamilton Southeastern for the state title this year. This Munciana-trained player has all the smarts and skills, and none of the bad habits big middles have. She blocks well, she's efficient on the attack, and should have been committed somewhere by now.
#47: Paris Downing Paris Downing 5'9" | MB Avon | 2021 State IN , 5-9, Avon
Paris thrives on attacking a zero-tempo set away from the setter. Sure, it helps that she attacks at ten feet, but for her to use her lateral speed and footwork to her advantage, well, this is another case of size dictating where she is placed next fall. It's unfortunate that her skill is so overlooked; there are a bunch of big, slow middles out there that physically can't do what Paris can do. 
#53: Nicole Wilkinson Nicole Wilkinson 5'11" | MB New Castle | 2021 State IN , 5-11, New Castle
From the defending 4A state champions comes the "other" middle. Note the quotes; Nicole should not be overlooked, but that's exactly what teams have done for years, and now even more so since her teammate and fellow middle,  Laila Smith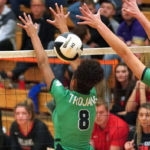 Laila Smith 6'2" | MB New Castle | 2021 State IN , committed to Alabama. Nicole is a winner, plain and simple, and has the hardware to prove it.