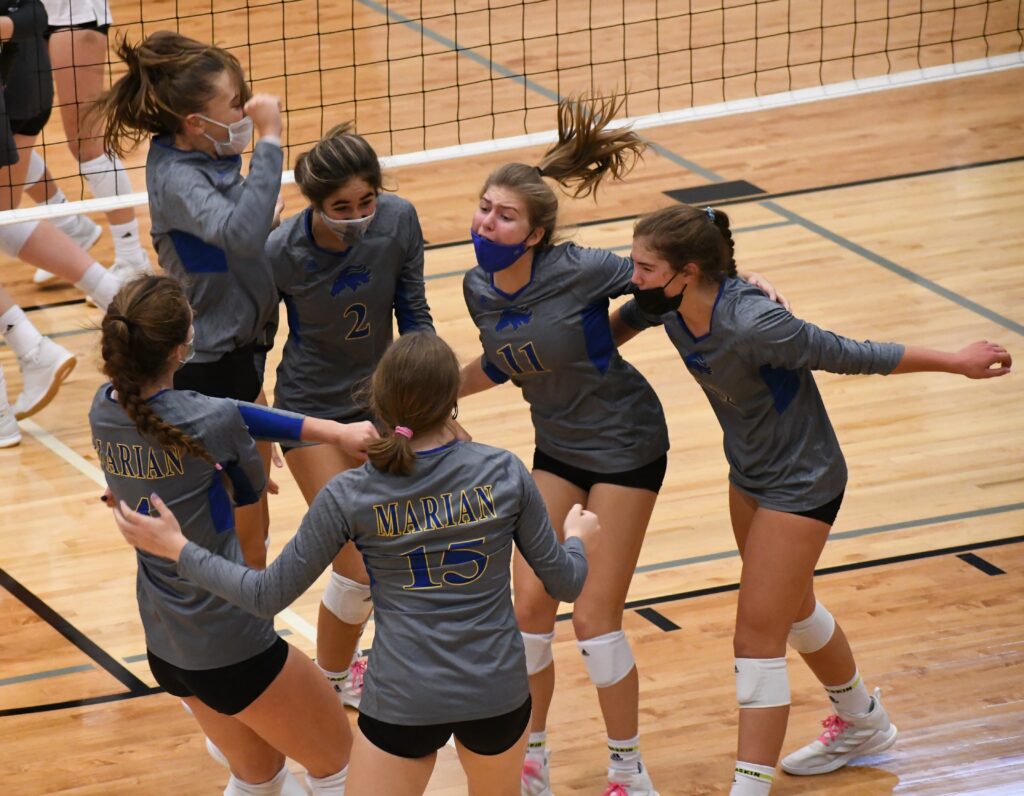 Posted On: 10/18/20 7:18 PM
The 2020 prep season has provided a lot of challenges.
One of the biggest is the lack of tournaments, keeping strong programs from one side of the state being able to take on top programs on the other side.
On Saturday, some of the best from the East met some of the best in the West at Grand Rapids Christian.
D1's No. 1 team, Mercy, along with No. 6 Marian made the trip to get a best-of-five match against No. 2 Byron Center and the host Eagles, who are No. 1 in Division 2.
In some great volleyball, it was the West teams that took home bragging rights, as Mercy and Marian each grabbed two wins from their opponents.
Mercy stays unbeaten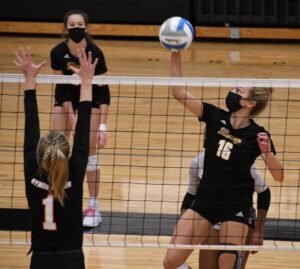 The anticipated match of the day started things off when unbeaten Mercy faced unbeaten GRC in a battle of top-ranked teams in their respective division.
The Eagles looked to be on their way to a win, taking the first two sets 25-19 and 25-23. However, Mercy showed that championship grit and rallied to take the final three sets, 25-22, 27-25, 15-12.
"Mentally, it's really going to help us so much to have been able to play a great team like Grand Rapids Christian and come back from being down two sets," Mercy senior setter Julia Bishop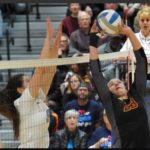 Julia Bishop 5'10" | S Mercy | 2021 State MI said. "To face that adversity, and be able to overcome it, it's a big deal."
After the emotional win over GRC, Mercy then went on to best Byron Center in four, 25-22, 25-12, 22-25, 25-10.
"Our chemistry right now is just amazing," Bishop said of why the Marlins have been able to go unbeaten. "That's the big thing right now. We are playing with each other and for each other. Given how 2020 has gone, we really do try and play each game like it could be our last and we want to know that we gave our all each match."
Bishop continued to play like a top Miss Volleyball candidate. Her decision-making looks effortless. She reacts, as opposed to having to give thought to each point, and her instincts are usually right.
Kaylin Collins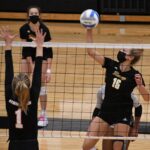 Kaylin Collins 5'11" | OH Mercy | 2021 State MI looks better and better each time I see her. Her knee gets stronger, and so does her game. Charli Atiemo had four kills in the fifth set against GRC, while Ellie Tisko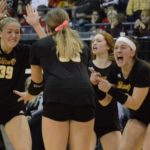 Ellie Tisko 6'0" | MB Mercy | 2021 State MI had some highlight-reel kills on the day.
Amina Robinson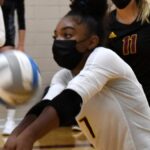 Amina Robinson 5'9" | DS/L Mercy | 2022 State MI also is playing with more and more confidence at libero. Last year she was a good player. This year, she knows she is.
Marian breaks out of their funk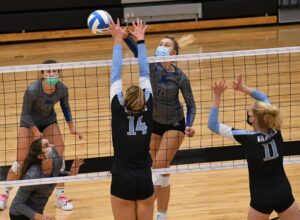 October hadn't gotten off to a great start for Marian, as they were dropping matches and sets while not looking like themselves.
Saturday, the Mustangs played as well as any team at GRC. They didn't drop a set, beating Byron Center 26-24, 25-21, 25-13. They then topped Grand Rapids Christian 26-24, 25-22, 25-16.
"This is the right time to start peaking," Marian coach Mayssa Cook said. "We played like we know how we are capable of playing. (Saturday), I think was the turning point that we could do this consistently. I believe this experience will give them the confidence and composure to know they can be resilient in those close sets come the postseason."
Ava Brizard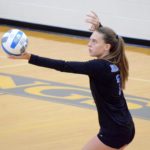 Ava Brizard 6'0" | OH Marian | 2022 State #16 Nation MI was her usual dominant-self and putting down powerful kills, but it was the success of the Marian middles that was the story of the day. Sarah Sylvester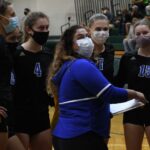 Sarah Sylvester 6'3" | MB Marian | 2022 State #126 Nation MI looked as good as she has all season and Ella Schomer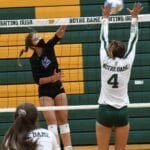 Ella Schomer 6'0" | RS Marian | 2023 State MI has really proven to be a finisher in the middle and the RS. Ava Sarafa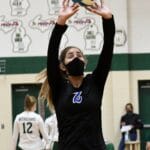 Ava Sarafa 6'0" | S Marian | 2023 State MI had great chemistry with her hitters all day.
Libero Lauren Heming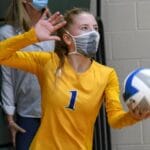 Lauren Heming 5'6" | DS/L Marian | 2023 State MI also raised her game, playing at a very high level against some of the state's best hitters. An unsung hero was sophomore Evelynne Oegema Evelynne Oegema 5'7" | OH Marian | 2023 MI , who served the ball very well and turned the tide in a number of close sets.
Evie Oogima, serving specialist
GRC stumbles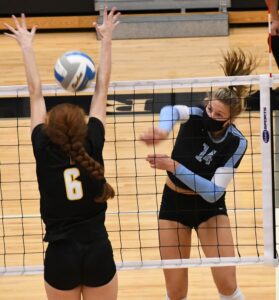 GRC couldn't ask for much of a better start, leading Mercy by two sets.
However, that would lead to six straight sets dropped.
After the Eagles fell to Mercy, they just looked a bit shellshocked when facing Marian.
"The girls were really pumped to play Mercy and to go up two sets and then to lose the next three, it just takes so much wind out of your sales," GRC coach Tiffannie Gates said. "We just started so slow against Marian and couldn't ever make that up once they got the momentum."
Addie VanderWeide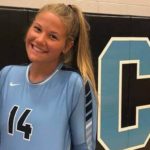 Addie VanderWeide 6'1" | OH Grand Rapids Christian | 2021 State MI went toe-to-toe with her Miss Volleyball finalist counterparts, as she had 52 kills over the two matches, including 31 against Mercy.
Evie Doezema impressed as well. Her blocking at the net really posed a problem for opponents. She also continues to improve with her passing, and finished with 28 kills on the day while hitting over .300.
Stephanie Stewart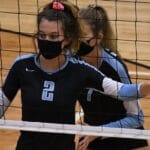 Stephanie Stewart 6'0" | OH GR Christian | 2021 State MI had a few emphatic kills as well, giving GRC a third option at the net. Libero Lauren Peal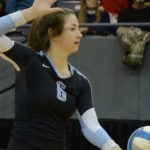 Lauren Peal 5'10" | DS/L Grand Rapids Christian | 2021 State MI was working all over the floor, but looked to be dealing with some bumps and bruises. She really gutted out some tough points.
BC learns some lessons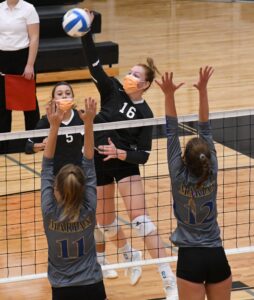 Byron Center has three losses on the season and all three are to the teams that were at GRC on Saturday.
The Bulldogs, who were down a few players, are clearly an elite team, but are looking to figure out what they need to become THE elite team this year.
"When we battled, we really stayed in games," Byron Center coach Katie VanderMeer said. "When we are clicking on all cylinders, we can compete with anyone. I think it was good for our kids to get pushed the way we did (Saturday) and see what we need to be ready for."
Byron Center definitely has hitters that can match up with anyone. Taylor Humphrey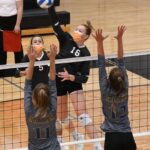 Taylor Humphrey 6'2" | OH Byron Center | 2022 State #186 Nation MI held her own on the outside and let her opponents know she was going to be a handful. Same can be said for middle Anna Butler Anna Butler 5'11" | MB Byron Center | 2021 State MI .
Setter Cierra Laska was setting some great balls for her 1-2 combo, while senior libero Abby Boyle Abby Boyle 5'7" | DS/L Byron Center | 2021 State MI was fighting hard in the back row. Boyle was under assault a lot throughout the day, but made some great digs along the way and never backed down from the constant challenge.