Posted On: 11/29/20 7:58 PM
Kentucky Volleyball Coaches Association (KVCA) Honorable Mention All-State selections will be among the top players back on the court in the 2021 high school volleyball season.
Here are four KVCA All-State Honorable Mention selections on the rise.
Bella Blackburn Bella Blackburn S Paintsville | 2023 State KY : A Paintsville sophomore setter, Blackburn helped to pace the 15th Region champion throughout the 2020 high school volleyball season. Blackburn recorded 612 assists (team-high), 147 digs, 49 service aces, 18 kills and 11 blocks in 22 matches during her sophomore campaign. An accurate passer, Blackburn is a vocal leader. 
Kerri Blair: A Tates Creek junior middle blocker, Blair thrived throughout the 2020 high school volleyball season. Blair registered 255 kills, 37 blocks, 34 digs and 21 service aces for Tates Creek during her junior campaign. Blair moves to either side well and reads setters efficiently. 
Julia Hunt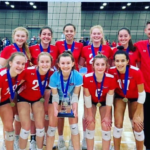 Julia Hunt 6'1" | MB Holy Cross (Covington) | 2024 KY : A Holy Cross (Covington) freshman middle hitter, Hunt is one of the state's top young high school volleyball players. Hunt (6-1) led Holy Cross throughout the 2020 high school volleyball season, posting 294 kills, 98 blocks, 138 digs and 39 service aces. The standout freshman, who led Holy Cross in both kills and blocks, possesses an exceptional skill set and