We only have a couple of clubs remaining with available 21s in the state of Indiana. Next up is, far and away, the most accomplished club in terms of committed athletes, Munciana. Of the three teams listed playing at the 18s level, two will play an open schedule. Also, between the three teams, there are fourteen already signed for next fall, with an additional eleven still looking for a place to play.
18 Samurai
When you say "Samurai" in volleyball circles here in Indiana, everyone knows you're talking about the 18-1 squad at Munciana, coached by Mike Lingenfelter. Kids from as far away as Memphis, Tennessee come to train with Mike, and his teams always have a plethora of high-level, high-vb-IQ kids that will make an impact somewhere at the next level. Eight have already signed Division I NLIs, including Mabry Shaffmaster (North Carolina), who will probably see the lion's share of attacks on this team. There's the DS trio of  Bailey Cox Bailey Cox 5'7" | DS/L New Castle | 2021 State IN (Georgia), Jenny Morey Jenny Morey 5'7" | DS/L Yorktown | 2021 State IN (Wright State) and  Ellee Stinson Ellee Stinson 5'5" | DS/L Yorktown | 2021 State IN (Northwestern). The middle is anchored by high-flying  Laila Smith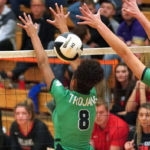 Laila Smith 6'2" | MB New Castle | 2021 State IN (Alabama). I could legitimately see  Bella Dearinger Bella Dearinger 5'10" | S Delta | 2021 State IN (Murray State) not only set this roster but attack on the right as well. Of course,  Camryn Haworth Camryn Haworth 5'11" | RS Fishers | 2021 State IN (Indiana) will have something to say about that, since she's fully capable of doing both as well.  Carly Mills Carly Mills 5'5" | DS/L Hamilton Southeastern | 2021 State IN (Indiana), another sensational passer, can wear the special jersey too. There is no shortage of talent on this roster. The lone '21 that's available is probably the most athletic.  Jada Allen Jada Allen 6'1" | OH Fishers | 2021 State IN has been jumping well over ten feet for some time now, and has a cannon for a right shoulder. She's spent most of her career as a hammer on the left pin, but could easily attack from the right pin as well.
18 Quora
It's hard for me to think of this roster as a "two" team. Most teams in Indiana, heck the MIDWEST, would be proud to call this a "one" team, considering the talent here.  Kenzie Daffinee Kenzie Daffinee 6'0" | OH Westfield | 2021 State IN (Indiana) headlines this group as a six-rotation passer with a whip of an arm. We also like  Lucia Corsaro Lucia Corsaro 5'2" | DS/L Cathedral | 2021 State IN (Xavier) and  Rory Powers Rory Powers 5'6" | DS/L Yorktown | 2022 State IN (Air Force) in the DS spots.  Serena Dodson Serena Dodson 5'7" | S Lawrence North | 2021 State IN (Marian) is an excellent pickup at the setting position, while Logan Smith (Jacksonville State) can also set either a 5-1 or a 6-2. What's available is far more diverse than the Samurai.  Ava Antic Ava Antic 5'10" | OH Greenfield Central | 2021 State IN  can hammer from either pin and is explosive.  Mikayla Christiansen Mikayla Christiansen 6'0" | RS Fishers | 2021 State IN brings her six-foot frame to either pin, and her length will help a ton on net defense. Olivia Lux is another solid passer that can play any of the back row positions as a three-rotation DS or don the special jersey in a pinch.  Natalie Miles Natalie Miles 5'9" | OH Jay County | 2021 State IN , an undersized six-rotation outside, is fiery and athletic, and can hit from anywhere. Finally,  Nicole Wilkinson Nicole Wilkinson 5'11" | MB New Castle | 2021 State IN brings some size to the middle position, and excels at attacking in front of the setter.
18 Nighthawks
I mentioned this before; it's hard for me to think of this team as a "three" team. Many programs would kill to have the talent o. this roster, and the team will play a National-level schedule in the spring.  Alexis Franks Alexis Franks 6'0" | MB Muncie Central | 2021 State IN (Indiana-Southeast) headlines this group, and plays much bigger than her six-foot frame. The variety available on this roster covers all of the positions. Elly Grenda is a six-rotation passer than has all of the shots in the book from the left pin. Corrine Meier brings solid, consistent passing and defense, and looks to own the special jersey in the spring. Gabby Pelfrey will look to set this squad, and her consistent ball placement will do wonders for this team's development. Kiersten Riedford has experience in all three defensive positions, and can defend with the best of them.  Shelby Settles Shelby Settles 5'4" | DS/L Fishers | 2021 State IN  also brings solid passing and defense to the floor and will most likely be a three-rotation DS at the next level.