Posted On: 12/31/20 4:56 PM
There is some young talent at smaller schools in Nebraska making their way into the rankings and watch list. Many of them are multisport athletes, who also excel on the basketball court or on the track. Here is a snapshot of a few up and coming athletes to keep on your radar: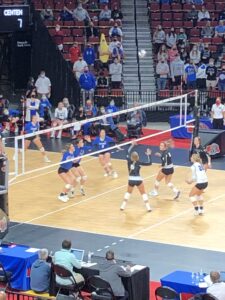 Class of 2024 5'9" OH Karley Naber Karley Naber 5'9" | OH Centennial | 2024 State NE High School: Centennial
Watch list player Karley Naber Karley Naber 5'9" | OH Centennial | 2024 State NE had a great freshman year to help guide her mostly veteran Broncos to the first round of the Class C-2 State Tournament in November and end with a 22-12 record. Naber had 120 kills and 46 ace serves. Karley has a great ability to see the court and tool off the block to earn her kills. She also has a nice cut shot that is hard to defend. Her energy after a big play radiates to her teammates and her passion is evident on the court. Look for her to do big things in 2021!
Class of 2023 #20 Ranked OH 5'6" Georgi tensBensel High School: Silver Lake
Georgi guided her young Mustang team to a 14-12 record this past fall. She hammered 309 kills, chipped in 34 ace serves and had 390 digs. She is explosive at 5'6" and runs a really nice slide out of the middle. She has really great footwork and is able to keep defenses on their toes! 
Class of 2023 #77 Ranked MB 6'0" Sydney Davis Sydney Davis 5'11" | MB Centura | 2023 State NE High School: Centura
Sydney not only excels at volleyball, but is a force on the basketball court as well. She has long levers and moves well. She had 361 kills, 59 blocks and 115 digs for the Centurions this past fall. Most of the offensive firepower at the net returns next year for Centura. Look for them to make some noise! 
Class of 2023 #73 Ranked MB 5'10" Bryn McNair Bryn McNair 5'10" | MB Chase County | 2023 State NE High School: Chase County
This athlete is again a multisport athlete and is also a nice basketball player as well. She too has long levers and can hit the ball hard or put some finesse on it for the kill. When she hits from the outside she transitions really well to give her plenty of room to hit the ball and find seams. When she hits from the right side she has a nice roll shot that threw a lot of teams off balance this year. She hammered 307 kills, had 165 digs and 221 set assists this past season for the Longhorns. Keep her on your radar!