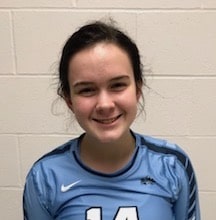 Posted On: 12/22/20 2:06 PM
We will start our discussion on some of the 2022s with our fearless defenders! Often the attention is on the high-flying hitters, tough blockers, and smooth setters. However, we know the importance of a solid pass and an amazing up. Let's meet some of the back row ballers in the top 50.
#5 Chloe Kaminski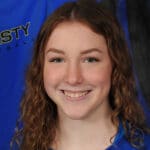 Chloe Kaminski 5'9" | DS/L Blue Springs | 2022 State MO  – Blue Springs/Dynasty – Oklahoma
Kaminski is a six rotation all-state performer on the pin for Blue Springs. You get a glimpse of her defensive prowess during the high school season. You see full beast mode on the club circuit for her Dynasty team, where she has distinguished herself as one of the top defenders in the class. She is an early commit to Oklahoma. She had 353 digs this fall.
#9 Ally Williams Ally Williams 5'4" | DS/L Oakville | 2022 State MO  – Oakville/Rockwood Thunder – Maryland
Williams's ability to read angles and shots has made her an elite libero evidenced by her commitment to play in arguably the best volleyball conference in America for the University of Maryland. Her instincts and speed to the ball is amazing. She is one of the premier passers in the state. The 5'4″ junior finished with 260 digs in a shortened fall campaign. 
#11 Nora Belden Nora Belden 5'7" | DS/L Kirkwood | 2022 State MO – Kirkwood/Rockwood Thunder
Yes, the number 9 and number 11 ranked defenders share the back row for Rockwood Thunder 17's team. And as you imagined, they are a treat to watch. Belden is a pinpoint passer and makes it look so easy. Her technique with her platform is artwork. She has 204 digs and 212 receptions in a season that saw her play only 15 matches. 
#13 Annie Arand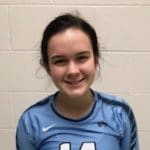 Annie Arand 5'8" | DS/L St. Francis Borgia | 2022 State MO – St. Francis Borgia/Rockwood Thunder
Yes, the number 9, 11, and number 13 ranked defenders share the back row for Rockwood Thunder 17s. This isn't a misprint. In complete honestly, these slots could interchange as they are equally impressive. When Arand is in the libero jersey she is phenomenal. Her court awareness is superb and she has shown the ability to defend half of the court. She anticipates well and gets impressive ups. The unique skill set she has is the ability to also set when necessary. In fact, during the fall season she had over 900 assists. 
#24 Keegan Good Keegan Good 5'4" | DS/L Park Hill South | 2022 State MO – Park Hill South
Good produced another good year for Park Hill South from the libero position. She is another defender who exhibits great floor iq in her ability to anticipate and react. She has 861 digs in her last two seasons. She also is a great passer and should increase her stock this winter.
#29 Devin Younger Devin Younger 5'5" | DS/L Festus | 2022 State MO – Festus
In a season that had some games wiped out, Younger was able to produce another 300 dig, 300 reception season for Festus. She is a fearless defender who won't let a floor burn get in the way of making a great play. She continues to display quickness that has helped make her a top defender in the state. 
#30 Gabi Chan Gabi Chan 5'7" | DS/L Pattonville | 2022 State MO – Pattonsville
Chan is as good a defender as there comes in the region. Her defensive play has the ability to change the momentum of a tight game. She has a quick first step that allows her to get balls up that appear to be sure scores for the opposing team. 
#31 Kindall Smithson Kindall Smithson 5'5" | DS/L Willard | 2022 State MO – Willard/Club One
Wilard had another great season and much of the attention was focused on their amazing hitters and setter. The team will be quick to say they don't have the success they enjoyed without hte play of Smithson. The all-state honoree had almost 400 digs on the season. She made plays in clutch situations to win a rally and her stock continues to rise. 
#32 Karsyn Phillips – Bloomfield
Phillips produced an all-state season for Bloomfield this fall. She has developed a reputation as a solid passer who gives her setter the opportunity to have numerous options on a consistent basis. She is a tough server who has shown the ability to go on a service run in numerous matches. Though she is at a smaller school, her technique shows she can contribute on the next level. 
#34 Maddie Hoffman Maddie Hoffman 5'4" | DS/L Cor Jesu Academy | 2022 State MO – Cor Jesu Academy/Rockwood Thunder
We guarantee you Hoffman will be much higher come the next ranking if her play continues on the levels we saw this fall. She is a player who wants the ball to come her way. She makes tough plays look easy. She has great size at 5'8″ and uses that length to her advantage moving lateral to get balls up. She is sound from a technical aspect and will emerge into a top 20 prospect in this class.
#36 Breanna Schreimann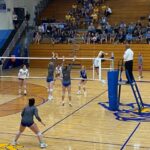 Breanna Schreimann DS/L State MO –  St. Dominic/St. Louis Crossfire
Schreimann had a great high school season and is known as a productive scorer in the state. She can surely compete on the pin at the college level. We think her defensive ability will increase her options. She had 181 digs to go with close to 350 receptions on the season. She can be an asset on the back row evidenced by her 300 kills on the season.
#49 Nora Larson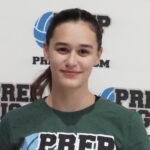 Nora Larson 5'2" | DS/L Barstow | 2022 State MO – Barstow/Mavs 816
Larson had a very productive season for Barstow this fall, tallying over 350 digs and receptions. She is a strong passer and keeps her team in system. She has made a move over to Mavs 816 this winter. This should increase her game even more playing against stronger competition on the local and national level. 
#50 Kalia Morris Kalia Morris 5'2" | DS/L Staley | 2022 State MO – Staley/Dynasty
Morris is another player who we should expect movement from after the club season. She had another solid high school campaign for Staley. She is lightning quick and a tough defender. She stands firm in front of rockets from the offense. She had over 400 digs and 400 receptions this fall and looks to build on those numbers for Dynasty this winter.