Senior setters were among the players leading teams in Kentucky during the 2020 high school volleyball season. 
A look at the top four setters in the updated Prep Dig Kentucky Class of 2021 rankings follows. 
Elena Scott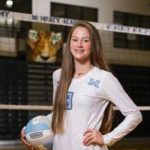 Elena Scott S Mercy | 2021 State KY (Mercy): A longtime leader for perennial state title contender Mercy Academy, Scott is headed to the University of Louisville. Scott, who collected numerous All-State and All-America honors throughout her prep career, chose to stay home when it came time to select a college. As a senior, Scott recorded 319 assists, 253 digs, 108 kills, 29 blocks and 29 service aces on her way to being named First Team All-State. 
Lane Jenkins Lane Jenkins S Lafayette | 2021 State KY (Lafayette): An accomplished high school setter for Lafayette High School, Jenkins is another prep student-athlete who has collected several honors during her career. Finishing her high school career strong, Jenkins led Lafayette as a setter throughout the 2020 season. Also a 2020 First Team All-State selection, Jenkins is headed to Loyola University Chicago.
Alyssa Eaton Alyssa Eaton S Assumption | 2021 State KY (Assumption): Helping to pace national prep volleyball powerhouse Assumption High School throughout her senior season, Eaton built momentum for the next level. Choosing to remain close to home as well, Eaton is headed to Bellarmine University. As a senior for Assumption, Eaton compiled 328 assists and 83 digs. 
Lexie Deaton Lexie Deaton S Tates Creek | 2021 State KY (Tates Creek): A versatile volleyball player, Deaton excelled for Tates Creek High School throughout her prep career. As a senior, Deaton registered 463 assists, 101 digs, 74 kills, 23 blocks and 26 service aces. Deaton's high school volleyball career included several accolades.