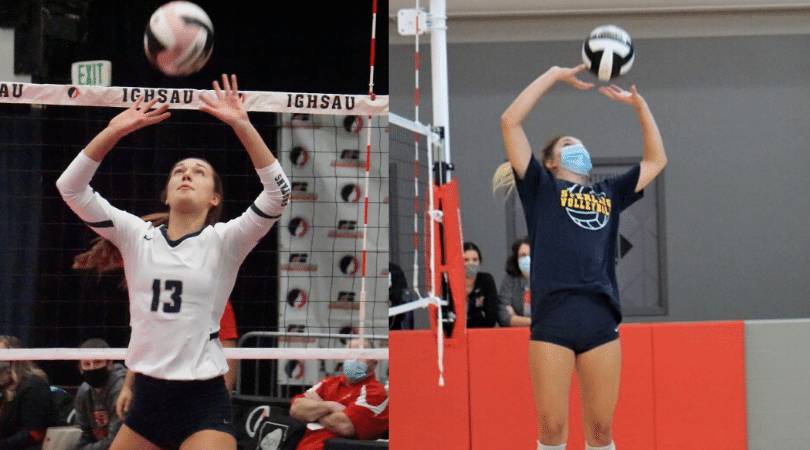 Posted On: 01/12/21 3:08 PM
We have athletes coming to the Quad Cities Clash who have won state titles, national titles, and some going across the country for their college volleyball.  Athletes from three states are heading to the Quad Cities to compete, some for the first time in months with the different state mandates in Illinois and Wisconsin.  Here is a complete list of athletes who have committed and where they will be taking their game at the next level. 
A fun matchup to keep tabs on will be Iowa Rockets 17R vs. Fusion 18 Red where the two will play at 9:45 on Saturday morning at TBK Sports Complex in Bettendorf. Both teams have some of the top players in their state.  Macy Daufeldt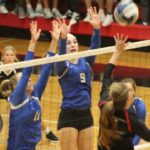 Macy Daufeldt 5'10" | OH West Liberty | 2022 State IA of Iowa Rockets 17R was one of the early commits from the Class of 2022 when she gave her verbal to Drake University her Freshman year.  Daufeldt is also the 2019 Class 3A state long jump champion in the state of Iowa.  Kora Ruff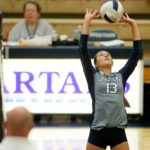 Kora Ruff 5'9" | S Pleasant Valley | 2022 State IA is one of the most recent commits from this group where she had a standout Junior season and Pleasant Valley out of Bettendorf.  She was one of the top setters in the state being named to the Des Moines Register All Iowa Elite team as well as Captain of the Quad Cities Metro team.  She will play in the Missouri Valley Conference at Evansville University in Evansville, IN. 
Fusion 18 Red is led by the Borum twins in Breelyn Borum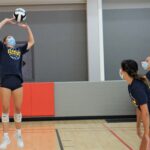 Breelyn Borum 6'0" | S Sterling | 2021 State IL and Brooklyn Borum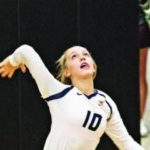 Brooklyn Borum 6'0" | OH Sterling | 2021 State IL .  Breen Borum is an extremely dynamic setter where she puts so much pressure on the defense with an athletic and physical style. Each time she jump sets, there is always a chance for her to swing and score points.  She is a top notch defender at the net and in the backrow.  She will take her game to Florida Gulf Coast.  Brooklyn will head to Virginia as a six rotation outside hitter.  Her IQ is one of the best you'll find with her ability to see the open spot as well as read the opposing attackers.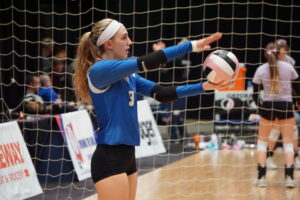 Iowa Rockets 17R
Kora Ruff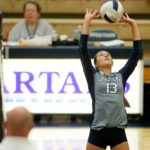 Kora Ruff 5'9" | S Pleasant Valley | 2022 State IA – Evansville
Macy Daufeldt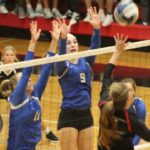 Macy Daufeldt 5'10" | OH West Liberty | 2022 State IA – Drake
Gabbie Schroeder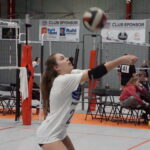 Gabbie Schroeder 5'7" | DS/L Iowa City Liberty | 2022 State IA – Drake
Ella Ramsay Ella Ramsay 6'1" | MB Moline (IL) | 2022 State IA – Loyola-Chicago 
Alexis Moses Alexis Moses 6'3" | MB Cedar Rapids Prairie | 2022 State IA – South Dakota 
Calia Clubb Calia Clubb 5'10" | RS Clear Creek-Amana | 2022 State IA – Illinois State 
Balance 18s
Olivia Jost – Winona State
Lauren Passaglia – Hillsdale 
Grace Regnier – UW-Stevens Point
Bree Borum of Sterling puts so much pressure on the defense. pic.twitter.com/F33qHxxKAW

— Chris Fitzgerald (@PrepDigChris) September 19, 2020
Fusion 18 Red 
Madison Clark – Jacksonville University 
Allyson Warburton – UW-Whitewater
Samantha Abruzzo – Purdue University Northwest
Calley Jones – Denison University 
Bree Borum – Florida Gulf Coast
Brooklyn Borum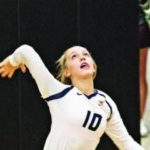 Brooklyn Borum 6'0" | OH Sterling | 2021 State IL – Virginia 
Sky High 17 Black 
Rian Baker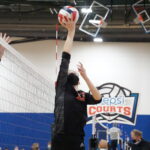 Rian Baker 5'11" | S Fremd | 2022 IL – Wake Forest
Maddie Moan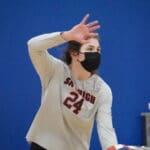 Maddie Moan 6'0" | MB Woodstock | 2022 IL – UW-Milwaukee 
Sky High 18 Black 
Deme Yianas – Case Western University 
Alyssa Graf – Converse College
V-Hawk 18 Adidas 
Emma Kujawa – Minnesota-Duluth 
Jada Mitchell – Viterbo 
Isabella Pigorsch – St. Marys (MN) 
Eastside 18U Ninjas 
Kelsey Todd – Olivet Nazarene
Ashleigh Brawley – Culver-Stockton
Wisconsin Ice 18 Purple 
Sydney Lillienthal – Concordia University – Wisconsin 
Sting United – Madison 18 Red 
Anna Bohrer Anna Bohrer 6'0" | DS/L Verona | 2021 State WI – Concordia University – Wisconsin 
Anna Bohrer Anna Bohrer 6'0" | DS/L Verona | 2021 State WI of Verona has been one of the best setters in the PDFL. 2021 major sleeper! pic.twitter.com/Yt4zOBSH77

— Chris Fitzgerald (@PrepDigChris) October 20, 2020
Platform Elite 
Jenna Syring – Black Hawk 
Molly Engler – Black Hawk 
Annie Stotlar Annie Stotlar OH Bettendorf | 2021 State IA – Waldorf 
Addie Dunker – Dominican 
Aubrey Lamphier – Illinois Wesleyan 
Did we miss one?  Email chris@prepdig.com to update this list of committed athletes at the Prep Dig Quad Cities Clash