Posted On: 01/11/21 4:18 PM
Over the last few months, we've provided you a lot of information about who are the players you won't want to miss when the high school volleyball season starts in Washington next March. First, we broke the players down by division and then we switched gears to analyze who are expected to be the most outstanding athletes in the top teams of each of those divisions.
For the next several weeks, we'll dive even deeper, taking a closer look at each of the 46 district leagues in the state of Washington and pointing out the players we believe will be worth your attention in the near future.
The 4A Greater St. Helens district is composed of four high schools, and their three best players are: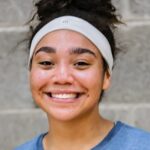 Tyra Schaub Tyra Schaub 6'1" | OH Skyview | 2023 WA – Outside Hitter – Junior – Skyview
Tyra Schaub Tyra Schaub 6'1" | OH Skyview | 2023 WA is one of the most coveted prospects in the entire state as her game combines power and technique in a way that's rarely seen. The 6'1" Skyview outside hitter is a scoring machine at the net, but is also an elite defender and passer, having