Posted On: 01/22/21 1:30 PM
This is our first look at the 15s on the club scene. We were excited to see some of them in action as I checked out pieces of a few matches on Saturday. There were some great battles taking place with many rising players in the class of 2024…and even some 2025's that caught our attention. Let's see how these teams did over the weekend.
Dynasty 15 Black: Day 1 6-0; Day 2 5-1; 3-1
Talented, talented team here. They are a team that will be in the mix for a national championship come Las Vegas. They have every ingredient needed to make a championship run, and this is after seeing them in January. They had a dominant first day, with their only close set being a four-point victory. Prior to that set, the most points they surrendered all day was 12. We did learn on day 2 this team wasn't untouchable, after going 5-1 on the day splitting with a strong CIS 15 Blue team. They also had a spirited match up with KC Power, winning the second set 25-23. On day 3 they dropped their first set to Colorado Juniors 25-23 before coming back with a statement set of 25-9. 
Standouts: OH Skyler Pierce Skyler Pierce 6'1" | OH Olathe Norhwest | 2024 State KS , OH Carlie Cisneros Carlie Cisneros 6'0" | OH Liberty North | 2024 State MO , RS Abigail Mullen, S Emma Christian, L Ryan McAleer
KC Power 15-1: Day 1 5-1, Day 2 1-4
Power's top team had an impressive showing on the first day of competition going 5-1 in sets after splitting a match against Colorado Juniors. Even though the second day saw more losses than wins, they were in every match including one that ended in a 27-27 tie due to time restraints. 
Standouts: MB Zoe McDonald Zoe McDonald OH Shawnee Mission East | 2024 KS , OH Jillian Huckabey, L/DS Mya Bolton Mya Bolton 5'3" | DS/L St. James Academy | 2024 State KS , MB Julia Headley Julia Headley 6'2" | MB Olathe Northwest | 2024 State KS , S Janelle Green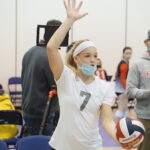 Janelle Green 5'9" | S Blue Valley North | 2024 State KS
Mavs KC 15-1: Day 1 4-2; Day 2, 3-3
Mavs KC 15-1 would go 4-2 on day 1 after suffering a defeat to CIS 15 Blue. They were re-pooled for day 2 and finished third in that grouping. They started the day with a sweep of Norco 15 Black before splitting with NE Elite 151. They would end their day losing in straight sets to Premier 15 Gold. 
Standouts: OH Sara Allmon, S Kelsey Schenck, RS Fiona VanDyke
Mavs 816 15-1: Day 1 1-5; Day 2 4-2
816 had a rough going on their first day of matches, winning 1 set after a split against SMV 15-1. They would bounce back for a better second day, getting 4 set wins against SMV and The Diff 15 Arete. They finished behind a tough Iowa PowerPlex team in pool action. 
Standouts: L Emily Mathis, OH Hannah Woolley, MB Makayla Myers, MB Meghan Lovsky
Dynasty 15 Blue: Day 1 4-2; Day 2 3-3; Day 3 2-2
Dynasty Blue had a competitive first day finishing 2nd in their respective pool. They went 4-2, dropping sets to Mavs KC 15-2 and NE Elite 15 Heat. They had to battle on day 2 against the likes of NE Elite 152, Momentum 15 Rachel, and Premier 15 Black. They split each match to finish even on the day. 
Standouts: OH Keliah Rivers, L Hannah Porter, MB Geneva Musolf, S Lauren Wright
KC Power 15-2: Day 1 4-2; Day 2 3-3
Power traveled their second team to Omaha to join in the fun and they had a strong Day 1, only dropping a match to Premier 15 Black. The next day saw them go .500 in set play. They ran into a tough Mavs 2 team and split with Colorado Juniors 15 Kirk. 
Standouts: L Sydney Williams, S Virginia VanDerWerff, RS Brynn Stowell, DS Skyler Holmes
Mavs KC 15-2: Day 1 5-1; Day 6-0
Mavs KC also brought along their 2 team up I-29 for the weekend. They impressed on their first day of the club division only dropping a set to Dynasty 15 Blue. The only way you can improve on day 1 is going undefeated on the second day. That is exactly what they did, going 3-0 on matches including sweeping local foe KC Power 15-2. 
Standouts: OH Emory Sher, RS Ella Goodwin, OH Seenane Brewer, L Isabelle Jones