While I was unable to attend the Quad Cities Clash in person, I was able to appreciate the amazing volleyball being played just a few hours away from me. It was fun to watch teams play for the first time and be able to focus on one court at a time. 
Luckily, even across the court watching on my computer, I could see teams, especially liberos, and they really impressed me! Here are some liberos who stood out at the Quad Cities Clash: 
Grace Comilla – Sky High Adidas 17-1 
Grace is just a solid athlete. She doesn't seem to get flustered and really holds her base well. She has a powerhouse serve that is tough to receive and goes on a run most times she is up to serve. She also defends the back row well and has a good read of opposing hitters.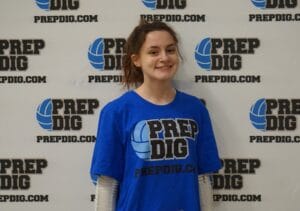 Peyton's angles and platform stood out to me she has a great foundation as she passes which helps with her consistency and accuracy. She is also fast and scrappy in coverage and picks up balls that are very tough to get. 
Francesca Brandonisio – Digtown 16 Red
Francesca's speed and grit really impressed me when I watched her team compete. She got touches on nearly every ball and was always moving across the court. Her hard work and scrappiness were evident even on the screen and she was a fun athlete to watch on defense. 
Cora Webster – Sting United Madison 15 Red
Cora had great movement to the ball. She read the ball well off the hitters or server's hands and reacted from there. As a result, she had some great touches and even better passes throughout the match. Cora was very consistent and was a huge asset to her team. 
Ashlyn has a lot of speed and potential as a libero. I could actually see her talking and communicating with her teammates from across the court which is a huge indication of the leader she is and will grow to be. Ashlyn also has a solid platform that combined with her speed makes her really solid in the back row. 
These liberos will only continue to grow in their leadership and team roles and should have very successful seasons! Each of these athletes has something unique to offer their teams and are fun to watch on the court.