Is it too early to start looking at players in the class of 2025?  We think not.  This list of current eighth graders caught our eye playing for their varsity teams.  As they gear up for club seasons, they will be on some of the top 14's/15's teams.
Kiley Passow Kiley Passow 5'10" | MB Pine Island | 2025 MN – Pine Island
This physical, young athlete has been on the varsity team for both of her high school seasons for the Panthers.  Passow was named to the Hiawatha Valley Conference All-Conference Honorable mention team this year.  Her shear strength separates her from her peers and she has the muscular makeup of an older athlete.  She uses her power at the net to shut down some of the top 2A hitters with her excellent blocking form.  They also utilize her in the back-row for her powerful serve.  Passow will play for Southern Minnesota Volleyball this club season.
Mesaiya Bettis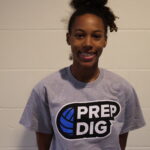 Mesaiya Bettis 6'0" | OH Burnsville | 2025 State MN – Burnsville
At 5'10'' Bettis is a force on the outside and in the middle.  They used her quickness to score in both positions.  They relied on her contributions all season.  She started with 11 kills against Apple Valley.  This match set the tone for the rest of year.  Her personal best was 16 kills vs. Eastview.  Perhaps most impressive is her kill percentage; with an average of 0.291 and as high as .562- when she tallied 9 kills, 0 errors out of 16 attempts against Lakeville North.  She has our attention and the respect of the South Suburban Conference.  Expect her to be at the center of Burnsville's offense for the next several years!  Last year she played on the 14-1 team for Thunder Volleyball club and this year she will be on the 15-1's.
Clara Hoegh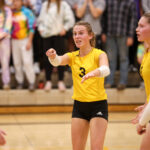 Clara Hoegh 5'8" | S Byron | 2025 State MN – Bryon
The 8-3 Byron Bears were led by a courageous eighth grade setter.  The 5'6'' Hoegh usually ran a 5-1 offense  which would seem like a lot for such a young player, but watching her, it just seems natural.  She ended the season with an incredible 387 total assists.  She was named to the All Conference- Honorable Mention team too.
Berlyn Strege Berlyn Strege 5'5" | OH Kittson County Central | 2025 MN – KCC
While their team only was able to squeeze in 6 matches for the 2020 season, it was clear Strege is being groomed to become a household name in the 7-Star conference.  She will likely develop into a outside hitter with her strong passing skills and explosiveness at the net.  Being pulled up at a young age has allowed her to learn from older athletes while allowing her to show her competitive nature.  
Anya Schmidt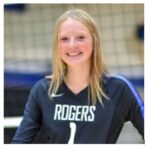 Anya Schmidt 5'8" | S Rogers | 2025 MN – Rogers
Anya is another young setter with strong volleyball IQ.  In her varsity debut she helped her older teammates adding 13 assists.  From there she kept gaining momentum and confidence; she finished the season with over 260 assists.  She also has a lot of potential to be a top hitter for them too with a powerful jump serve to match!  It looks like she will be setting for the 15-1's at Club Velocity.