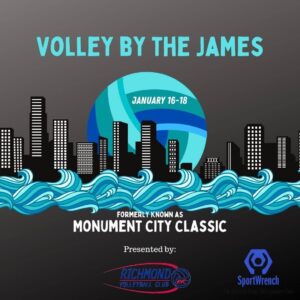 The perennial season kickoff tournament in the commonwealth is generally the wonderful event hosted by Richmond Volleyball Club. Formerly known as The Monument City Classic, this year the name was changed to Volley by the James and is help the holiday weekend of the Martin Luther King birthday celebration. The three day tournament was split into three sites this year due to the pandemic and went off with great success. 
Many phenoms and prospects were playing this weekend as well as many names that are familiar to PrepDig VA fans and volleyball fans alike. We will cover the names you may not know and players to watch in the coming weeks as high school season is set to start in mid-February in the commonwealth. Here's a few players to watch and who could help out a college program this Fall. 
Faith Nguyen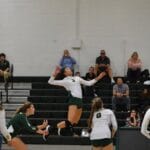 Faith Nguyen 5'8" | OH Loudon Valley | 2021 State VA is an Outside Hitter for Blue Ridge Volleyball Association. At 5'8, she's below average size for big time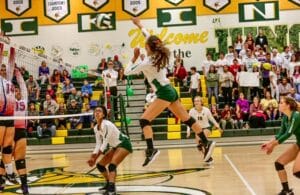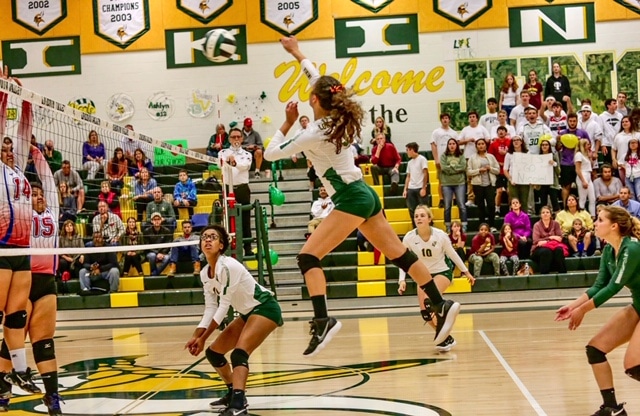 collegiate outside hitters but what she lacks in size, she more than makes up for in athleticism, heart, skills and volleyball IQ. She's a great passer and defender who reads the game well and is extremely fast in covering the floor. Offensively, she is a smart hitter and would project as a OH2 in most offenses with the lack of elite power. She sees the block and defense well and can score in out of system plays. The higher the level of the team, the more likely she would move to a Defensive Specialist or Libero position but could definitely hold her own with most D2 and NAIA schools and higher end D3 programs. 
Emily Sulli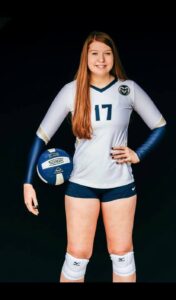 van has immense potential to be a powerhouse at the next level. With a wide range of skill sets, she would be an asset to most college programs up to and including the NCAA Division 1 level. Emily is a 6'1 left handed player who has played Middle and Opposite but sets for her team in a 6-2 at Lafayette High School. She is playing this year for Coastal Hampton Roads after playing previously or Williamsburg Volleyball Club. She was named first team all region in 2019. She amassed 339 kills, 65 aces, 83 blocks, 181 digs and 172 assists for the Lafayette Rams. Emily is a good blocker and covers a lot of space with a big first step. She has a strong arm swing and with more refinement can develop into a dominant hitter. She's raw in her transitions and can improve on creating space in transition to be a ready attacker on more plays. She has good ball control and a solid serve which could help her if she moves full time to opposite. According to her high school coach, Emily wants to be a great player and is an exceptional teammate. 
Sydney Jones Sydney Jones 5'9" | S Edison | 2021 State VA (Vienna Elite) is an extremely dynamic modestly sized powerhouse for Vienna Elite. Despite her modest stature (listed at 5'4), she plays a big role in her team's success. A great passer and skilled attacker, the Outside Hitter is a stellar athlete and competitor. She drives to win every point and resets quickly to attack the next opportunity. Many coaches will overlook her offense because of her height but she could be a big contributor all around at the next level. She can definitely hold her own defensively with anyone but could be a good fit for a NAIA or D2 school who needs that fiery competitor who refuses to lose. She's a three sport athlete at South County High School and dreams of studying a science field in college.
Lily Scheeren OH (RVC 18 National) is a 6'1 Outside Hitter who can also fill in at Middle if needed. She moves around the court with balance and speed. She has quick reactions on defense and as solid platform. She has a fast arm and is a very efficient hitter with tempo and in system balls. She's aggressive offensively and not afraid to take the big swing when needed. She has a small hitch at the top of her swing that doesn't impede her power but can slow her contact on out of system balls. She's a solid blocker and sees the court well offensively.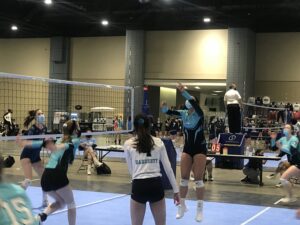 Katherine "Kat" Fong is a 5'11 setter for the Vienna Elite 18 F team. The dynamic and cerebral setter is also a strong athlete with a good vertical and excellent release on her sets. She sets a very hittable ball and is able to turn poor passes into in system plays with her high volleyball IQ and athleticism. She has a good jump float and is very fundamentally sound in all aspects of the game. She's a solid defender and a good blocker at the net. She lacks the extreme athleticism that is needed to be a starter for a Power 5 school but could definitely contribute at any other level of college volleyball. She sees her hitters well to help ensure a solid attack and scoring opportunities for her team.  She attends Robinson Secondary School and is in the IB program there and is always looking for a challenge.