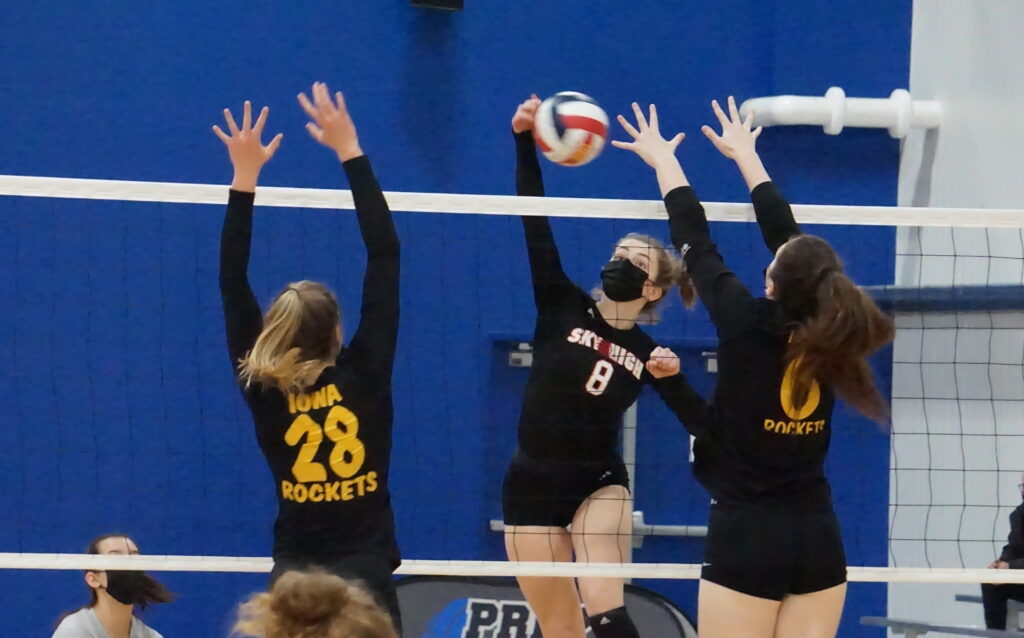 Posted On: 02/18/21 12:06 PM
It's happening!  The Great Lakes Region will be holding their qualifier over the next two weekends across sites across Chicagoland.  Before reading about these Class of 2022 prospects, let's take a moment to appreciate the effort from those involved to coordinate the logistics in order for an event like this to happen.  The 17s will start Saturday pool play at 1st Alliance, Adversity, and Sky High with teams then advancing to new locations on Sunday.  These athletes have been training and doing whatever it takes to get back on the court and here are a few from the Class of 2022 who will be looking to make a big impact this upcoming weekend! 
Ariana Joubert Ariana Joubert OH Montini | 2022 IL – 1st Alliance 17 Black 
Outside Hitter
Joubert is long, athletic, and has quite a snap on her swing from the left side.  She knows where to find the deep corners and how to score points.  With a solid fundamental skill set, she can serve receive and get the first contact in system for 1st Alliance 17 Black to be in system.  They will head into the weekend as the number four overall seed.  This class and division is loaded and could get interesting as more national qualifiers come around and teams start getting Open bids. 
Kamryn Chaney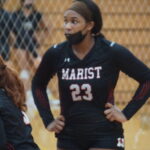 Kamryn Chaney 6'1" | MB IL – Michio 17 National 
Outside Hitter
Chaney is blend of speed and power where she can fly on the pin, but also has the physicality to put the ball anywhere with authority.  Michio can run her out of multiple formations where she is a threat out of serve receive to score on the left or right pin. Her power is definitely one to always respect no matter where she's at on the court.  They will be in a day one pool with Epic United 17 Premier and Sky High 17 White and has the number two overall seed behind 1st Alliance 17 Silver. 
Caroline Krueger – Epic 17 Elite
Right Side
Krueger has an extremely active arm and knows how to score points.  She plays primarily on the right side for Epic, but is the type who can score from anywhere in the front row with her athleticism and is so dynamic with her swing.  She can use some crazy angles to score points and use the block as well.  Not only can she contribute with her swing and block in the front row, but she is a six rotation right side where she provides a swing from the backrow as well. 
Bianca Anderson – Epic 17 Elite
Middle Blocker
I really like this Epic group with how gritty they are.  They aren't going to outsize anyone, but they know how to compete and have no fear going against some of the top clubs in the nation.  Anderson is springy out of the middle, scoring points off one foot, and runs a quick tempo with setter, Rachel Rossman (Oakland Commit).  This group was making a huge run in 2020 with a strong finish at Triple Crown and will look to make waves heading into qualifier season. 
Paige Pickering Paige Pickering OH Montini Catholic | 2022 State IL – 1st Alliance 17 Silver
Outside HItter
Pickering is an explosive athlete who can let it rip from the pin.  She is able to seal the line with her swing and find ways to hammer down or find the open spot in the corner.  1st Alliance has plenty of depth at plenty of positions, they will put themselves in a great position for to not only grab a bid through this tournament, but also be in contention for an Open bid. 
Maddie Kasallis – 1st Alliance 17 Silver
Middle Blocker
Fundamentally solid with great footwork which allows her to be in position to attack with multiple tempos.  Long, athletic, and laterally quick she is able to close her block and remain discipline with her blocking assignments.  She is lethal with a cutback short or can take it with her to the other corner.  The depth of attackers will be tough to stop this team this season where they have multiple go-to options and a 2023 setter in Ava Schabes Ava Schabes 5'9" | S Whitney Young High School | 2023 IL who knows how to run the show. 
Elaina Rizzo – Mission 17 Elite 
Setter
Mission has been picking up plenty of momentum this season and their 17s recently finished with a tie for 10th in Premier at the St. Louis Presidents Day Challenge.  One of the key athletes for their success is Elaina Rizzo who is a long, athletic setter who can really command the court.  She receives the ball high, remaining neutral where she can go to any of her attackers, keeping the defense honest.  With her length she is a presence at the net with her block and can also execute a quick tempo extremely well. 
Jaslynn Peterson – Uno 17 Elite 
Libero 
Uber scrappy, Peterson moves well and is essential to Uno being able to get in system with the likes of Anna Baranski Anna Baranski 5'7" | S Minooka | 2022 State IL setting to quick hops in the middle with Jada Hampton Jada Hampton 5'10" | MB IL .  Peterson is joined in the backrow by another ball control specialist in Ashlyn Berczynski Ashlyn Berczynski 5'7" | DS/L IL .  The duo is very solid together in the backrow where they can get the offense rolling with a clean first touch. 
Amanda Holsen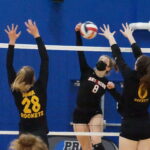 Amanda Holsen 5'11" | OH Stevenson | 2022 State #180 Nation IL – Sky High Adidas 17 Black 
Outside Hitter
I most recently saw Holsen at the Prep Dig Quad Cities Clash which seems like ages ago in mid-January.  For most of the Illinois teams at that event, it was their first competition in months.  Holsen was a standout on the pin with a big arm swing and the IQ to use the block to her advantage.  She is extremely dynamic with what she can do to score points for her team. 
What's next in 2021 for @PrepDig Tournaments??

Check out our full tournament lineup below!

Registration and info on AES (search Prep Dig) ⤵️https://t.co/Rb6kKlxfGE pic.twitter.com/cicrES5Bzl

— Prep Dig Events (@PrepDigEvents) February 3, 2021