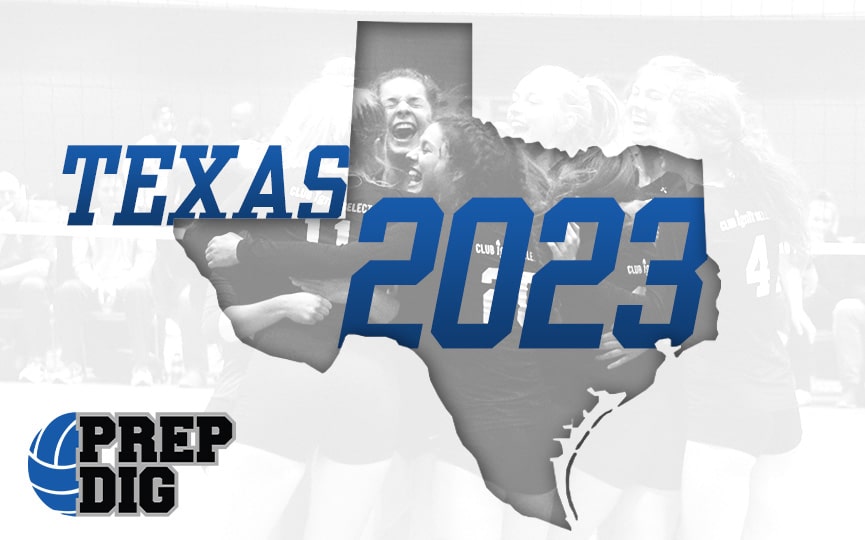 Posted On: 02/27/21 4:40 PM
We spend a lot of time watching the older age groups because its high powered offense versus solid defense.  Well the youngsters deserve some attention too.  A lot of the 2023 class in our rankings can already play at the Varsity level or Open club level at such a young age.  We wrote about these Phenoms early in the spring and wanted to give them some kudos on their high school and club season play.   Without further ado, here are a few 2023 players to watch for due to their amazing play this year.
Isabella Breeden Isabella Breeden 5'9" | S Westlake | 2023 State TX [2023] 5-9 Setter (HS: Austin Westlake/Club: Austin Skyline/Verbal: Uncommitted)
Miss Breeden is currently ranked as the number 8 ranked prospect in the 2023 class according to our Prep Dig State Rankings.  In a previous article we stated the following, "She has excellent hands who find their location multiple times in a row for her dynamic Austin Skyline hitters.  Her team is one of the top teams in the 15'sage group and she is a big reason why.  Pinpoint accuracy is something that all setters strive for.  This young lady is capable of setting like that already at a young age.  While there is not a lot of super flash with her setting, it is extremely consistent. The main reason that she is ranked so high on our list has to do with her overall ability.  She is also a primary weapon in their offensive attack on the Right Side.  This lengthy lefty can already bang with the best of them.  She scores at a high clip and hits the ball with authority.  Isa also is a primary passer in their serve receive options as well.  She has a bright volleyball future ahead of her as we only see her improving down the road."  She has been on a tear with her club squad so far in the early season.  They are playing lights out and have a phenomenal offense.  Miss Breeden and the way she sets the table for her hitters is one reason why.  She is a true dual threat who can use her whip of an arm to score with the best of the age group.  She has helped them qualify for the Tour of Texas and we will see how they fare against the rest of the best of Texas in their age group.  They have something special cooking in the 16's age group this year and we will watch very closely as they embark on a winning season. 
Harper Cooper Harper Cooper 5'9" | S Parish Episcopal | 2023 State TX [2023] 5-10 Setter/Right Side (HS: Parish Episcopal/Club: Madfrog/Verbal: Uncommitted)
Harper comes in ranked as the number 12 ranked prospect in the 2023 class according to our Prep Dig State Rankings.  In a previous article we wrote the following about her, "Check out her arm swing if you are able to see it, as it is lightning quick.  She is a kill waiting to happen for her athletic Madfrog team.  They like to go against flow and set her on the right in an out of system play and she scores very efficiently at it.  With a fast arm like that, she will only get better as the years go on.  She is also very quick off of the ground with her approach.  She has excellent ball control with her attack as her hand contact is second to none.  She can place the ball wherever she wants to.  The same can be said for Miss Cooper as the main reason for her high ranking is her ability to play all over the court.  She also sets for her amazing Madfrog team.  She is very poised as a setter and has excellent ball control. Her athleticism allows her to touch any ball on the court.  She will be a force for a long time in this game."  In only two years on varsity at Parish Episcopal, Miss Cooper has been lighting up the stat book.  She has been a kill leader for them and is not stopping anytime soon.  She has 664 kills, hitting an impressive .384 percentage, 75 blocks, 46aces, and 385 digs.  Her junior and senior season have a chance to move her into the school record books no doubt.  They lost a tough five setter to Liberty Christian in the TAPPS State Playoffs but will be back next year with Harper leading the way. 
Lyric Berry Lyric Berry 6'1" | MB Bishop Lynch | 2023 State TX [2023] 6-1 Middle/Right Side (HS: Bishop Lynch/Club: Madfrog/Verbal: Uncommitted)
Lyric is the 17th ranked prospect in the 2023 class according to our Prep Dig State Rankings. In our previous article we stated, "She plays with the above mentioned Harper Cooper Harper Cooper 5'9" | S Parish Episcopal | 2023 State TX on the same club team.  She is one of the recipients of those sets we mentioned.  Lyric owns the net on both offense and defense.  She commands the attention of the opposing team.  She is a shut down middle whose extremely long arms press over and seal the net perfectly.  Offensively she has tons of power, which helps her score at will in the middle.  Those long arms allow her to hit on top of the ball and it meets the ten foot line regularly.  She is able to hit balls along the net at almost every quick location both in front of the setter and behind.  We will be seeing her for a long time on our prospect list.  I look forward to seeing her progress in the middle."  Her sophomore season at Bishop Lynch was amazing as she amassed 121 kills out of the middle, hit a whopping .295 percentage, and had 51 blocks.  Her raw power and super high reach will keep her filling the stat sheet and helping to keep Bishop Lynch in the State race for the next few years.  Her Madfrog club team is stacked with weapons and they will show the rest of the age group what they are made of.  Be on the lookout for a very high powered attack this club season. 
Mackenzie Plante Mackenzie Plante 6'0" | OH Lake Travis | 2023 State TX [2023] 6-0 Outside (HS: Dripping Springs/Club: Austin Performance/Verbal: Uncommitted)
Miss Plante is currently ranked as the 11th best prospect in the state according to our Prep Dig State Rankings.  In the previous article we wrote on Mack, we stated the following, "Watch her hit a ball once on the left side and you will see why.  I hope her opponents have life insurance because her swing is lethal to say the least. She is a true six-rotation player who has great ball control in serve-receive for her scary good Austin Performance club team.  She has every shot imaginable from the left side but her main weapon that is almost unstoppable has to be her line shot.  While most youngsters are still developing their ability to turn their body in mid-air to hit line, Mackenzie excels at it already.  And its not just her ability to hit it that is astounding, it's the power in which she does it with.  She has a CANNON for an arm.  I'm excited to see how much she improves in the sport and will bring my popcorn to watch this kid swing for the next couple of years."  She did not disappoint this past high school season.  She absolutely shined for her high school squad. With 332 kills and an amazing .310 hitting percentage on the left side, she was on fire as a sophomore on varsity. Add to that 24 blocks, 28 aces, and 253 digs and you have a stud volleyball player that you can count on for the next two years to lead your team to another playoff chase.  She has been wonderful so far in the young club season for Austin Performance.  She has been able to score from the back row and the front row easily.  Her line shot has been unstoppable so far.  College coaches take a look at this young lady and you will not be disappointed. 
Stay tuned to my next highlight article of more 2023 youngsters who are tearing the court up already.  If you know of any good prospects I should know, please send me an email at nov8vb@yahoo.com.