Finally, we end our review of the rankings update for the class of 2023. I realize that this is a tad late, but with everything going on in our club world, I wanted to give the proper attention to all classes and position groups. The athletes listed here are all responsible for their teams' successes, and their first contacts make or break every single point they play. Here are five we like from Indiana.
Reese Baker Reese Baker 5'4" | DS/L Wapahani | 2023 State IN , 5-4, Munciana 16 Ninjas
Ramsey Gary Ramsey Gary 5'5" | DS/L Pendleton Heights | 2023 State IN , 5-5, Munciana 16 Ninjas
Let me make this perfectly clear; if you need a passer, whether it is in serve receive or on defense, Munciana is the club to check first. At current, there are three starting liberi from Munciana in the Big Ten, regarded by most as one of the top volleyball conferences in the country. There are two from this club already signed to play in the Big Ten next fall. Between Reese and Ramsey, you could interchange them, have them receive serve as a pair, or have one of them take half the court in serve receive, and your team will win. A lot. Just like the Ninjas already have this spring.
Vanessa Del Real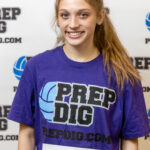 Vanessa Del Real 5'6" | DS/L Crown Point | 2023 State IN , 5-6, 1st Alliance 16 Silver
Going over the state line to Illinois is an exemplary ball control athlete that needs to be on everyone's radar. I saw her as a three-rotation DS recently, but she can also wear the special jersey, as she does for her high school team. The difference and energy she brings to the court is unmatched, and gets touches on balls some teams might give up on. Her impact is felt when she's in, and it's hard to replicate when she's not. 
Abby Herman Abby Herman 5'6" | DS/L Mount Vernon | 2023 State IN , 5-7, Rev 16-1
One of the taller and longer DS's in this class, Abby plays with a subtle quickness that allows her fellow passers to relax. To me, that's a sign of not only her teammates' confidence in her, but in Abby's understanding of what the special jersey's responsibilities are. She rarely makes errors, and her footwork is impeccable. She takes more balls in serve receive than the average libero, and can defend at an above-average grade.
Alexandra Kraft Alexandra Kraft 5'2" | DS/L Providence | 2023 IN , 5-2, Union UA 16-1
Spending time as both a three-rotation DS and a libero, Alex is more than capable of doing both, and comes from a great high school (Providence) and club program. She's been a 1s DS for years, if my memory serves, and is under appreciated for her abilities. Keep in mind, she's tiny on this list, yet doesn't play like it. She's fearless on defense, takes up a ton of space in serve receive, and can pass with the best of them.