Continuing our deeper dive into the rankings brings us to the middles that can, and should, make a difference at the next level. Here are five more middles we like.
Kimora Whetstone Kimora Whetstone 5'9" | MB Lawrence North | 2022 State IN , 5-10, Munciana 17 Pandas
My goodness, Kimora is a fast middle. Her transition, foot speed and jumping ability make her a perfect M2 candidate anywhere. She makes up for her height with length and athleticism, and hits with a heavy arm. There were times as a coach where I would beg my middles to just be available to attack. With Miss Whetstone, you never have to ask.
Kaitlin Fasbender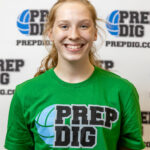 Kaitlin Fasbender 5'10" | MB Lawrence North | 2022 State IN , 5-10, Academy 17 Elite Tsunami
From the same high school as Kimora comes Kaitlin, who is a natural M1. Her attacks off of one foot, whether it's a post or a slide, are smooth and high. I like her length as well, and her defense at the net is excellent. She's been a 1s-level middle for the Academy for two years now, and it's only a matter of time before someone sees and cashes in on her talent.
Ariel Helm Ariel Helm 6'0" | MB Lawrence North | 2022 State IN , 6-0, Rev 17-1
OK, so there are THREE middles from Lawrence North on this list, and I didn't even mean to do it this way. Ariel is the biggest and highest jumper of the three, and I feel bad for listing her third because she can do things defensively that the other two cannot. One could probably put Ariel on a pin in a pinch if you really needed a block, because she's more than capable of doing so.
Megan Saalfrank Megan Saalfrank 5'11" | MB Bellmont | 2022 State IN , 5-11, Team Pineapple 17 Black
More of an M2 than an M1, Megan uses her long arms and shot-making ability to put balls away in any tempo thrown at her. I like her long strides to make up ground quickly if she's late, and her high-and-deep swinging makes for a ton of terminating plays.
Audrey Naberhaus Audrey Naberhaus 6'0" | MB Brownsburg | 2022 State IN , 6-1, Circle City 17 Black
Probably more of an M1 at the next level, Audrey could conceivably do both in college. Her height is a definite advantage, as she is the biggest on this list. Her pin-to-pin defending abilities are also a plus. Audrey is getting stronger by the year, and this club season has, so far, turned out to be her best.