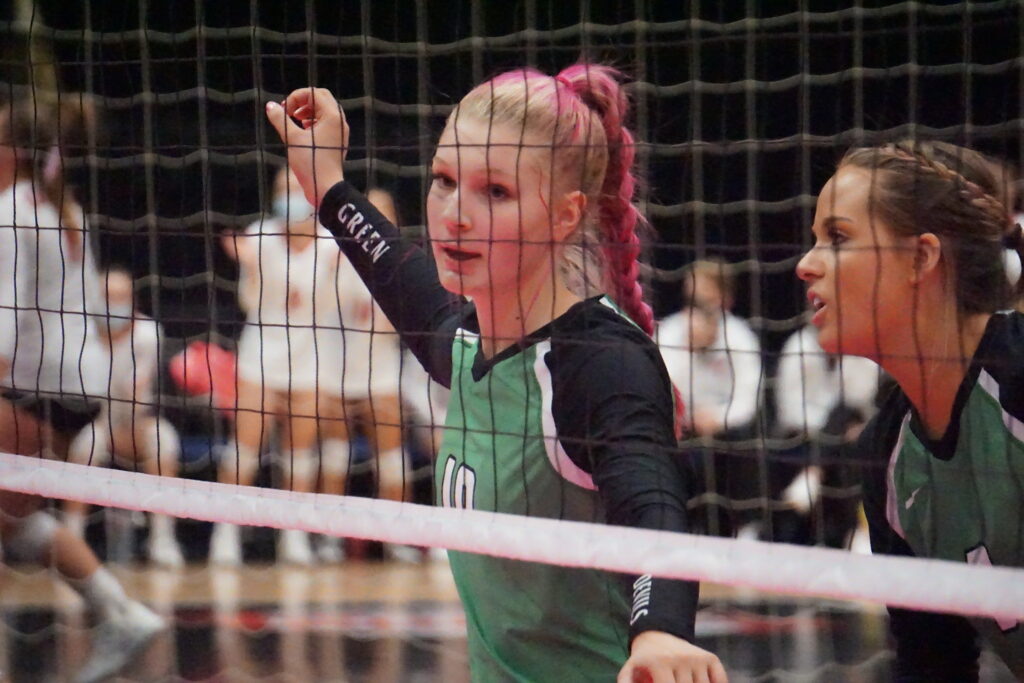 Posted On: 03/4/21 2:32 PM
Iowa Regionals is quickly approaching at the Class of 2023 is anxiously awaiting for their chance to compete and chase their first opportunity at a bid to USAV Nationals in Vegas later this summer.  From all across Iowa, there are plenty of athletes who will be playing in Des Moines and will be on the radar to college coaches and would also be ones who could be on the Iowa High Performance Camp and Teams for the summer as well.  Here are ten athletes who will be looking to make an impact at Iowa Regionals from the Class of 2023. 
*IOWA 2023 Rankings will be updated late March! 
Claudia Aschenbrenner Claudia Aschenbrenner 5'10" | OH Osage | 2023 State IA just hitting different this weekend. Playing up on @ClubIowa 18 Black for the day. 2023 looking dangerous from the pin. pic.twitter.com/ABGc4jH1KV

— Chris Fitzgerald (@PrepDigChris) February 6, 2021
Claudia Aschenbrenner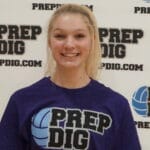 Claudia Aschenbrenner 5'10" | OH Osage | 2023 State IA – CIA – Osage 
OH/RS/MB
Aschenbrenner was a major impact player for Osage enroute to their state title this past fall, but she might have a different look this spring and heading into the next high school season.  Ashenbrenner has been a dynamic middle, but she is making the switch to the pin where she packs a major punch.  She is strong, athletic, has an aggressive approach, and her armswing speaks for itself, it will be fun to see her progress this club season and into the summer.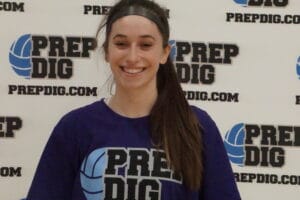 Ellie Anderson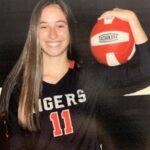 Ellie Anderson 5'11" | OH South Hardin | 2023 State IA – Club Ignit Select – South Hardin 
OH
Solid in all six rotations.  Anderson is a springy outside hitter, but she can score points from everyone whether its on the outside, right side, or backrow.  Her game is solid and consistent as she has been a key athlete for Club Ignit Select 16 Blue and they will look to claim an early bid from Regionals.  She is one who has a big time upside and is a catalyst to her teams success. 
Ella Meyer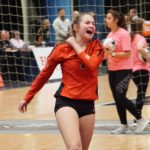 Ella Meyer 5'4" | DS/L Western Dubuque | 2023 State IA -Six Pack – Western Dubuque 
Libero
Meyer plays with plenty of fire as a libero for Six Pack where she has already played in five state tournament matches and she is just finishing her Sophomore year.  She can take pace off the ball and put a clean pass to her setter out of serve receive.  Six Pack has plenty of weapons and will be interesting to see how they come together against other top teams in Iowa. 
Jessie Julius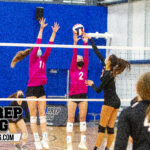 Jessie Julius 5'7" | OH Williamsburg | 2023 State IA – Iowa Rockets – Williamsburg 
OH
Julius is definitely on the rise for Iowa Rockets who has a lot of length and firepower with their offense.  Julius is a six rotation outside who brings a lot of power to her game, but also an IQ where she knows when to go for it and also when use an IQ shot to score points.  A solid athlete, she is also an outlet out of the backrow with a swing as well. 
Amelia Duggar a 2023 middle having a huge day for @ClubIowa 17 Black. Typically on the 16s team. Moves well, fast arm, point scorer out of the middle. pic.twitter.com/Kp4oM3qEY1

— Chris Fitzgerald (@PrepDigChris) February 6, 2021
Amelia Dugger – CIA – Decorah 
MB
I was able to see Dugger play up on the CIA 17 Black squad at the Tour of Iowa when they were down a few athletes.  She was dominant out of the middle where she has solid ball contact and a major point scorer.  Quick arm, avoids the block, and an overall strong athlete where she has a ton of upside to her game.  CIA 16 Black has a scary combination of players who will be an up and coming squad to respect heading into Des Moines.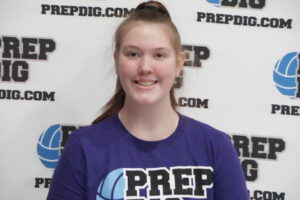 Hannah Kurth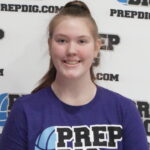 Hannah Kurth 6'2" | MB Ankeny Centennial | 2023 State IA – Club Ignit Select – Ankeny Centennial 
MB/RS
Kurth had a great outing at the Prep Dig Tour of Iowa Showcase where she was a force to be reckoned with at the net. At 6'3, Kurth has experience on the right side and middle where she can really affect the shot of the opposing side with a stuff block or making them adjust their shot is big when it comes to getting their side of the net in system.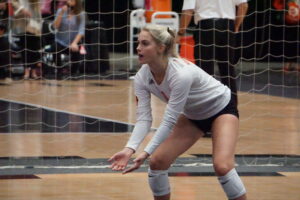 Olivia Lombardi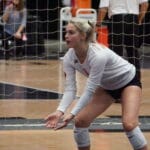 Olivia Lombardi 5'7" | DS/L West Des Moines Valley | 2023 State IA – Iowa PowerPlex – West Des Moines Valley 
Libero 
Lombardi may be one of the best overall athletes at the libero position.  How she moves, the overall coverage of the court, she is so active yet under control with platform and movement where she really is one to watch as a high level prospect in the Class of 2023.  She lights a fire on the court and is such a contagious energizer on the court.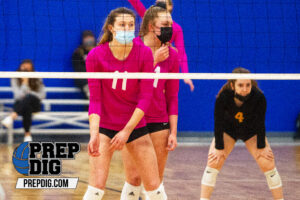 Gabby Deery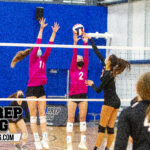 Gabby Deery 6'2" | MB Burlington Notre Dame | 2023 State IA – Iowa Rockets – Burlington Notre Dame
MB
Deery has a scary upside to her game.  When I saw her at the Prep Dig Quad Cities Clash, she was dominant out of the middle and the combo of her and Chloe Cline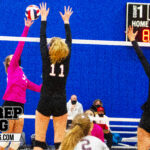 Chloe Cline 6'1" | MB Pleasant Valley | 2023 State IA with setter Avery Van Hook definitely makes for a lethal offensive attack with plenty of length.  This has been a group that has played together for a while and their chemistry is a definite plus for their group.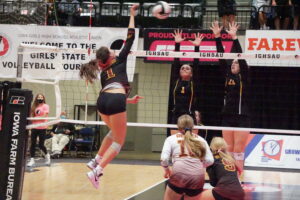 Kayla Knowles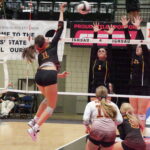 Kayla Knowles 5'11" | OH Denver | 2023 State IA – CIA – Denver
OH
Knowles is another one who has a scary upside to her game.  I saw her play at the state tournament live for the first time when Denver had an exciting quarterfinal win.  I saw her again playing for the CIA 17 Silver when she was playing up for the weekend at the Tour of Iowa and I think she was taller and hitting harder.  Denver is having a big time offseason where they will be looking to make a return trip to the Iowa Girls State Tournament in an area that is loaded with talent. 
Allie Barlow Allie Barlow 5'9" | S Cedar Rapids Jefferson | 2023 State IA – Iowa Rockets – Cedar Rapids Jefferson 
S/RS 
Barlow is a 2023 setter/right side who will be playing up on the Iowa Rockets 17-1 squad who is sneaky good and will be a contender at the 17s Regional.  Barlow is so smooth and a great all around player who offers so much to her team from a setting and right side perspective. She is a little under the radar, but is one who will be rising in the Class of 2023. 
Upcoming Prep Dig Events – Click Here
Friday, April 23 – Indy Spring Showcase 
Saturday and Sunday, May 1-2 – Battle In The Valley – Appleton, WI 
Saturday – Monday, May 29-31 – Prep Dig Gauntlet – Milwaukee, WI 
Saturday and Sunday, June 5-6 – Prep Dig Indy Summer Kickoff – Indianapolis, IN