We're here!  It's MEQ week for 15 Open and all of the 16s.  There is such a vibe at MEQ with spring in the air, food trucks are out (hopefully), and March in Indy is filled with so much electricity with the Big Ten Tournament there this weekend as well as the NCAA Tournament approaches.  In the volleyball world, the know the real madness is happening in the convention center.  
With Bluegrass just finishing up, which is always one of the most competitive tournaments in the country, what will that mean for the 15s and 16s heading to MEQ this weekend.  For some it might be a way to build momentum into the event.  Others, it might be a hard reset and a fresh start after some narrow losses over the weekend.  Here are some teams and storylines to keep an eye on heading into MEQ which starts Friday morning!  
Elevation 16 Butcher To Ride Momentum
Elevation 16 Butcher, just North of Cincinnati lost their first match of Bluegrass to Milwaukee Sting 16 Gold 17-15 and set three and wouldn't drop a set after until they met A5 16 Gabe in the finals, finishing second overall in the 16 Open Division.  This team is long and physical and will be facing some of the top teams in the country at MEQ, heading into the weekend as the number five seed behind KC Power, Alamo, 1st Alliance, and Drive Nation.  Alamo and Drive nation will be making their way up from Texas and have plenty of wins on their resume over the past two years that show why they are two of the tops in the country.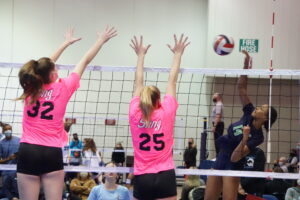 Sting So Close…
The margin of error is extremely small with this caliber of volleyball.  Milwaukee Sting 16 Gold has always been a gold bracket finisher in top tournaments at Central Zone and St. Louis President's Day.  At the end of the day it says they finished 9th at Bluegrass, but let's take a closer look into their matchups and the even how their matches finished.  In their six matches, four of them were in three sets and all of the three-set matches finished 17-15, 15-13, 16-14, 15-13, and they also had a second set win against Carolina Rogue 30-28.  At this level coaches demand a lot out of their athletes, putting them in pressure-packed situations in practice because it really does come down to a matter of points of what your final day of a tournament fate will be.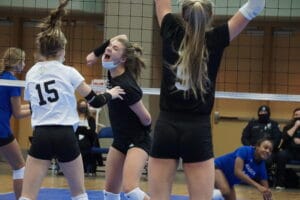 Hometown Teams Look To Capitalize
For some teams playing in Bluegrass and MEQ back to back can make for a rugged week, a long car ride, possibly a flight, and not a lot of practice time in between to make adjustments.  For Circle City 15s and 16s, both are at a caliber where they have the chance to claim a bid opening weekend.  They have had strong outings at every event they have competed at so far and will  the same be said for the likes of Academy and Boilers?  The Academy 15E Venom is coming off a strong weekend at Bluegrass finishing in a tie for 5th at 15 Open.  Boiler Juniors will be hungry to rebound at MEQ.  This is another example of reading the fine print where Boilers finished outside of the top 15, but thats after a power pool and four matches that ended in three set losses.  After seeing this team live back in January I know they will rebound with plenty of fire and spark looking to make a comeback in their home state.  For the teams from Indy or even within driving distance is their value in being able to sleep in your own bed during an event like this?  We will see!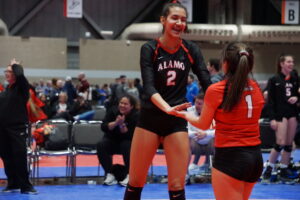 Midwest vs. South vs. Mideast
There are always stories within a story.  At events like this, I love to be able to take a look at a schedule and see who will be the big matchups, the dark horses (more on that story later), but when taking a quick glance there are some big name programs that will be coming from out of the region to take their first chance at claiming a USAV Open bid.  Drive Nation and Alamo are coming up from Texas where I previously mentioned, they mean business. The Alamo 16s Premier squad took second in the 2020 Triple Crown Invite, losing to Legacy (MI) in three sets.  KC Power and Dynasty will be coming from the Kansas City area where their tradition speaks for itself.  Dynasty 15 Black has a dynamite lineup full of length and power with Skylar Pierce and Abigail Mullen.  Mullen is from the Class of 2025 and is competing on one of the top teams in the country at an age level up.  KC Power 16-1, the top seed in 16 Open has Ella Swindle who is the top setter in 2023.  While the Great Lakes area of clubs from Wisconsin, Illinois, Indiana, Michigan, and Ohio will be waiting.  Let this be a clash of the regions of what will be a Gauntlet of qualifiers this season. 
I will be providing live coverage all weekend at MEQ starting Friday morning!  I will have updates on my twitter page at @PrepDigChris throughout the weekend with plenty of photos, video, content of previews, and post-event coverage.