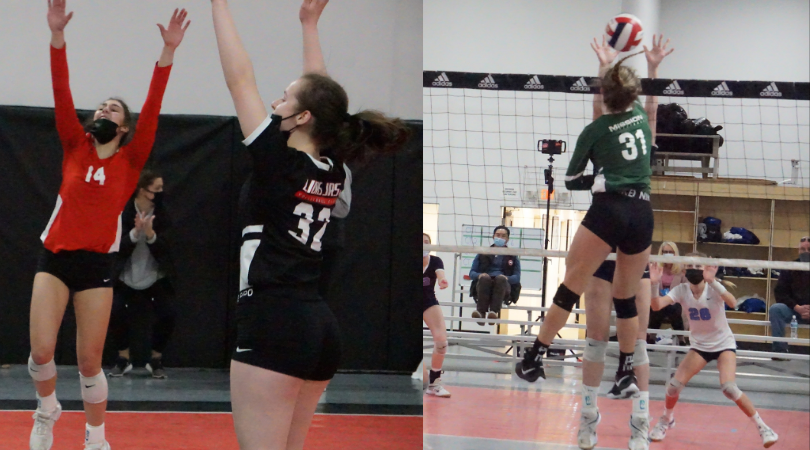 Posted On: 03/25/21 11:45 AM
We have over 100 players on our first Illinois Watchlist for the Class of 2024 which we consider a starting point for being able to track and follow some of the top players.  This list will be updated twice a year and is a great way for all to see who is playing where in regards to high school and club and as these athletes continue their recruiting journey, coaches can see who is committed.  We will continue to have eyes on and evaluate this class as well as all classes in Illinois throughout the club season and beyond.  Here are some players who standing out among some of the tops in the Class of 2024. 
Outside Hitters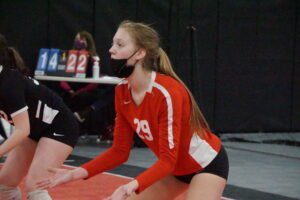 Grace Nelson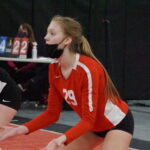 Grace Nelson OH Oak Park River Forest | 2024 IL – Lions 15-1 
Nelson just might be the top player in the Class of 2024 right now in Illinois that I have seen live.  I was able to see Nelson at the Great Lakes Regional and MEQ and her ability to hit a variety of angles with power and efficiency is special for someone at the 15s level.  She has all of the intangibles in her favor with how she moves, to the body language being positive, teammate interactions, and definitely a scoring threat anywhere on the court.  Lions 15-1 finished just outside of an open bid at MEQ and will be hungry to punch their ticket to the top division at USAV Nationals in Vegas. 
More names to know entering the third round of matches:

Camille Morrison Camille Morrison MB Harvest Christian | 2024 IL – @ClubFusionVB
Alayna Pierce Alayna Pierce MB Genoa Kingston | 2024 IL – @ClubFusionVB
Lydia Busker – @1stAllianceVBC
Kaitlyn Dumpit Kaitlyn Dumpit S St. Francis | 2024 IL – @ClubFusionVB
Jaimie Marquardt Jaimie Marquardt DS/L Libertyville | 2024 IL – @SkyHighVB pic.twitter.com/cmXbJKGD5R

— Chris Fitzgerald (@PrepDigChris) February 27, 2021
Alayna Pierce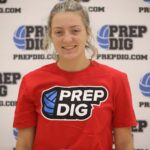 Alayna Pierce MB Genoa Kingston | 2024 IL – Fusion 15 Red 
Pierce is a pure scorer.  She is the eraser.  With an ability to swing from any spot on the court, she is a dynamic six rotation outside hitter who will always get solid hand contact and use a little creativity to find the floor.  Fusion has a bid to USAV Nationals by finishing in the final four of the GLR 15s Division, but with the improvements they've made each time they take the court he second half of their season will be fun to watch what hardware they bring home. 
Gabrielle Wire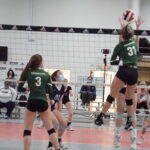 Gabrielle Wire OH Crystal Lake South | 2024 IL – Mission 15 Elite
Wire is another one who scores points and makes it look natural from anywhere on the court.  An aggressive approach and a violent arm swing she knows how to use the block to her advantage and also where to find the opening.  This Mission team has a lot of dynamic athletes who can defend and also find plenty of ways to score points.  They had a solid showing at the GLR and will be one to contend with not only among Illinois clubs, but the extended Midwest and Mideast as well. 
Setters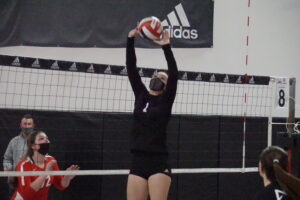 Nicole Cornell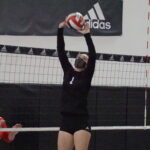 Nicole Cornell S New Trier | 2024 IL – Adversity 15 Adidad
I saw Adversity play at Central Zone which was probably their first big competition in a LONG time and then saw them a month later at the GLR tournament at Sky High and the amount of progress this team made was amazing.  Nicole Cornell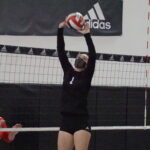 Nicole Cornell S New Trier | 2024 IL is finding her groove as a left handed setter who can dish to all the spots, hitting the right tempos.  This team is just on the brink of breaking through to some big wins.  They earned a national bid to USAV by finishing second in the region.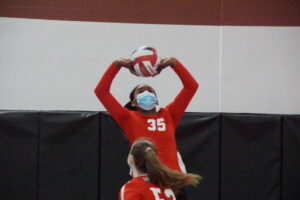 Kinsey Smith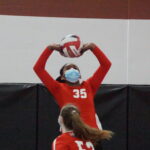 Kinsey Smith S Whitney Young | 2024 IL – Lions 15-1
Smith is so smooth with how she moves and being able to make the right play at the right time.  Athletic, quick, and well trained, she has the footwork and hands to put her attackers in a great position to terminate.  She is the one who sparks the offense for the top team in the region.  Her progress will be fun to see over the next few years. 
Madison Wojdyla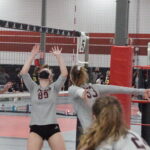 Madison Wojdyla S Warren Township | 2024 IL – Sky High 15-1 NS 
This Sky High team out of Libertyville (NS for North Shore) is aggressive and fiery.  Wojdyla does a great job of quarterbacking this team in a 5-1 where she has plenty of athletes to set who can put the ball away at all positions.  This squad plays with great chemistry and definitely has a spark to their game.  Teams also have to key on Wojdyla in the front row as she can be offensive and provide a solid block as well. 
Middle Blockers
Ruth Ziegler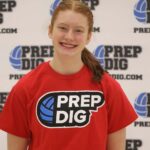 Ruth Ziegler MB Warren Township | 2024 IL – Sky High Adidas 15-1 NS 
Ziegler is 6'2, maybe 6'3 and is an athlete who can move and play a variety of front row positions.  Put her on the pin and she can make it look natural, but with her presence as a blocker its tough not to have her be the middle linebacker of the front row, seeing whats coming on the other side and forcing opponents to adjust their shot.  She definitely has the ability to play at a high level and has proven so thus far this season. 
Berkeley Ploder Berkeley Ploder MB Barrington | 2024 IL – Sky High Adidas 16 Black 
Long, athletic, and dynamic.  Ploder is definitely able to make things happen out of the middle from being able to take what the defense gives her and having the quickness to move from pin to pin to close the block.  She connects well with setter, Jenna Meitzler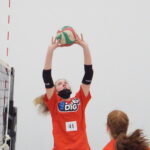 Jenna Meitzler S Barrington | 2024 IL who can set and swing for Sky High.  With her length and athleticism she is also one to watch who can attack off one foot. 
Right Sides
More names coming from the 15s @GLRVB Qualifer from @SkyHighVB

Ava Grevengoed Ava Grevengoed S IL – @uno_volleyball
Lauren Salata Lauren Salata OH Nazareth | 2024 IL – @1stAllianceVBC Lions 15-Red
Megan Consigny Megan Consigny OH Lockport | 2024 IL –@1stAllianceVBC Lions 15 Red
Ana Vetter Ana Vetter RS IL – @adversity_vbc
Mija Jegers Mija Jegers OH Stevenson | 2024 IL – Mod 15 Blue

— Chris Fitzgerald (@PrepDigChris) February 27, 2021
Ana Vetter Ana Vetter RS IL – Adversity 15 Adidas
Vetter is left handed and contacts extremely high for Adversity.  With her length and snap at her elbow and wrist, she is able to create some top spin and makes it tough for the defense to keep herswing in system.  She will be a ten foot leaper and automatic scorer as she continues to develop among the well trained athletes at Adversity.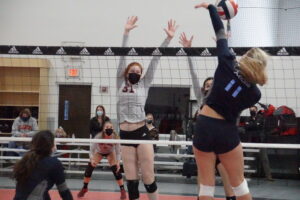 Jessica Kurpeikis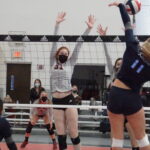 Jessica Kurpeikis RS Marist | 2024 IL – Michio 15 National 
Kurpeikis has a heavy, thunderous left handed swing for Michio.  She brings a physical presence to the net where she is a lock down blocker and one who can score in transition as well.  She is an outlet out of system from the right side and can put a hurt on the ball.  As an athlete for Michio and Marist, she definitely has the foundation to be a top tier athlete in her class.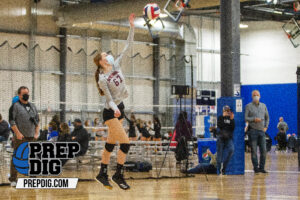 Makayla Weissenberg Makayla Weissenberg RS Deerfield | 2024 IL – Sky High 15-NS 
Extremely dynamic.  Weissenberg is a six rotation right side who can pass, serve receive, and attack out of the backrow.  Her athleticism is a major attribute to her game where she has an aggressive approach and big swing, she's not afraid to let it rip to score points.  She's been a standout among her team and age group at each event I have seen her play in. 
Mollie Hobson Mollie Hobson RS McHenry | 2024 IL – VC United 151 Elite
Hobson is a great leaper and knows how to find the open spot swinging from the right side.  Solid athlete, A solid blocker, Hobson has the ability to contribute in multiple ways and will only continue to improve training under VC United who will train her to play a six rotation style game which will only add more value to her game. 
Liberos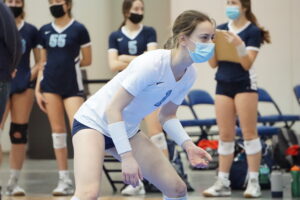 Ava Falduto Ava Falduto DS/L IL – NEW Wave 16 Tsunami 
Faltudo plays up an age group for NEW Wave and she has solid platform awareness and moves so efficiently around the court.  Whether its serve receive, taking pace off the ball, or just making a presence by taking command, she definitely is one who stands out.  With her IQ and fundamental foundation, she will be someone to take a look at for a high level.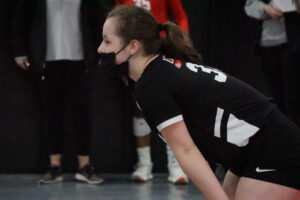 Samantha Falk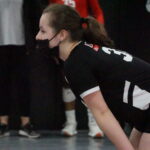 Samantha Falk DS/L Mother McAuley | 2024 IL – Lions 15-1 
So solid, so efficient.  Falk is in the right place at the right time where she doesn't always need to make the diving play because she has such great footwork and IQ to be in the right spot.  Solid fundamentals and the ability to adjust her platform to get the powerful Lions offense in system, Falk does a lot of the dirty work that makes the machine run smoothly for Lions.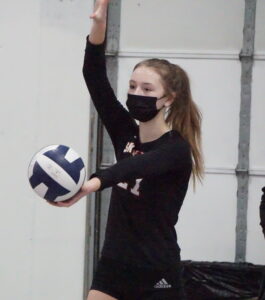 Jaimie Marquardt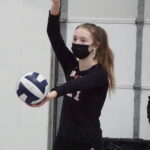 Jaimie Marquardt DS/L Libertyville | 2024 IL – Sky High 15-1 NS 
Marquard is so smooth, she just glides on the court.  A quiet confidence about her, she provides an aggressive serve, commands the backrow, and is someone you want to take as many contacts as possible.  Her athleticism allows her to have quite the range and is able to make the difficult plays look routine.