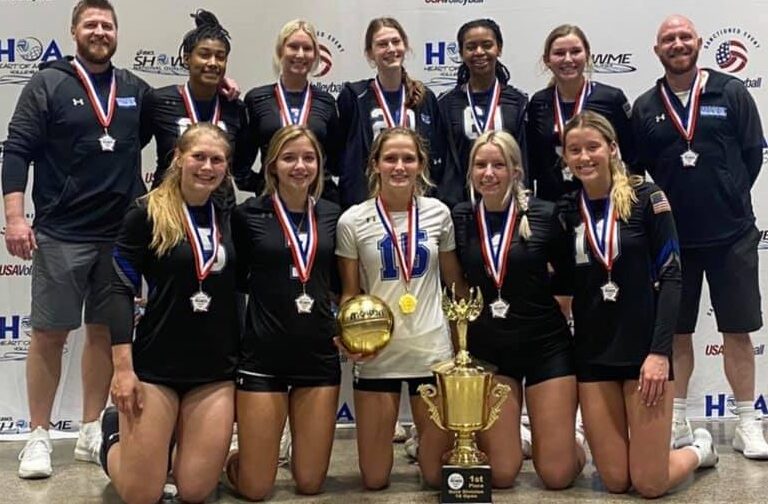 Posted On: 04/20/21 1:00 PM
The final week of the club season is here for the Class of 2021. What has been a long journey for many will come to an end this Sunday in Columbus, Ohio with their juniors careers. We will take time today to take a look at the teams who earned bids in the top two divisions, Open and National.
18 Open Division
Mavs KC 18-1
In the latest AES rankings, this team is ranked 2nd in the country. They hold a 40-3 record on the season, losing twice to the number 3rd ranked team. They will be one of the top-ranked teams in the division. They have the weapons to make a long tournament run but we also know they are dealing with some aches and pains down the home stretch. Justine Bichelmeyer Justine Bichelmeyer 6'2" | MB St. James Academy | 2021 State KS has played tremendous from the middle position this season. She has been productive offensively running a deadly slide attack. The key to this team's success rides on the back row play of libero Courtney Jackson Courtney Jackson 5'9" | S Olathe Northwest | 2021 State KS and defensive specialist Ashlyn Lovett. They have been excellent all year and allows dynamic setter Kendra Wait Kendra Wait 5'10" | S Gardner Edgerton | 2021 State KS to find her hitters in Caroline Bien Caroline Bien 6'0" | OH St. Thomas Aquinas | 2021 State KS and Kristen Birmingham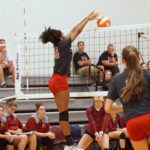 Kristen Birmingham 6'1" | OH Park Hill | 2021 State MO . The trio of All-Americans has led the charge offensively.  Olivia Lovett Olivia Lovett 5'11" | OH St. James Academy | 2021 State KS has come on as of late from the right pin and provides an added offensive threat. Madalyn Ehlers Madalyn Ehlers 6'1" | OH Olathe West | 2021 State KS stepped up big in the middle after Leilani Elder went down with an injury in Las Vegas. Expect Elder back this weekend and they will benefit from her net play defensively. Berit Jones Berit Jones 5'9" | DS/L Blue Valley West | 2021 State KS has played an important role as a serving specialist and keeps the defense guessing. Expect this team to be in the hunt come the final day. 
PVA 18 Elite
This team has had a roller-coaster season but won the most important match of their season at Show Me defeating KC Power in 2 and basically taking away Power's open bid and ending their season. That win gave them the final bid shelled out as only two were available. Bettye Igbenebor is among the top right sides in the state and she was unstoppable in the deciding match against KC Power. She can score from all over the court. On the other pin, Maggie McInerney Maggie McInerney 6'1" | OH St. Teresa's Academy | 2021 State MO and Jalyn Stevensen Jalyn Stevensen 5'11" | OH Spring Hill | 2021 State KS have been steady this season and bring a good 1-2 punch. The same solid combo can be found in the middle with the play of Kelly Ann Greene Kelly Ann Greene 6'0" | MB St. Teresa's Academy | 2021 State MO and Carley Spachman Carley Spachman 6'2" | MB Blue Valley North | 2021 State KS . They can score in front and behind the setter. Arley Anderson Arley Anderson 5'4" | DS/L Park Hill South | 2021 State MO is a fun libero to watch and makes jaw-dropping plays. Gabbie O'Toole Gabbie O'Toole 5'11" | S Blue Valley | 2021 State KS runs a great offense and makes smart decisions. Other important role players this season have been Morgan Colangelo Morgan Colangelo 5'5" | DS/L Blue Valley West | 2022 State KS and Kayte DeLong. 
Rockwood Thunder 18 Elite
18 Elite came very close in a couple of qualifiers in capturing a bid and had to wait on the decision of the committee who decides at-large berths. They had a good case with a couple of top 10 finishes in competitive qualifier tournaments. They got the call and moved from the National to Open division for this weekend's championships. They are a team that definitely belongs in this grouping of teams. Jordan Iliff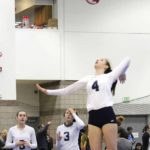 Jordan Iliff 6'1" | RS Mehlville | 2021 State MO continues to be a steady contributor to this roster year after year. The southpaw has gotten stronger and it can be seen in her swings. Libero Taylor Beaven Taylor Beaven DS/L Seckmann | 2021 State MO and DS Regina Elguezabal Regina Elguezabal 5'8" | DS/L Oakville | 2021 State MO have anchored the back row defense, along with serving specialist Ella Brinkmann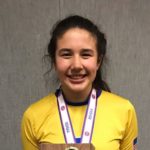 Ella Brinkmann 5'9" | OH St. Francis Borgia | 2022 State MO who has also made fine defensive plays when she enters the match. The pin play has been rock solid on the left side with Lana Gerard playing all six rotations and Anna Taylor Anna Taylor 6'0" | MB Nerinx Hall | 2021 State MO for three. In the matches we've seen, both Hanna Dressing and Morgan Isenberg Morgan Isenberg DS/L Lafayette (Wildwood) | 2021 State MO have a mixture of shots from the middle and they keep defenses off balance. Rounding out the team is setter Addison Lyon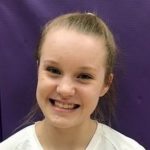 Addison Lyon 5'10" | S O'Fallon Christian | 2021 State MO . She is still the consistent, sure-handed leader she's been for years and makes smart choices with the ball and its distribution. 
18 National
With 18 Elite moving up, that adds HPSTL 18 Royal into the National division. They opened the year with an 11th place finish in the open division in Indianapolis. They also had a strong showing in the USA division at MEQ, ending 9th out of 90 clubs. They have two high-quality middles in Suhre Storm and Megan Carron. Their blocking is above average and their ability to score in many ways gives opponents headaches. Shelby Dannegger Shelby Dannegger OH Lutheran | 2021 MO and Cami Augustine have held down the left side. Augustine has been serviceable in six rotations. This team has used two setters and they both have looked good all season. Morgan Sprague Morgan Sprague 5'11" | S Parkway South | 2021 State MO brings size to the setter position and also swings from the pin in rotations. Jenny Nguyen displays tremendous quickness. Frannie LaVigne has made plays from the right pin and gives a strong presence defensively. Libero Megan Carron is gritty and has no problem taking on lasers coming in her direction. Backcourt mate and defensively specialist Sophia Marchetti is no slouch. She has been consistent in her passing and has kept her team in system. DS CeCe Nourie completes the roster for a team looking to make a splash this weekend. 
Pohaku 18-1 will make history being the first team in program history to compete in a national tournament. The new start program has many experienced players with national tournament resumes. They came just short on numerous tries in earning a bid in the top division finishing 7th at Red Rock Rave and 5th at Show Me. They were one win away at Red Rock and are a team capable of making a championship run in Ohio. This team has fearless hitters on the outside starting with Aubrey LaPour Aubrey LaPour 5'11" | OH Blue Springs South | 2021 State MO . You can count on her letting it rip often. Ella Martin Ella Martin 5'10" | OH Bishop Miege | 2021 State KS has looked good making the transition to the pin and had a good year. On the opposite pin, Erin Garr Erin Garr 6'0" | MB Bishop Miege | 2021 State KS can score at the net and behind the attack line. One of the top liberos in the state, Aly Gurtiza Aly Gurtiza 5'8" | DS/L Lee's Summit West | 2021 State MO still digs balls that have you shaking your head in amazement. Setter Lauren Wheeler Lauren Wheeler 5'10" | S St. James Academy | 2021 State KS plays up a year and you wouldn't know it with her poise and decision making. DS Kalia Morris Kalia Morris 5'2" | DS/L Staley | 2022 State MO also plays up and her quickness has made big plays all season. Middles Bonnie Hegarty Bonnie Hegarty 5'11" | MB Manhattan | 2021 State KS and Jenna Zydlo Jenna Zydlo 6'0" | MB Basheor Linwood | 2021 State KS both get off the ground quickly in the block department. Zydlo is a high-energy player who keeps her team fired up. Left-handed hitter Taylor McCarthy has also taken swings from the right side and has been a contributor in the back row. 
Dynasty 18 Black earned their USA bid at the first qualifier of the year. They went on to have a strong showing finishing 4th at the HOA Power League. This 4th place finish ended up coming in handy as they moved up to the National division after PVA 18 Elite clinched an open bid earlier this month. They are a team that relies on their defense, passing, and court awareness to make things happen as an undersized team. Libero Kayla Smocks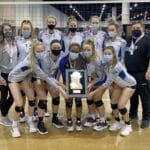 Kayla Smocks 5'3" | DS/L St. Teresa's Academy | 2021 State MO has been strong this spring. Aleisha Jones and her jumping ability have helped her score points from the outside. Emily-Kate Lonergan has also been able to deliver from the left side all season. She also has come up large defensively getting touches and timely blocks. Setter Lily Letchworth Lily Letchworth 5'10" | S Blue Springs | 2021 State MO is among the top setters in the state. Seville Gates Seville Gates 5'8" | OH Shawnee Mission North | 2024 KS has opened our eyes this season with her play from the right side. She has great length and we love her cut shots from the opposite pin. Lauren Halverson and Grace Branson hold down the middle for Dynasty. Both move well pin to pin in the blocking department and can provide timely kills when in system. Right side Audrey Bennett and setter Erin Green enter matches together and the offense doesn't lose a step in their play. DS Sydney Stadler played well in the action we saw at the Show Me Qualifier.