Siesta Key Juniors is a fairly new club that opened in the Sarasota area of Florida in the summer of 2019. Since shutdowns and restrictions halted most of their debut season in the spring of 2020, this club is finally getting to show off in tournaments like Big South National Qualifier, Molten Pre-qualifier, and the ASICS Florida Regional Qualifier. 
Considering this, their teams have done very well in these tournaments and certainly impressed with their high-level competitiveness, even in the younger teams. In the Molten Pre-Qualifier, the Siesta Key Juniors 16's team played up in the 18 American division and placed 5th overall, despite having one of their best players, Jordyn Byrd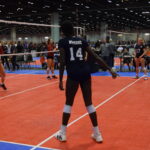 Jordyn Byrd 6'4" | RS Cardinal Mooney | 2023 State #16 Nation FL , sitting out with an injury for the weekend. 
Here are some of the standout players from these younger, developing, Siesta Key Jrs. national teams: 
Madeline Carson – 5'10" – MB – Class of 2023 – Cardinal Mooney – SKJ 16 C.D.
Madeline Carson is a high-flyer middle hitter and blocker on the Siesta Key Juniors 16's team. As one of the primary middle players on the team, Madeline dominates the net. Her success in hitting mainly comes from a combination of her fast arm swing and her ability to jump high into the air and contact above the ball, hitting it straight down.  Even as a sophomore, she is highly competitive against some of the best players in the region. 
Carmen Hvideberg – 6'0" – MB – Class of 2022 – Riverview Sarasota – SKJ 16 C.D.
Carmen Hvideberg, the other middle on this SKJ 16's team, is another powerhouse attacker and blocker. Carmen excels at hitting quick sets out of the middle and can place the ball straight down on the ten-foot line. In addition to her abilities on the net, Carmen can also hold her own in the back row on defense and has an amazing jump-float serve that is sure to score. 
Sofia King – 5'7" – S – Class of 2025 – SKJ 15 Angie 
Sofia King is an impressive setter with great hands and footwork. She is fast to the ball and can place it anywhere on the net for her hitters. Whether on offense or defense, Sofia is there to make the play, like covering her hitters, digging up a hard-driven serve, or placing a strategic dump attack on the second contact. Despite her young age, Sofia is showing lots of potential for success in the next four years. 
Jillian Davidson – 5'11" – MB – Class of 2024 – Sarasota – SKJ 15 Angie
This freshman, Jillian Davidson, is a standout middle hitter and blocker. Her quick approaches and fast, powerful swings show a level of experience and confidence not typical of her classmates. In addition to her raw talent on the court, she also has great chemistry with her teammates, specifically her setter. This allows her to run difficult plays and trust that her setter will put the ball where it needs to go. Jillian is definitely a player to watch.