One aspect of the game which I don't always write about is blocking. Yet, blocking is the base for how defense sets up and is a very important aspect of the game. An athlete who is a solid blocker adds an incredible amount of value to a team. Being a consistent blocker sets up a team's defense for success and putting up a wall for opposing hitters can change the momentum of the game very quickly. 
Here are some net ninjas who have impressed with their blocking so far this season.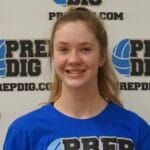 Abby is a beast at the net and a very dedicated blocker. She is great at reading opponents and gets touches at the net that help slow down the ball for her defense. Abby also throws down huge stuff blocks that can significantly shift the momentum of the game. Her talents on offense are impressive as well as she has a great balance of power and control that allows her to hit great shots. 
Aaliyah Kren – Class of 2024 – Wisconsin Ice 15 Purple
Aaliyah has a ton of potential in the middle. She pushes herself to close blocks, and as a result, brings in a lot of touches off of opposing hits. This slows down the ball and gives her defense time to get under hard-hit balls.

Gwen Crull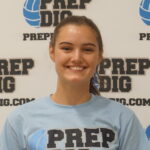 Gwen Crull 6'2" | MB McFarland | 2023 State WI could be the basis for which the term "net ninja" is named. She consistently puts up several huge stuff blocks a set and gets even more touches. She is fast and seals the net giving opposing hitters very few options. She brings a lot of energy to the court with her play and is a huge defender for her team at the net. 
Emilie is a consistently solid blocker. She holds her block strong and true which limits the amount she is tooled. She closes blocks well and is fast to the pin. Her simple strength and consistency in blocking adds a lot of value to her defense and bring in a lot of touches and points as well!
Both of these middles are huge blockers. Maddy is fast across the net and is great at closing the block and sealing the net. She is a force at the net on both defense and offense. When she puts up a block with teammate Kyla Dunaway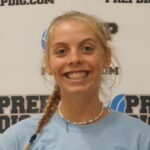 Kyla Dunaway 6'4" | RS Kimberly | 2023 State WI , it is one of the toughest walls a hitter can come up against. 
Emily gets a plethora of touches on the ball when she is blocking. She is fast to the ball and has a great read on opponents. She works pin to pin to seal the net and is successful more often than not. Not only does she put up a lot of touches on the ball, but she also puts down a solid number of stuff blocks and feeds energy back into her team. 
Sara Burow – River City 17 Blue
I enjoyed watching Sara play because she is very scrappy at the net. This isn't typically a term used for middle blockers, but she truly is. Sara always finds a way to make her block work. No matter where she is along the net she sets up and makes a productive play for her team. Sara gets a lot of touches on the ball and is great at slowing her opponents' attacks down for the back row.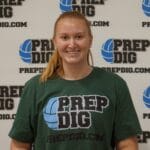 Samantha and Ella are very different but very effective blockers on this young team. Samantha is incredibly fast and can block pin to pin in fast succession. She puts up great touches for her defense and has a great seal on the net. Ella is a strong blocker who puts up a wall against opponents. She has strong hands at the net and reads opposing setters very well. Ella has grittiness at the net and she pursues every ball with an all-out effort.