There are some athletes that continue to improve every time they step on the court. They clearly put in a lot of time in training, both physically and mentally, and work hard to improve at every opportunity. Check out these stock risers who have impressed in the first half of the season.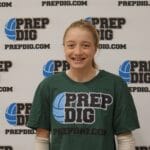 Emily is a setter who shows up for her team, time and time again. She has a lot of talent and in the last few months has truly started seeing the opponent's side of the net. This has allowed her to strategize, read blockers, and deliver great balls to her hitters. Watch out, because she throws in some perfectly timed tips once and a while! Emily is an athlete that I can't wait to continue watching develop as an athlete and a leader. 
Ryan Figi – RVA 16 Navy 
Ryan is a pin with a lot of potential. She is an energizer on her team and builds her team up really well. She continues to grow in the sport and continues to get smarter on both offense and defense. Ryan is a solid performer on the court and adds a lot of value to this team as an athlete and leader. 
Addison Janus – Madison United 16 Red
Addison is an all-around solid outside hitter who has a nice high swing. She is great at tooling the block and swinging for high hands, which earns her a lot of kills. Addison also has a good amount of power and is diligent on defense. She is constantly improving her game and it shows when she steps on the court.
Taylor Scaffido and Peyton Schmidt – Motion 16 Green
This pair of pins are both incredibly dynamic and are huge point earners for this gritty Motion team. Taylor is very fast and smart on the court. She excels on defense and has a lot of huge pick-ups on defense and in coverage. Taylor also has a great vertical which helps her put down kills for her team. 
Peyton has a toolbox of shots that she rotates between to manufacture kills. She has an explosive approach and an impressive vertical to give her time in the air. Peyton is dynamic in defense and serve receive and is an all-around solid 6 rotation outside hitter.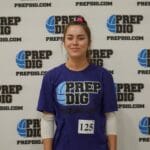 Kate is so impressive every time she is on the court. It seems like every time she touches the ball she is a bit more efficient than the last time. She moves the ball around incredibly well and feeds her hitters consistently and with tempo. Kate sees the court very well and reads opposing blockers to give her offense an advantage. 
Emerson is all over the court and is consistent in every aspect of her game. She really seems to enjoy the game and wants touches as much as possible. In the past year Emerson has improved her game in leaps and bounds and is an essential athlete on this talented and powerful FC Elite team.