After a successful weekend at the Indy Spring Showcase, I have touched base on some of the positional breakdowns and the players that were stellar standout athletes to catch my eye. Each athlete brought their A game and made sure that they put their name out to those that may not have been watching. I had the opportunity to watch all athletes from each court and their class. The '24s had a very impressive group of athletes and these individuals are just getting started.
Marlina Anderson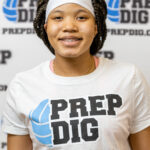 Marlina Anderson 5'10" | MB North Central | 2024 State IN – The Academy
If you haven't had the opportunity to watch Anderson play, I suggest you get the chance to see her in action. Anderson is a very powerful, 5'11" MB, and does not fail to make sure that you know that she is on the court. Anderson is an athlete that possesses impressive physical athletic abilities that make her a well-rounded athlete and definitely an elite athlete. Her ability to follow and sway with the ball is impressive, because it does not leave her sight. She's an aggressive and competitive player and that is an important characteristic that she holds. Her swing is powerful, and she is able to work very well with her setter to make sure that the set and the kill set up perfectly. Anderson has a solid foundation and is only going to progress from here.  
Katie Smith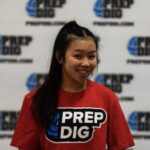 Katie Smith 5'2" | DS/L Roncalli | 2024 State IN – Academy 15E Vipers
Smith is an athlete that is interesting to watch. The 5'2" Libero and DS, definitely uses her height to her advantage. What caught my eye with Smith was her ability to get very low to the ground and make sure that the ball stays live in the play. Smith is able to communicate and read the floor very well and plays very good defense as she is not afraid to dive into the floor and reflect the ball to her setters. Her serving ability is very consistent and at the showcase was consistent with collecting her serving aces. Her competitive mindset and athletic ability are something that is going to take her far as an athlete. Smith has a solid foundation is going to be an athlete to watch.
Zaria Keys- 360 Sports Academy
Keys is an athlete that I would suggest keeping up with as she develops into an elite setter. I was truly impressed with Keys and her determination, which is something that will catch your eye about an athlete. Keys stands at 5'6" and she has a good foundation on the defensive end and her ability to set. Keys is an athlete that can work with fast paced drills and is quick with digging for the ball. Keys stood out in her positional breakdowns and her positional combinations and her ability to work with other athletes that are coming from different athletic skills sets. Keys stood out in her breakdowns as she was able to react fast with digs and quick setting drills. Keys is a very defensive player and communicates well amongst her team. She is fast, attentive and has a soft touch with her sets. Keys is a developing athlete is going to one to keep eyes on.
Marleigh Fowler- The Academy
Fowler is a developing athlete and an athlete I enjoyed watching. Standing at 5'5", the setter is very aware of the court and she is fast and strong-willed when it comes to playing with a live ball. Fowler stood out in her 6 on 6 game play and her positional breakdowns as she showed her diversity in athletic ability. She has a soft touch on the ball and is fairly consistent with her sets and being consistent with her OHs. Fowler did catch my eye with her ability to have several impressive kills during her 6 on 6. Fowler is a bit disadvantaged with her height but was able to have a strong swing to get the ball over the net and the kill secured. Fowler has an impressive foundation and is only going to mold into a stronger athlete.
Parker Mischler- COA Chaos 16
Standing at 5'8", Mischler is a solid and consistent athlete that is going to be one to keep up with during her athletic career. The outside hitter has an impressive and strong swing, and it is something that is going to catch your eye. Mischler stood out in her positional combinations and was paired well with her setter rotation. She is a strong attacker and is consistent with her attacks on the ball. Mishcler has a strong foundation and is going to be on to keep up with.