As we have highlighted previously some of the standout 2024 outside hitters and the athleticism and power they bring, such as Reese Wuebker Reese Wuebker 5'10" | OH Springboro | 2024 State #74 Nation OH , Sydney Barrett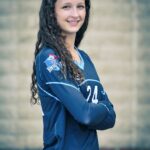 Sydney Barrett 6'0" | OH Kings | 2024 State OH , and Mya White Mya White 6'1" | OH Lebanon | 2024 State OH (Prep Dig #3, #6, and #8), here are four others to keep watch as they compete through the latter part of the club season and head into the high school season poised to make big contributions.
Maria Flynn Maria Flynn 6'0" | OH Gilmour | 2024 State OH – 6'0 | Prep Dig #15
Flynn has high potential skills with six-rotation capabilities. She has good length and can bring good power off of her arm. She saw some time as a freshman for a very good Gilmour team and is a key facet to the ClevPRIME 15-1 offense. As she becomes more fluid in her footwork and approach patterns she will increase her offensive range, which already includes good movement to complement some of the power she can create.
Sydney Waller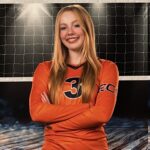 Sydney Waller 6'2" | OH Hudson | 2024 State OH – 6'1 | Prep Dig #22
Waller is another ClevPRIME 15-1 product and brings good size and length to the floor at 6'1. Still somewhat raw in her movement as a left side, she shows great potential for point scoring when she is on time and balance to the set. As she increases her foot and arm speed she can become a big threat from that role on the floor and increase her stock as a key prospect in this class in Ohio.
Sophia Adkins Sophia Adkins 6'0" | OH Mercy McAuley | 2024 State #60 Nation OH – 5'10 | Prep Dig #28
The Mercy McAuley and Tri-State Elite prospect has a fluid foundation in her skills as a six-rotation left side. She is simple in her preparation and movements, which helps her to pursue the ball well in serve receive and defense as well as build the right momentum when approaching to hit the ball. She creates good torque in the air and with more consistency in her timing she will be able to use that arm work to create more pace and range overall. 
Bailey Poppe Bailey Poppe 5'9" | OH West Liberty-Salem | 2024 State OH – 5'9 | Prep Dig #50
Poppe was a District 9 DIII second-team honoree for her efforts at West Salem-Liberty in the fall of 2020. She overwhelmingly led the Tigers in total attempts on the season as she terminated 3.6 kills per set on a .214 attacking efficiency clip. She also contributed nine digs per match adding to her overall contributions for a young team that went 15-9 on the regular season.