We began our 2024 rankings in December with only the top 53 players in the state ranked on our list. We have gotten some awesome leads from parents, players, coaches, and club directors for more players we should be watching.  After three months of analyzing game film, seeing athletes in person and looking at club tournament finishes and the past high school season, we were able to add 27 more players to the prestigious list.  We now have the top 80 players in the state ranked in the 2024 grad class. We are extremely excited to welcome these ladies to such a prestigious group.  We are going to introduce you to some amazing players with their much deserved overall State Ranking attached to their name.  Follow us as we travel to the North Texas area and introduce you to three amazing young ladies who are turning heads in the volleyball scene.  Congratulate them on social media or in person the next time you see them. Welcome to the list ladies…
Reagan Fitzsimmons Reagan Fitzsimmons 5'11" | OH Plano | 2024 State TX [2024] 5-11 Left Side/Middle (HS: Plano/Club: Madfrog/Verbal: Uncommitted)
Please welcome Reagan to the 2024 Prep Dig State Rankings. We have her listed as the 35th best overall prospect in the 2024 class.  Miss Fitzsimmons plays for Plano High School and also for the nationally recognized Madfrog Volleyball club out of the Dallas metro-plex area.  She is a fantastic six rotation attacker that has great court vision and every shot in her arsenal to score efficiently.  She routinely reads the defense in front of her and uses her great off-speed shot selection to keep the defense off-balance. She truly understands the difficult aspect of selling the hard swing and then at the very last second switching to a tip/roll to score.  It is something that usually takes years to master, but Reagan is able to do it at a young age.  Madfrog uses her unique back court offense quite a bit and she is able to score with it often.  I love the way she uses her up swing in order to get her vertical even higher to attack. We want to welcome her with open arms to our State Ranking List and can't wait to watch her progress in the future. Please help us congratulate her on a well deserved honor. 
Isa Camacho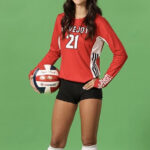 Isa Camacho 5'7" | DS/L Lovejoy | 2024 State TX [2024] 5-7 Libero (HS: Lovejoy/Club: Excel/Verbal: Uncommitted)
Please help us welcome Isa officially to the list as the 39th best overall prospect and also the 4th ranked libero in the 2024 class according to our Prep Dig State Rankings.  Miss Camacho plays high school for the back to back State Champion Lovejoy High School and club at Excel Volleyball Club out of the North Texas Region.  When I watch Isa play I see very fundamentally sound footwork, which most likely derived from her many years as a soccer standout.  Since she has committed to playing volleyball and working with some great trainers, she is truly developing into a great libero.  She is always balanced while moving without the ball and it helps her ball control during contact when if finally reaches her.  She has great ball skills on contact also which is showcased during hard driven attacks.  I love her court vision and her cat-like reflexes as she collapses and extends for tips/off-speed shots from her opponent.  She has every tool to move up the overall rankings if she sticks to it. We are excited to have her in our Prep Dig family and look forward to watching her progress.  Please congratulate her on earning a spot as one of the best players in the state of Texas. 
Akunna Cos-Okpalla Akunna Cos-Okpalla 6'1" | MB Marcus | 2024 State TX [2024] 5-9 Outside/Right Side (HS: Marcus/Club: Madfrog/ Verbal: Uncommitted)
Please welcome Akunna to the 2024 Prep Dig State Rankings. We have her listed as the 43rd best prospect in the state.  She is a talented pin hitter from Marcus High School and from the famed Madfrog Volleyball club out of the North Texas Region. She is a smaller pin hitter but don't let that fool you because she can fly.  And she packs a heck of a whip in that arm swing she uses to kill the ball.  The swing blocking right side has great timing to slow down opposing attackers and she is so quick to close the block.  We love her footwork and how fast it is during transition, but we love it even more during her approach.  She closes her last two steps so fast and it helps her vertical a lot when gaining that momentum to sky.  Her Madfrog team ahs a lot of weapons and she is definitely one of them.  This is one reason why they are one of the best teams in the nation and will prove it at Nationals this summer.  We are extremely excited to have her in the Prep Dig Family and look forward to covering her career.  Please help us congratulate her on achieving the prestigious state ranking. 
We have tons of new players to introduce you to that got added to our 2024 rankings with the new update and tons who moved up and down the list.  We will be publishing more articles daily to give the recognition to each athlete that has earned the right to be called a top Texas Volleyball Player.  Stay tuned for more articles on your favorite athletes.  If you have anyone you think we should watch out for or that you think have what it takes to be added to our database, please shoot me an email with some info at nov8vb@yahoo.com