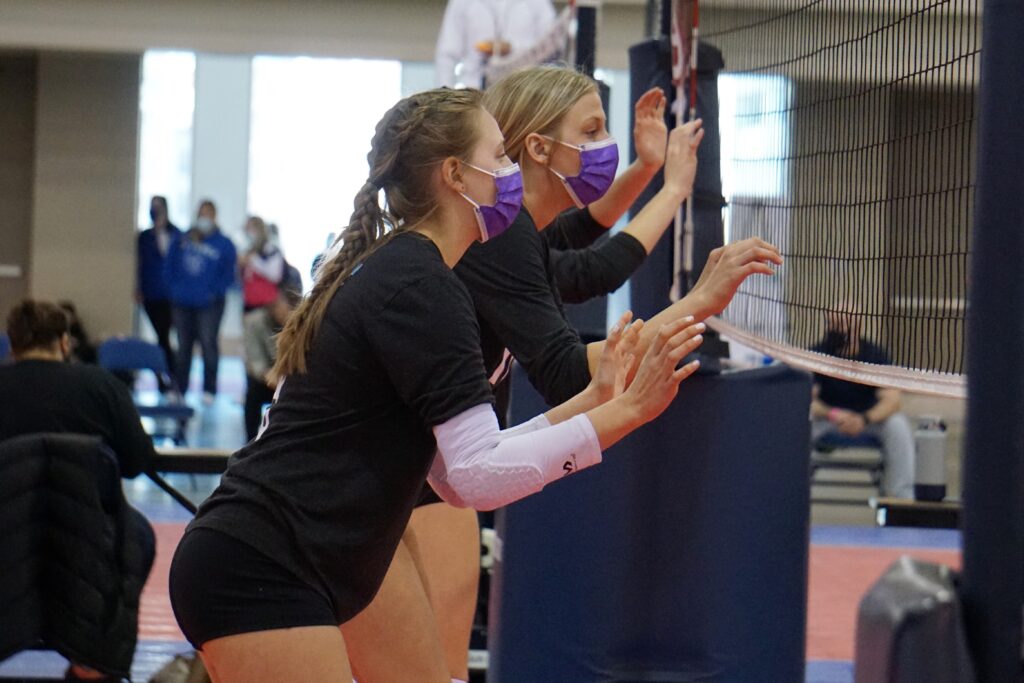 Posted On: 05/12/21 12:08 PM
It feels like yesterday the Class of 2023 was still middle schoolers and now they are just a few months from becoming upperclassmen.   And this group is really starting to make waves this club season, even though they've had to fight to play.  Here is just a taste of some who have stood out this club season and will continue to make their presence known as they gear up for the last couple years of high school.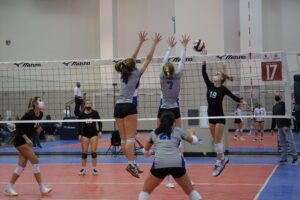 Abby Walsh – 5'11 – Middle Blocker – Watertown – River City 16 Blue 
Walsh is a really physical and instinctive frontline player who can make an impact defensively and offensively.  She can put up a big block but also has a booming arm that can take care of an overpass or find an open spot in the corner.  Walsh was extremely key in the River City win over I AM VBC in the 16 Club Division of the Badger Region Champs. The balance of River City has helped them with some big finishes lately and will certainly help them at the Mizuno Diggin' in the Dells, UWW Open, and Juniors Grand Slam.
Brandi Fuller Brandi Fuller 5'3" | DS/L Randolph | 2023 State WI – 5'3 – Libero - Randolph – River City 16 Blue  I saw Fuller at Badger Region Champs, and she is in control with a nice platform and makes all the routine plays.  She tallied 245 digs and 17 aces in a condensed 2020 sophomore season. Fuller is the libero for the Rockets but trades off the odd colored jersey responsibilities while playing in club.  Her River City team is well balanced and has a lot of firepower when they have the consistent first contact from the likes of Fuller.  They really are tough to stop when they are in-system.  And Fuller is a player who truly exemplifies what being a defender is all about, while being fast and a leader vocally and with her body language.   [player_tooltip player_id="119394" first="Kennedy" last="Martin"] Photo Credit: Breit Nelson Kennedy Martin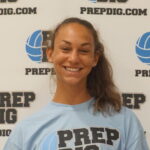 Kennedy Martin 6'6" | OH Appleton North | 2023 State WI – 6'5 – Pin Hitter – De Pere – FC Elite 18 Elite  Martin is playing two age levels up on the FC Elite 18 Elite team that took 1st at the Badger Region Champs in the 18 Open division at the end of March.  She plays so far above the net and her ball control gets better every time I see her play. Martin will be fun to watch over the next couple years with her height, athleticism, and ability to score points.  She is also playing with her high school, De Pere, as they enter the alternate season playoffs next week.  Martin is playing against tough competition with her club team and getting to train and practicing daily with her high school team.  And she gets to do this alongside UW-Milwaukee commit,  Brianna Geurts Brianna Geurts 6'0" | MB De Pere | 2021 State WI , who is such a great upperclassman to have in your corner!  Finley Charapata Finley Charapata 5'10" | MB Appleton North | 2023 State WI – 5'10 – Outside Hitter – Waupaca – FC Elite 16 White         Charapata is the dynamite on the outside pin that every team needs.  She has an driving approach and no fear when it comes to taking a swing. Charapata offers a solid defensive game as well and really brings out her teammates aggressive play.  She is dynamic and finds plenty of opportunities to contribute while not being afraid to go for the big swing.  Kyla Dunaway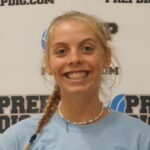 Kyla Dunaway 6'4" | RS Kimberly | 2023 State WI – 6'2 – Kimberly – Milwaukee Sting 16 Gold Dunaway made a club switch to an extremely deep Milwaukee Sting program.  She continues to impress me with her ability to attack with such viciousness as she continues to improve as a primary attacker from the pins.   Dunaway has great arm control and the capacity to overwhelm a block with some serious heat. She has really improved on her slow-to-fast footwork in order to create the momentum needed to make the most of her arm strength.   Meredith Bock – 5'6 – Libero – Kettle Moraine Lutheran – I AM VBC 16 Red  Bock brings athleticism and physicality to I AM's back row and that isn't always found at the 16s level. I AM VBC 16 Red has a lot of power across their front row, and they didn't mind flexing those mighty muscles to take the Gold Bracket on Day 2 of the Prep Dig Battle In The Valley.   Marissa Duddeck – 5'10 – Middle Blocker – Lakeside Lutheran – River City 16 Blue  When Duddeck attacks out of the middle, she elevates and can see what spot of the court to attack.  She connects with setter, Olivia Bartels, and is a big defensive presence along the net for River City. Duddeck gets a ton of block touches and really makes the opposing hitters work for their points.  Mackenzie Scholz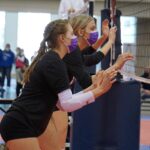 Mackenzie Scholz 5'9" | S Tomahawk | 2023 State WI – 5'10 – Setter – Tomahawk – Wisconsin Ice 16 Purple  Scholz did some serious work while everyone was locked down the past year.  She has been showing her athleticism this past winter as a setter for Ice 16 Purple.  Scholz knows how to get the job done with running a balanced offense while playing as a front row setter.  She can push the tempo and works extremely well with her twin sister  Meghan Scholz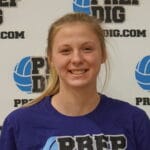 Meghan Scholz 6'3" | MB Tomahawk | 2023 State WI  (6'4) as a middle blocker. Wisconsin Ice 16 Purple has had a number of notable finishes, including most recently 2nd place at the Mizuno March Mania.  Other 2023 Impact Players  Brie Eckerman – Right Side Hitter – Mauston – V-Hawk Xtreme 16-Adidas   Aubrey Berlowski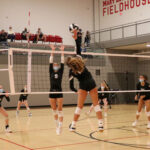 Aubrey Berlowski OH Kettle Moraine | 2023 State WI – 5'10 – Outside Hitter – Kettle Moraine – Midwest Penguins 16 Black  Ava Clinton-Ragonese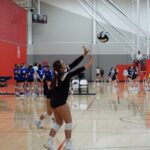 Ava Clinton-Ragonese S Oconomowoc | 2023 State WI – 5'4 - Setter – Oconomowoc – Midwest Penguins 16 Black  Berlin Troendle – 5'11 – Middle Blocker – Waukon (IA) – V-Hawk Xtreme 16-Adidas   Emily Dickmann – 5'10 – Setter – Whitefish Bay – I AM VBC 16 Red   Hannah Moe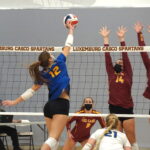 Hannah Moe 5'11" | OH Oconto | 2022 State WI – 5'11 – Outside Hitter – Oconto – FC Elite 17 Navy  Karissa Fortune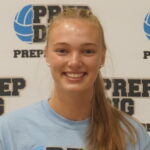 Karissa Fortune 6'2" | OH Appleton North | 2023 State WI – 6'2 – Pin Hitter – Appleton North – Milwaukee Sting 16 Gold Carizma Muth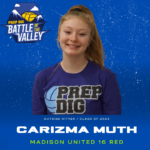 Carizma Muth 5'10" | OH Randolph | 2023 State WI – 5'10 – Pin Hitter – Randolph – Madison United 16 Red  Kindyl Kilar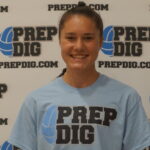 Kindyl Kilar 5'10" | OH Whitewater | 2023 State WI – 5'10 – Outside Hitter – Whitewater – Milwaukee Sting 16 Gold  Olivia Lasee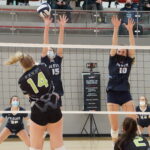 Olivia Lasee 6'3" | MB Appleton North | 2023 State WI – 6'3 – Middle Blocker – De Pere – FC Elite 16 Navy  Macy Buksyk – 5'5 – Setter – Neenah – Impact 16-Blue   Madelyn Dix – Defensive Specialist – SPASH – One Wisconsin Point 16 Lightning   Morgan Kealy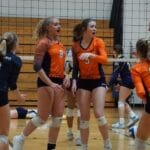 Morgan Kealy S River Falls | 2023 State WI – 5'10 – Setter – River Falls – Kokoro   Mya Trafficante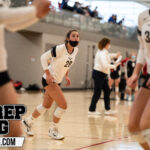 Mya Trafficante OH Sussex-Hamilton | 2023 State WI – 5'6 – Outside Hitter – Hamilton – Midwest Penguins 16 Black   Sahara Williams – 5'10 – Outside Hitter – Waterloo West – Smash Elite 18 Black (IA)