The VHSL season came to a close and 9 champions were crowned. Many great careers have come to a close and we wanted to celebtate the accpmplishments of these young men and women for their careers in the VHSL. This will encompass players from all levels and both genders. This is our celebrations for seniors.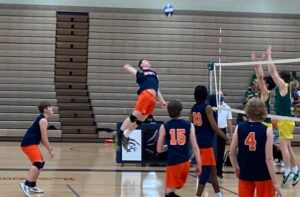 Mitchell Schuler had a senior night unlike any others. Not only did he get the due recognition for senior athletes, he was honored with having his #25 retired to the rafters at Machester High School's Gym. The senior Outside Hitter is the most decorated player in Manchester Volleyball history. He holds 8 school records and is one of the top prospects to come out of the school. He's one of the top hitters in the state at a modest 6'1 and has great volleyball savvy brought on by a lifetime of experience. His entire family have been avid players for his entire life. Even his step sister was an All Metro Player for Hanover. 
Loudoun County's Middle Hitter Ella Solomon had a turbulent high school career. Her freshman season, she played for Tuscarora High but was starting to feel ill towards the end of the season. She transferred to Loudoun County High School to continue her studeies. After multiple doctor's visits and tests, it was determined that she was strickened with Lyme's disease. This left her to spend her sophomore and junior seasons in bed to do her school work. Ever the competitor, Solomon endured and decided that she would make her senior season one for the record books. She joined her Lady Captians on the court and was named a team captan for her final season. Despite all her issues, Solomon will continue her playing career at Rollins College in Florida. She is a tall, athletic middle hitter who can grow into a solid player for the Division 2 powerhouse. Solomon hit .508 on the season with 190 kills. 
Loudoun Valley's Outside Hitter Faith Nguyen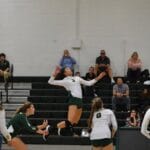 Faith Nguyen 5'8" | OH Loudon Valley | 2021 State VA is an undersized, but dynamic Outside Hitter. She has great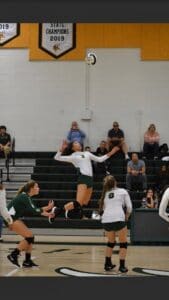 athleticism and ball control, but lacks the size to be a premiere terminating Outside Hitter at high level Division 1 teams but could contribute as a Defensive Specialist or Libero. She is extremely fast and reads the game at a high level. She's very competitive and her team at Loudoun Valley almost ended the dyansty for Loudoun County this season, falling just short in 5 sets in the Regional Finals. Nguyen will attend Northeastern University in the Honors Program and may walk on for the volleyball team. 
Peninsula Catholic's Madison Clark Madison Clark 6'1" | RS Peninsula Catholic | 2021 State VA is one of the most dominant players in the VISAA. The Opposite/Middle Hitter is a solid Division 1 talent and will continue her playing career at Hampton University. The left is an imposing force at the net with a terminating swing and imposing block for opponents to contend with. She is a very capable 6 rotation player who should develop into a point scoring weapon by the bay. She's amassed 875 kills in her career with 308 blocks and 490 digs. She is a three time First Team All State selection and a dominant player for the Coastal Hampton Roads Volleyball Club 18's te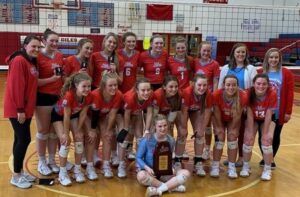 am. 
Giles High School was a senior ladened crew that had the greatest season in program history with the culmination in their first volleyball state championship. Outside Hitter Hannah Steele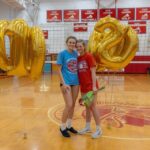 Hannah Steele 5'11" | OH Giles | 2021 State VA , Setter Alyssa Pennington, Libero Jillian Midkiff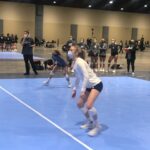 Jillian Midkiff DS/L Giles | 2021 State VA , and Outside Hitter Emma Claytor Emma Claytor 5'10" | RS Giles | 2021 State VA . This dynamic quartet was outstanding this season and sets a standard for future teams. Pennington ran a great offense for the Spartans with Claytor and Steele as the go to attackers in point scoring opportunities. Libero Midkiff was the quarterback of the defense and serve receive with stout defense. Claytor will continue her career at Division 3 powerhouse Virginia Wesleyan. Steele is joining Division 2 Concord University.