We are nearing the finish line of the 2021 club season and Iowa teams are playing with plenty of momentum heading into June.  With possibly a pre-national tournament on the horizon as well as a trip to Vegas, there are plenty of teams from Iowa who will make the trip West, but who are some of the teams that are playing with some momentum heading into the summer?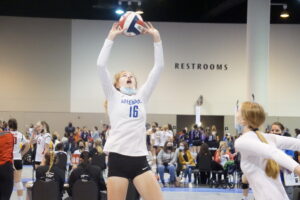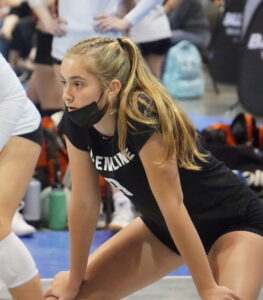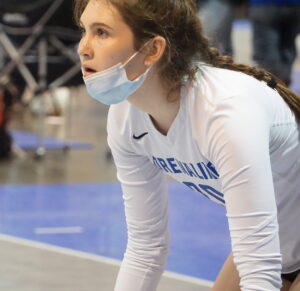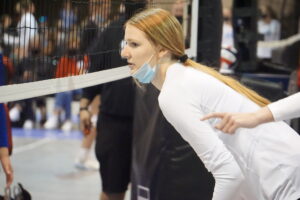 Adrenaline 16 Marty 
With plenty of balance all the way around and length on the frontline, Adrenaline 16 Marty out of the Cedar Rapids area have been big time contenders in each qualifier they've entered. This squad won the American Division of the Windy City National Qualifier and finished in the top ten of the USA Division at the Northern Lights Qualifier.  Delaney Bombei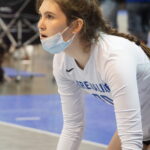 Delaney Bombei 5'11" | RS Solon | 2023 State IA is a solid point scorer who can play all six rotations and is just solid, a definite 2023 prospect on the rise.  Out of the middle is Anika Ivester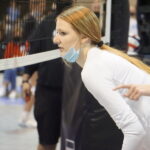 Anika Ivester 6'3" | MB Xavier | 2023 State IA , at 6'4 and savvy, she is one of the top middle blockers in the state from the Class of 2023.  Madeleine Miller is a long, athletic setter who runs the show as a 5-1 and keeps the other side off balance. The quarterback of the backrow is Kameron Brand, the Mount Vernon libero can serve receive, take pace off the ball, and is always cool, calm, and collected.  There is little weakness to this team and they continuously find a way to win.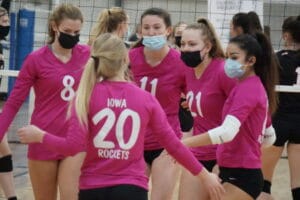 Iowa Rockets 16R 
Champions of the Colorado Crossroads 16 USA Division, Rockets blazed through the competition without dropping the set enroute to the title.  The squad is led plenty of all around athletes who can play multiple positions and are extremely dynamic.  Avery Van Hook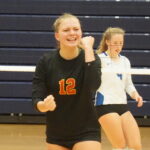 Avery Van Hook 5'9" | S Marion | 2023 State IA is one of the top setters in the Class of 2023 where the lefty can defend, attack, block, and set all the tempos, a true gamer.  Attackers Gabby Deery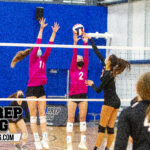 Gabby Deery 6'2" | MB Burlington Notre Dame | 2023 State IA , Shelby Kimm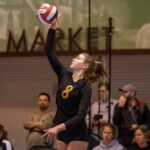 Shelby Kimm 6'0" | OH Iowa City Liberty | 2023 State IA , Chloe Cline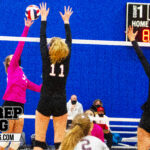 Chloe Cline 6'1" | MB Pleasant Valley | 2023 State IA , and Jessie Julius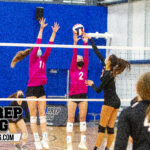 Jessie Julius 5'7" | OH Williamsburg | 2023 State IA can score points from multiple positions and always pose a threat as blockers at the net.  The defenders of the backrow is a solid combo that include Meg Berkland and Monica Morales Monica Morales 5'4" | DS/L West Liberty | 2023 State IA who can get this high powered offense in system with the first contact.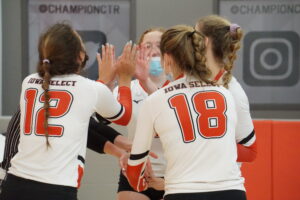 Iowa Select 17 Mizuno 
Select is coming off a Prep Dig Battle in the Valley title with wins over strong Badger Region opponents in VHawk Xtreme and Wisconsin Premier who will be a USAV National Division contender.  They also competed against Team Pineapple out of Fort Wayne, IN in their most recent tournament they hosted at the Volleyball Factory. Ella Caffery, a Northwest Missouri State commit, runs the show as their 5-1 setter with the likes of Joclyn Bentz, Morgan Barker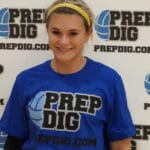 Morgan Barker 5'9" | OH Davenport Central | 2022 State IA , Kierney McDonald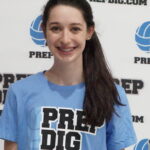 Kierney McDonald 6'0" | MB Rockridge (IL) | 2022 State IA , and Hannah Copeland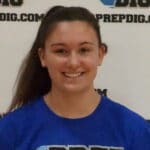 Hannah Copeland 6'1" | MB Geneseo (IL) | 2022 State IA to set to in the middle and on the pins.  Ava Schubert will be one of the top 2023 prospects out of Iowa where she brings a powerful left handed attack from the right side.  They are paced in the backrow by Brianna Gartner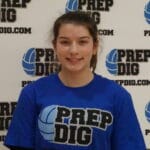 Brianna Gartner 5'5" | DS/L Davenport Assumptoin | 2022 State IA and Livia Thomsen who are extremely solid as a DS/Libero combo.  They have a National Division bid to USAV 17s.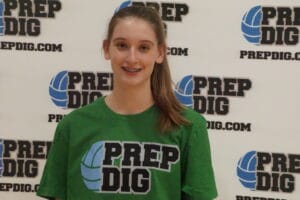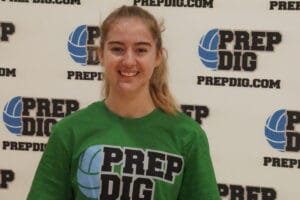 Club Ignit Select 15 Blue 
The squad out of the West Des Moines area finished in the final four of the Northern Lights Qualifier, earning a USA bid to Vegas.  This group has plenty of length with outside hitters Kenzie Dean and Aowyn Schrader.  Schrader was a middle this past fall for Ankeny where she was named All Tournament team along with winning a state title.  Tanith Roush is a lefty on the right side who is extremely springy and can score points really spreading the offense out.  The quarterback of this squad is setter, Brittany Bacorn who can really be offensive when the opportunity is there.  She gets her hands to the ball and can run with show getting everyone involved.