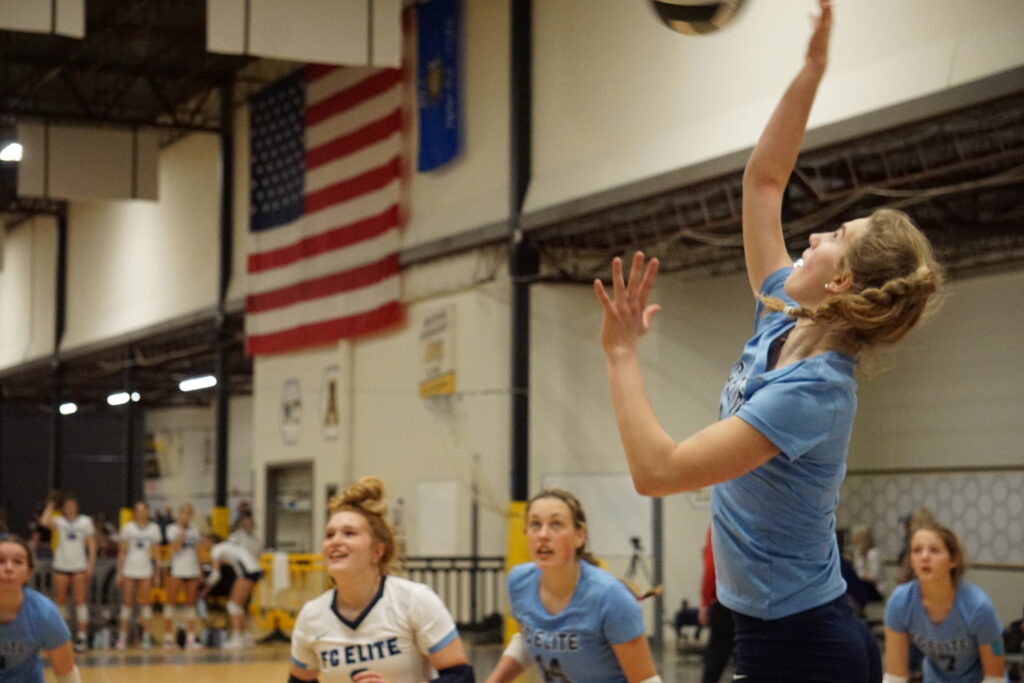 Posted On: 06/7/21 9:37 PM
Flashback: To late August when the high school season should have been in full swing, but instead teams were either unsure if there would be a season at all or planning the delay to the start of their season.  How far we've come… These freshmen have made progress whether a high school season was had or not.  Players and coaches found a way to safely train and fine-tune their craft. At the Prep Dig Gauntlet, here are some 2024s who made their way onto our radar or made a statement for when we start ranking their class.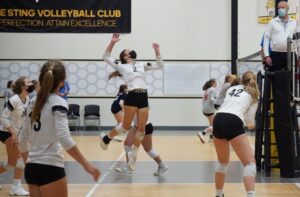 Addison Leffler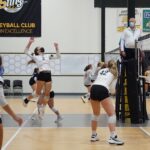 Addison Leffler OH DSHA | 2024 State WI – Outside Hitter – Midwest Penguins 15 Black
Leffler is explosive and just flies out on the pin.  She takes an aggressive approach and is strong in serve-receive.  Leffler can read the other side of the net, effortlessly transition, and make really tough plays look easy.
Briana Binagi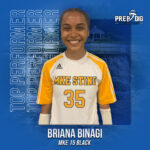 Briana Binagi 5'10" | OH Kettle Moraine | 2024 State WI – 5'10 – Pin Hitter – Kettle Moraine – Milwaukee Sting 15 Black
Binagi's stock has just detonated in the last few months.  She can effortlessly transition to a dangerous assault with the ability to smoke the ball.  Binagi showed off some oomph in her swing during the Gauntlet.
Ella Skogman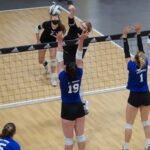 Ella Skogman 6'2" | MB Waukesha West | 2024 State WI – 6'2 – Middle Blocker – Waukesha West – Midwest Penguins 15 Black
Skogman puts up a huge block and takes a really heavy swing.  She is a key piece of this MWP team who will be competing in Vegas.  Skogman gets a lot of touches and is always transitioning and running routes to make sure she is available for her setters.
Ellie Schumacher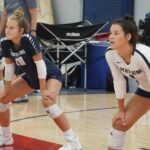 Ellie Schumacher 5'9" | OH Lake Country Lutheran | 2024 State WI – 5'9 – Outside Hitter – Lake Country Lutheran – Midwest Penguins 15 Black
Schumacher took me by surprise when she all of a sudden pounded the ball inside the block.  She will be looking to step in as Lake Country Lutheran graduates their top attacker.  Schumacher has a fast armswing and is a smart player.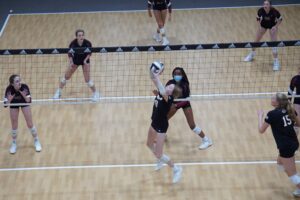 Emily Bruss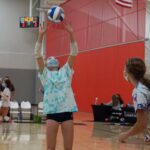 Emily Bruss 5'9" | S Pulaski | 2024 State WI – 5'9 – Setter – Pulaski – Milwaukee Sting 15 Black
Bruss is really quick.  Her feet, hands, swing, everything is super fast.  Bruss has the capability to run an offense with her mastery and dependability.  She is a vibrant setter with a high volleyball IQ, and she is an enjoyable athlete to watch since she doesn't do much hesitating.
Eavan Finnerty Eavan Finnerty S Wauwatosa East | 2024 State WI – Setter – Wauwatosa East – Midwest Penguins 15 Black
Finnerty knew just when and how to feed the hot hand.  She works at a high level and can run a quicker offense.  Finnerty has good footwork, a quick release, nice hands, and good set location.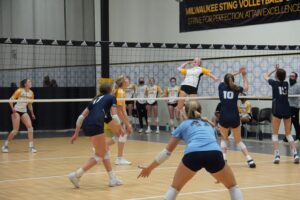 Gabby Wold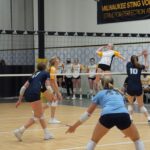 Gabby Wold 6'0" | OH Arrowhead | 2024 State WI – 6'0 – Outside Hitter – Arrowhead – Milwaukee Sting 15 Black
Wold made the best of her 1st varsity season in 2020.  Now during the club season, she is showcasing her ability to elevate and crush the ball down the line with a really fast armswing. It's only a matter of time before a lot of programs take notice of this 6'0 uncommitted pin hitter.  She is quite dynamic, has a lot of power, and an extremely high ceiling.  It will be fun to watch her develop over the next couple years.
Libby Detweiler – 5'8 – Middle Blocker – Tri-Valley – Illini Elite 15 Black (IL)
Detweiler gets up fast and takes an aggressive approach off the block.  She keeps the pressure on the opposing team with tough swings and working angles.  Detweiler is a strong and consistent attacker who can work the entire floor.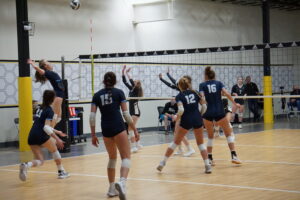 Hannah Greisen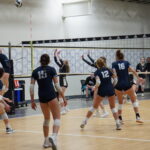 Hannah Greisen OH Notre Dame Academy | 2024 State WI – Outside Hitter – Notre Dame Academy – FC Elite 15 White
Greisen can take a violent swing down the line and has good ball control.  She has an array of attacking tools and is a quick-thinking competitor.  Greisen has quite the strong shoulder to put some real heat on the ball.
Mariah Potter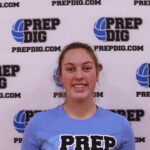 Mariah Potter 5'8" | S Xavier | 2024 WI – 5'8 – Setter – Xavier – FC Elite 15 White
Potter does a great job getting her feet to a tight pass, and she creates a lot of opportunities for her hitters to terminate.  She already has varsity experience while splitting duties with Kellan Meyer (2021) and collected 133 assists, 68 digs, and 23 aces.   It's no surprise she made the best of the short season with her speedy footwork.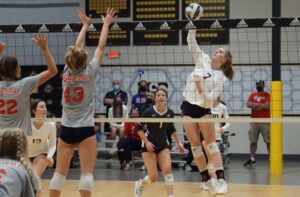 Izzy Vandeschraaf – 5'10 – Outside Hitter – Metamora – ESVBC Elite 15U Ice (IL)
Vandeschraaf can take a big rip down the line, and you can tell she uses her core to absolutely crush the ball.  She hits so many different shots and her style of play shows off how really athletic she is.  Vandeschraaf has a fast arm and knows how to make things happen.  When it seems like her team will have to just send over a freeball, she somehow comes in and makes something out of nothing by swinging to the deep cross corner for the kill.
Andi Spies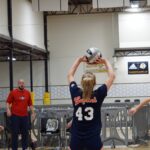 Andi Spies 5'10" | S Fort Atkinson | 2024 State WI – 5'10 – Setter/Right Side Hitter – Fort Atkinson – Capital 16 Adidas
As the level of competition gets tougher, so does Spies. Every time I see her play, she gets better and more physical.  She establishes herself at the net and makes a huge difference.  Spies takes a big swing but shows her athleticism when she gets to every second ball as a setter in the back row.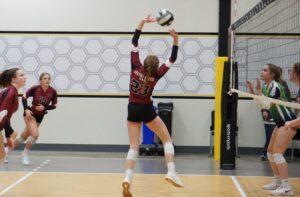 Julia Johnson – 5'11 – Right Side Hitter/Setter – St. Thomas More – Illini Elite 15 Black (IL)
Johnson responds well to being blocked by taking the next opportunity to find the corner.  She is calm in chaos and has smart timing for the setter dump.  Johnson is a steady setter with good tempo and footwork.
Izabelle Shea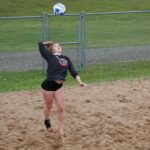 Izabelle Shea DS/L Xavier | 2024 State WI – Libero – Oshkosh West – FC Elite 15 White
Shea is super solid in serve-receive, and you'll see her use a lot of beach digs as she plays a lot of sand.  She communicates with her hitters really well and is an unequivocal spark on the court.  Just when you think the play is dead, Shea brings it back to life, and she is a serious competitor that gets a hand on everything.
Other Notables:
Ava Kharitou Ava Kharitou S DSHA | 2024 State WI – Setter – DSHA – Milwaukee Sting 15 White
Caitlyn Flees Caitlyn Flees MB Burlington | 2024 State WI – Middle Blocker – Burlington – Milwaukee Sting 15 Black
Graci Junis – 5'9 – Outside Hitter – Morton – Illini Elite 15 Black (IL)
Hazel Cook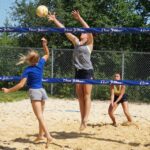 Hazel Cook OH Seymour | 2024 State WI – Outside Hitter – FC Elite 15 White
Kendall Revolinski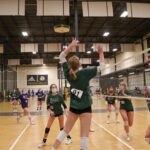 Kendall Revolinski 5'10" | RS Pewaukee | 2024 State WI – 5'10 – Setter – Pewaukee – Midwest Penguins 15 Black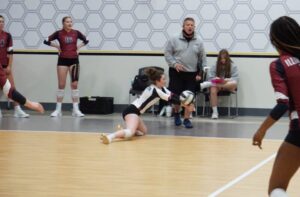 Kerigan Fehr – 5'4 – Libero – Prairie Central – Illini Elite 15 Black (IL)
Olivia Neumann Olivia Neumann 6'2" | MB Xavier | 2024 State WI – 6'2 – Middle Blocker – Xavier – FC Elite 15 White
Sage Geltmaker – 5'8 – Outside Hitter – Illinois Valley Central – Illini Elite 15 Black (IL)
Sidney Doble Sidney Doble OH Oconomowoc | 2024 State WI – Outside Hitter – Oconomowoc – Milwaukee Sting 15 White
Sophia Nowak Sophia Nowak 5'10" | MB Arrowhead | 2024 State WI – 5'10 – Middle Blocker – Arrowhead – Milwaukee Sting 15 White
Sophie Cremeens – 5'5 – Libero – Bartonville – ESVBC Elite 15U Ice (IL)