To know that you've earned your open bid is one thing. It is COMPLETELY another to be forced to play a "win or go home" after a shaky gold bracket power pool on day three of a major qualifier. However, that's exactly what this squad did at the Asics Show Me Qualifier in early April. This particular team has come a long way, and here are four players that will make a major impact going forward in their careers.
'24, Emery Moore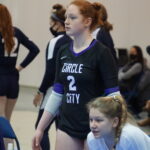 Emery Moore 5'10" | S North Central | 2024 State IN , 5-9 S, North Central
Probably the most natural athlete on this list is Emery, the quintessential setter on this list. Of the setters in all classes, Miss Moore is my favorite, for a number of reasons. For one, she's a gym rat; she's relentless in her work ethic. Number two, her combination of speed and athleticism is second to none. Third, she's a leader, through and through. Running a 5-1 on an open level team is hard, but Emery makes it look easy. Her set placement and set choices are seemingly improving every time I see her. I can't wait to see what next fall brings for her.
'24, Sophia Mayo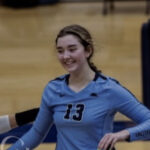 Sophia Mayo 6'2" | OH Perry Meridian | 2024 State IN , 6-1 OH, Perry Meridian
A big, strong, heavy-armed pin attacker is what every team needs. Look no further than Miss Mayo, who should be inching close to attacking at ten feet by now. Sophia is the definition of "terminal attacker", and should continue to represent that label even more as she gets stronger and smarter.
'24, Alexis Maesch Alexis Maesch 5'10" | RS Avon | 2024 State IN , 5-10 S/RS, Avon
A lefty banger that can run an offense too? Scary thoughts, considering the comments I just made about Emery above. Getting the bid-securing kill was Alexis, younger sister of Georgia signee  Abby Maesch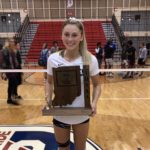 Abby Maesch 5'11" | OH Avon | 2021 State IN . Alexis, hyper-athletic in her own right, has an attack touch of almost ten feet, but should be passing that threshold by the time the fall comes around. I'm a huge fan of her abilities, as either position is highly recruitable by themselves—she can do both, and at a high level.
'24, Ava Utterback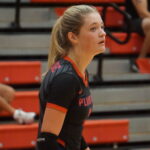 Ava Utterback 5'10" | OH Plainfield | 2024 State #5 Nation IN , 5-11 OH, Plainfield
Another younger sister of a D1 signee on this roster, Ava averaged nearly three kills and three digs per set for a young Plainfield squad last fall. Fast forward to this spring, and this kid is absolutely hammering the competition. If she's not at ten feet by now, maybe my measurements are wrong. She's developed into one of the best six-rotation outsides the state has to offer, and it's only a matter of time before the big dogs come calling.