I debated for the last few weeks regarding the significance of publishing a 2025 Watch List. For complete transparency, I didn't watch many 14u games last season. I devoted much of my time to the high school-aged athlete's matches and coverage. We will get a better sense of who to keep our eyes on following the fall high school season. Nonetheless, there were some players in this class we did get to see due to playing up in 15u this past season. There are also some players we did see in action in some high-profiled 14U matchups. Here are some of the players to know in this class entering the fall seasons. Note: We did mistakenly list some of these players in the 2024 rankings. 
Alea Goolsby Alea Goolsby 5'11" | OH St. Thomas Aquinas | 2025 KS – 5'11″ – OH – KC Power
We highlighted Goolsby previously as we had her listed with the wrong class. She is a high-level scorer and a player who loves to compete. 
Jillian Gregory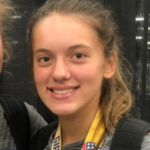 Jillian Gregory 5'11" | OH Maize South | 2025 KS – 5'11″ – OH – Maize South/Shockwave VBA
One of the players who made a splash this season was Gregory. She played up with the very solid Shockwave 15 team that placed at Nationals this summer. She is a high-flying pin who did more than hold her own playing again players bigger and older. Look for her to be among the top prospects in this class over time. 
Saida Jacobs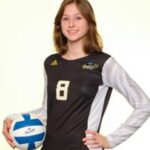 Saida Jacobs 6'1" | MB Mill Valley | 2025 KS – 6'0″ – MB – Mill Valley/Dynasty
Jacobs played an important role in the Dynasty 15 Black title run. She was needed to score as much with the firepower around her but she did her part when her number was called. She was most impressive defensively with her ability to block and alter shots from the other side of the net. 
Reese Messer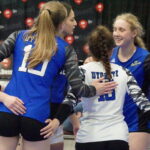 Reese Messer 5'10" | S St. James | 2025 KS – 5'10″ – S – St. James/KC Power
We were able to see a couple of KC Power 14s matches this year primarily because the coach is a friend of mine. Messer was one of the players who caught our attention. She is a dynamic and athletic setter who has a steady presence on the court. She has good ball placement for a young player and will be among the top setters in this group. 
Geneva Musolf Geneva Musolf 6'1" | MB St. James | 2025 KS – 6'1″ – MB – St. James/Dynasty
Musolf was another player we listed with the Class of 2024. She played on the Dynasty 15 Blue team last club season and found great success in the middle. She is a middle who understands the importance of footwork and transition, which allows her the ability to get set and score points. 
Logan Parks Logan Parks 5'11" | S Blue Valley North | 2025 KS – 5'11″ – S – Blue Valley North/Mavs KC
Parks is another player we saw a handful of times in 14U play. She has great size as a setter, which adds an offensive threat to her package. She moves fluidly around the court and will continue to get better at pushing balls to the far pins. 
Abigail Riggs Abigail Riggs 6'0" | MB KS – 6'0″ – MB – Dynasty
Dynasty 14 Black had a very talented team and we could probably list all of them to build a true watch list. One of the players who stood out we wish to highlight now is Riggs, the 6'0″ middle. She has great bounce and hits the ball with authority. She is also a dominant defender and sends balls back at the attacker with force. 
Trinniti Stevens Trinniti Stevens 6'0" | MB Bishop Miege | 2025 KS – 6'0″ – MB – KC Power
The final 14U player that played strong in the action we saw live is the athletic Stevens. When in system, Power tried to get her the ball as often as possible due to her ability to score at a high percentage. She is raw and could grow into a top prospect in this class.