Posted On: 08/26/21 4:28 PM
Yes, we miss athletes who should be ranked in our Prep Dig New Jersey rankings.  We are back to a more conventional volleyball season with the start of High School right around the corner. It's a short-gap in between the Spring Season to now. We have some new names in the Class of 2023 that should be on the radar, and yes a few of them we missed the first couple times around. Take a look at some new names in the Class of 2023 Rankings. 
Cammi Quirk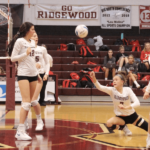 Cammi Quirk S Ridgewood | 2023 State NJ , S, Ridgewood
Quirk raised her play and took on the challenge of being the setter for Ridgewood in the spring season. In her first season, she played as a pin hitter but took the reigns of the Ridgewood offense and ran with it all the way to a sectional title. She finished with 310 assists, 89 and 51 aces. She's always in control of the offense and always knew the correct play. With a summer now under her belt as she continues to evolve as a setter, watch out!
Meghan Koehler Meghan Koehler S Tenafly | 2023 State NJ , S, Tenafly
Koehler rose to the occasion every time Tenafly needed her too to help the squad