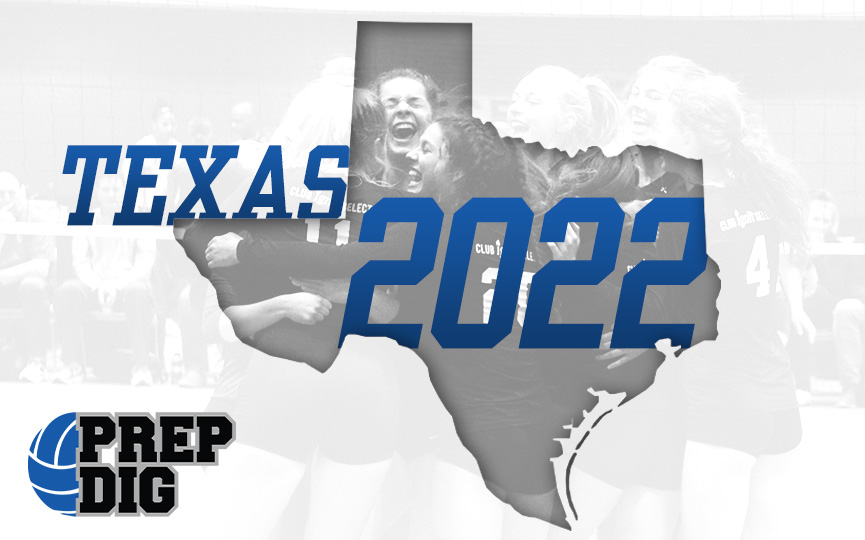 Posted On: 08/18/21 8:50 PM
We are proud of our third update to the 2022 Class.  We have covered these young ladies for a year now and have had so many factors to consider when deciding who should be where in the State Rankings.  It is definitely not an easy task, but it is something that incites passion when discussing positions, teams, abilities, team finishes in tournaments, head to head matchups, and a list of other things we take into consideration.  In the end all of these players deserve to be on our State Ranked List and we are very proud to share them with you.  We will be profiling players who were previously ranked in the state, but through great play, they made some serious moves up the rankings.  Without further ado, here are a few players who moved up:
Maddie Waak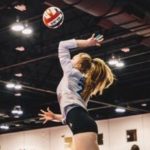 Maddie Waak 5'10" | S Katy | 2022 State #36 Nation TX [2022] 5-10 Setter (HS: Katy/Club: Houston Skyline/Verbal: LSU)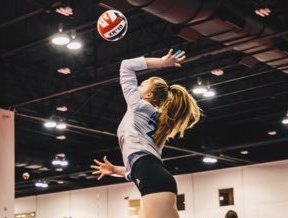 Maddie has moved up a few spots and is now ranked as the 3rd top overall prospect and second best setter in the 2022 class according to our Prep Dig State Rankings.  We wrote a few articles on Maddie last year as she earned player of the week during her junior season and here is a little of what we said, "Miss Waak sets for a very talented Houston Skyline team.  Her team won the Open division of USA Volleyball Nationals last year and she is huge reason why.  She is one of the most decorated setters in the country by almost every volleyball publication there is.  When I say she is college ready at this time of her career, trust me she is college ready. The way the ball comes out of her hands is simply amazing.  She sets a quick tempo with ease and her location is pinpoint accurate each time. There is no question why she is so decorated as a player.  She makes her teammates that much better.  Maddie is the real deal and if you haven't seen her, make your way to her court when you can.  LSU is getting one of the best setters in the nation with Maddie.  This young lady is no stranger to accolades.  She has been an All-American from other publications for a couple of years now.  She has also been a 1stteam all district player for Katy since she burst on the scene for them."  Nothing has changed since we wrote the articles and the biggest reason for the move up the rankings has to do with what we saw in person this summer at USA Nationals.  She shined with her Houston Skyline squad and it was very apparent to everyone in the gym that this young lady can flat out ball.  The way she leads, the way she never gets flustered, and not to mention her physical touch on every ball blows you away in person.  The LSU commit will do wonders in the SEC but we are lucky enough to watch her compete for one more campaign during her senior season. Please congratulate her on moving up the rankings as she sure deserves the recognition. 
Allie Sczech Allie Sczech 6'4" | RS George Ranch | 2022 State #41 Nation TX [2022] 6-4 Right Side (HS: George Ranch/Club: Houston Skyline/ Verbal: Baylor)
Allie comes in ranked as the #6 top volleyball player for the 2022 class in the state of Texas according to our Prep Dig rankings.  In our previous article we wrote the following, "The six foot four left-handed Right Side attacker from George Ranch High School has verbally committed to Baylor University.  She is a dominant force at the net for her Houston Skyline club team.  Her formidable size is the first thing people see on the other side of the net.  I see a very skilled volleyball player.  As a lefty, she is able to hit all options on the right side of the court very well.  She shows off her skills by regularly hitting first and second tempos in serve receive play sets.  She is absolutely unstoppable when her setter is running toward the left side of the court and decides to go against flow to Allie.  There is a one on one situation for her and everyone can see what is coming. A kill.  The Big 12 Conference and Baylor will be getting a great young lady to represent their volleyball program.  This past season we were able to watch Allie continue to dominate on the court.  She helped her George Ranch squad obliterate their opponents on their way to a 10-5 overall record and a district record of 13-1. In three years on varsity this young lady has been a machine.  She has amassed 854 kills, a wonderful .260 hitting percentage, 364 blocks, 207 digs and 32 aces.  It is safe to say that she has been a driving force behind everything that George Ranch does on the volleyball court.  We have one more year to watch her grow and get ready to play in the Big 12 at Baylor. Stay tuned to what her wonderful Skyline club team does also as they clubs season is underway."  We were able to see the dominance in person this summer at GJNC in Vegas and this is why we moved her up three spots on our rankings.  I am not a psychic but I can guarantee you this….Allie is not done growing as a player and that is a scary thought for her future opponents.  Everyone can see the obvious physical aspects, but as I was talking to a college coach during one of her matches, they pointed out some amazing attributes they saw about her play.  The way she moves on a court and adjusts to the play before the setter event touches the ball shows a lot about how she understands the game.  True coaches can see how much growth she is going to have and how she will help LSU in the future once coach Flory and staff teaches her more.  We are the lucky ones who get to watch her for one more season. 
Kenna Miller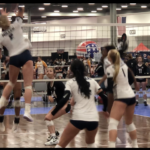 Kenna Miller 6'0" | OH Northwest | 2022 State #122 Nation TX [2022] 6-0 Outside (HS: Northwest/Club: Muscle/ Verbal: University of Texas)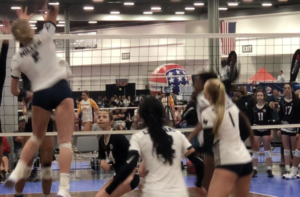 Kenna Miller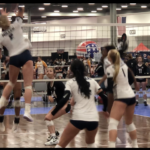 Kenna Miller 6'0" | OH Northwest | 2022 State #122 Nation TX has made some serious waves in the 2022 Prep Dig State Rankings again.  She has moved up to the 19th top overall prospect and the 8th best outside based on everything that we just witnessed last year.   We have written about her a few times this past year and here is a little of what we said, "This North Texas outside is a true six rotation outside who has the size and power to play at the next level.  Her offensive skill-set is already next level as she is able to score from every position on the court both front row and back row with power and finesse. A true six rotation outside hitter should be one who has excellent ball control in serving, serve receive passing, and in digging while in the back row.  Miss Miller is blessed to have it all.  She is a fantastic player for both her high school and club teams.  There is nothing this young lady can't do on a court. Her jump serve keeps teams off-balance and she provides so much leadership for her school team also. Nothing seems to phase her while she is on the court.  Her defensive skills are something that truly stands out.  Most six footers have a hard time getting low or are not fast enough to dig hard driven balls.  Not Miss Miller.  She is the real deal and will be moving up our rankings very quickly as we watch her more closely.  Keep your eye on this young lady as she continues to grow as a player.  College coaches please take her name down as she can help a lot of programs in a few years.  Kenna broke a school record with 34 kills and 23 digs in a five set win this season and that is something we have come to expect with her play.   She is a phenom and we are going to follow her career very closely.  We also believe that she has every tool to keep climbing up the rankings.  Looks like our prediction came to fruition as she made one of the largest jumps in the rankings.  She only got better during her junior season at Northwest.  Take a look at these stats:  317 kills, on a .312 hitting percentage from the left side pin, 24 aces, 35 blocks, 129 digs, and 176 service receptions.  Last year was a breakout year for the stud six rotation left side and I can guarantee some records are going to be broken next season during her senior year."  We are very happy to report that she has just recently verbally committed to the University of Texas.  Coach Elliott is getting one of the best outside hitters in the state.  Seeing her in video is awesome but seeing this young lady in person is even better. The athleticism that she possesses is phenomenal and she has every shot you would want an outside attacker.  The best part about this young lady is her personality.  I enjoyed our conversation immensely about her and her teammates.  She is extremely mature and is ready for the biggest stage one can be at in the next level.  Stay tuned to see where she moves in our next ranking update."  I am not sure what other superlatives I can use in describing Miss Miller but they would not even do her justice if you get to speak with her or even watch her play in person.  I have done both and am still in awe of who she is as a person let alone a volleyball player.  Please help us congratulate her on moving up the rankings once again. 
Stay tuned for more articles on your favorite athletes.  If you have anyone you think we should watch out for, please shoot me an email with some info at nov8vb@yahoo.com.  Also don't forget to help these kids get more exposure by sharing our stories with your friends.  Help us help them by simply retweeting on Twitter or sharing on Facebook.  Thanks for following Texas Family!