Our updated class of '23 rankings are up, and not much has changed at the top.  Chloe Chicoine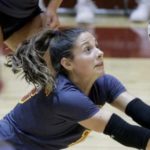 Chloe Chicoine 5'9" | OH McCutcheon | 2023 State #2 Nation IN has committed to Penn State,  Gabby Dean Gabby Dean 6'4" | MB Columbus East | 2023 State #70 Nation IN  has committed to Illinois, but no other player has even sniffed an offer, let alone received multiple offers like these two in the state of Indiana. Clearly, the five that I list here are not new to volleyball, but new to my eyeballs. All five will make a difference somewhere in the fall of 2023, and all five have specific skills that will assist in that endeavor.
Alexis Thatcher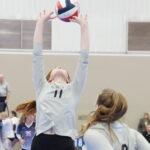 Alexis Thatcher 5'11" | S Bishop Chatard | 2023 State IN , 5-11 S, Bishop Chatard
This is a major oversight on my part. Lexi is fully capable of running a 5-1 somewhere at the next level, and I blame myself for not seeing her sooner. Her hands are fast and deceptive, she can run a fast offense, defends well for her position, and has the length to go get tight passes at any time. Smooth and sure-footed, Miss Thatcher will anchor a solid Chatard program when play starts this week.
Audrey Oxley Audrey Oxley 5'6" | DS/L Corydon Central | 2023 State IN , 5-6 DS/L, Corydon Central
Not exactly known for their volleyball prowess, the Panthers have an excellent defender in Audrey. She's smooth, fast on her feet, and consistent in every first contact. Located just west of Louisville, Miss Oxley crosses the Ohio River to get her training from KIVA, and boy does it show. As the 'bro for the Panthers last fall, Audrey dug nearly five balls per set, and is in on the majority of serve receive. Without her, I'm not sure the Panthers are relevant.
Hannah Evenson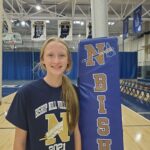 Hannah Evenson 5'8" | DS/L Bishop Noll Institute | 2023 State IN , 5-7 DS/L, Bishop Noll
From the extreme southern portion of the state to the extreme northern part of the state, Hannah comes from a solid volleyball school and club scene, and also crosses the border to play club. In this case, Epic United from the Great Lakes region is her training ground. Miss Evensen is a reliable, solid libero option, leading the Warriors in digs per set at nearly six. This is her position to lose going forward in either high school or in the club scene, and after a solid schedule this past spring, the future looks bright.
Gabbie Stores Gabbie Stores 6'0" | MB Bishop Dwenger | 2023 State IN , 6-0 MB, Bishop Dwenger
From the defending 3A state champ in Fort Wayne, Gabbie will compete for one of the starting middle positions, and should bring a bunch of much-needed size to the Saints. Playing for Empowered, her squad qualified for USAV's in Vegas about a month ago, and had a solid showing. Miss Stores is long and lean, goes pin to pin well, and has a tough jump float to boot. She also takes up space at the net defensively, and plays longer than her six foot frame. Gabbie will also be surrounded by highly experienced teammates this fall, including  Eva Hudson Eva Hudson 6'1" | OH Bishop Dwenger | 2022 State #110 Nation IN ('22, 5-11 OH, Notre Dame commit). I might have to update Gabbie's file while she has the chance to update her trophy case in November.
Ellie Frey Ellie Frey 6'0" | OH Carroll | 2023 State IN , 6-0 OH, Carroll
Another Fort Wayne and Empowered product, Ellie is working towards being a six-rotation OH at the next level. Miss Frey is big, strong, can hit any shot front or back, and is tough from behind the baseline. She's also working on her defense, and stays on her feet to anticipate well.