Posted On: 09/29/21 8:59 PM
Metea Valley High School- Aurora, Illinois 
The Metea Valley Mustangs are currently leading the DuPage Valley Conference with a currently season overall 25-2 and 3-0 conference lead. The Mustangs are a new team I have heard of and are representing some the out skirts of the Chicagoland area. The Mustangs have some contributing athletes that I think are worth a shout out during the current season.
Regan Holmer- Setter
The 5'11" setter is one to give props to when it comes to being able to move the ball across the court, setting up the perfect play for her hitters. Holmer currently has a career of 735 assets, 235 digs and 32 aces. Holmer is without doubt a contributing player to the team and their lead in the conference. 
Morgan Rank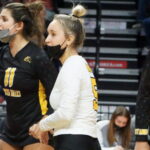 Morgan Rank 5'5" | DS/L Metea Valley | 2022 State #98 Nation IL - Libero
Rank is another contributing athlete to the Mustangs and their trailblazing success they are having this season. The Senior currently has a currently standing career best of 554 digs and 23 aces. Rank is one of the Mustangs captains and is currently displaying her active leadership skills. 
Naperville North High School- Naperville, Illinois 
The Naperville North Huskies currently share the 1st place position with the Metea Valley Mustangs