These sophomores are getting their first "REAL" volleyball season in Illinois with no fall season in 2020 and an abbreviated season in the spring of 2021.  Teams are competing against top competition, tournaments are happening, and with that, the top players are rising to the top.  Here are a few sophomores across Illinois who are having a big impact this season. 
Check out my end of the season highlights from Pre-Nationals in Lawrence, Kansas, and AAU Nationals in Orlando, Florida!! https://t.co/myUKKfpfBt

— Emersyn Robbins (@emersynrobbins8) July 23, 2021
Emersyn Robbins – Fairfield
We're heading to the Southern part of the state where we take a look at Emmersyn Robbins one of the top attackers out of the sophomore class in all of Illinois. Fairfield is inbetween Evansville and St. Louis where Robbins has already surpassed over 200 kills, just under 100 digs and is averaging 5.6 kills per set.  She has led the Mules to a 15-4 record overall and has been the key go-to player in all rotations.  She recorded a season-high 19 kills against St. Anthony.  Robbins plays club ball for HPSTL out of the St. Louis area.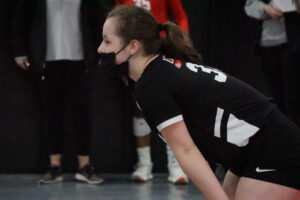 Ellie White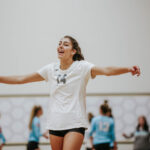 Ellie White 5'11" | RS Mother McAuley | 2024 #52 Nation IL – Mother McAuley
No surprise that Ellie White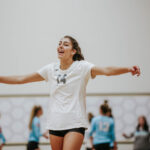 Ellie White 5'11" | RS Mother McAuley | 2024 #52 Nation IL has been off to a hot start for Mother McAuley this season.  She is a double-double machine and extremely versatile with her skill set.  She can set, swing, defend, and do whatever her team needs from any rotation.  She currently is at a hair under 200 kills, 133 digs, 40 blocks, and hitting .331.  Mother McAuley has one loss to an Illinois school with a setback to Joliet Catholic.  Another sophomore to keep an eye on is DS/L, Samantha Falk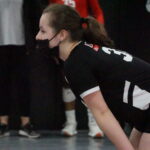 Samantha Falk DS/L Mother McAuley | 2024 IL . I will be looking forward to seeing this squad live when they host the Asics Challenge at Mother McAuely October 1-2. 
Grace Nelson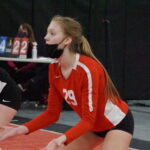 Grace Nelson 6'1" | OH Oak Park River Forest | 2024 #30 Nation IL – OPRF 
Nelson has asserted herself as a top attacker in Illinois in all classes, and in the conversation for being a top outside throughout the country.  She is so well trained, disciplined, and is textbook when it comes to an approach where she can hit a variety of shots.  With all-tournament team honors so far this season, she has been the heavy go-to for OPRF and will use momentum heading into the club season where she will have plenty of schools on her court 
Katherine Scherer – St. Charles North 
Scherer has been a key piece for St. Charles North where she has over 100 kills, good for nearly three per set.  At 6'2 and touching 10'2, Sherer is extremely physical at the net where she can hit over the block, split the block and make it tough for the other side of the net to keep her swing in system.  She was part of the Sports Performance 15 Elite squad last year and will be another where plenty of colleges will have eyes.  Her physicality and overall athleticism gives her a huge upside to work with. 
Megan McNitt – Murphysboro
Another Southern Illinois product is off to a hot start with 132 kills, 96 digs, and a .340 efficiency.  Murphysboro is off to a 10-3 start and McNitt is responsible for 4.5 kills per set and can score in any rotation. 
Not even a half hour into the day and some standouts to report

Grave Nelson – @1stAllianceVBC Lions 15-1
Kinsey Smith Kinsey Smith 5'10" | S Oak Park And River Forest | 2024 IL – @1stAllianceVBC Lions 15-1
Kate Trella Kate Trella RS IL – MOD 15 Blue
Ava Pratt Ava Pratt 6'1" | OH Glenbrook South | 2024 #36 Nation IL – @adversity_vbc pic.twitter.com/NcPUdeAkeV

— Chris Fitzgerald (@PrepDigChris) February 27, 2021
Ava Pratt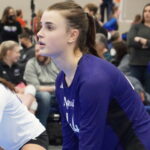 Ava Pratt 6'1" | OH Glenbrook South | 2024 #36 Nation IL – Glenbrook South
Pratt is extremely physical at the net where she is a lethal scoring threat on both pins.  Whether its the left or right side, she can terminate and score points for her team.  She played her 15s club season with Adversity and showed great promise being used in a variety of scoring situations.  So far this season she has tallied 125 kills.  Her physicality will be a huge asset and with an improved backcourt game she can be scoring from anywhere on the floor. 
Emma Hoing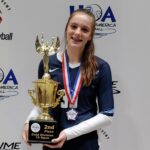 Emma Hoing 5'10" | RS Quincy Notre Dame | 2024 IL – Quincy Notre Dame
Heading to Western Illinois along the river, Quincy Notre Dame is putting together a really strong season where they are off to 14-1 start.  Hoing has been a key piece to this success where she is averaging nearly 2.5 kills per set.  Hoing has been on the Rockwood Thunder Elite squad where they earned an Open bid to USAV Nationals.  Another top attacker for this team is Abbey Schreake who has over 100 kills on the season. 
Megan Holder Megan Holder 5'7" | S Aquin Catholic | 2024 IL – Aquin Catholic
Holder makes something really difficult look relatively easy.  She falls in line with plenty of well trained setters that VC United has produced. Holder keeps it simple with being able to hit all the tempos, can read her matchups, and all her attackers need to do is swing because they know the set will be on the money. She is averaging 10.7 assists per set and has 120 digs on the season, leading Aquin Catholic to a 15-2 start. 
Ella Strausberger – Plainfield North 
Strausburger is running the show for Plainfield North and playing well beyond her sophomore label.  She is a rising 2024 prospect who will have plenty of college coaches on her club court with her ability to lead a high powered squad.  Plainfield North is off to an 18-3 start and she is averaging 10.5 assists per set. They will have an entertaining matchup with a school down the road in Plainfield Central who is 10-1, tonight! 
Ava Novak Ava Novak OH Benet | 2024 IL – Benet 
Novak is another attacker who has the size and athleticism to do some special things for Benet Academy who is always among the best in Illinois and even among the best in the country.  Novak would be the same as one of the best attackers in Illinois as well as the country.  At 6'2 and touching ten feet, she can hit all the angles or use a variety of shots to score points.  She is another one on the list of Class of 2024 prospects who will have a big club season in 2022.