Posted On: 09/12/21 11:48 PM
Region 9 features several talented high school volleyball players from the Class of 2024. 
Here are four 2024 Region 9 players to watch.
Lilly Hamburg is a sophomore middle blocker for Conner High School. A player who moves well from side to side, Hamburg has displayed the ability to close blocks consistently with the opposite hitter and the outside hitter. In addition, Hamburg executes fast attacks regularly. 
Julia Hunt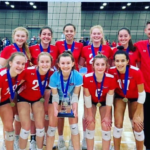 Julia Hunt 6'1" | MB Holy Cross (Covington) | 2024 KY is a sophomore middle hitter for Holy Cross (Covington) High School. Among the top high school volleyball players in the state regardless of class, Hunt is athletic, agile and highly productive. A standout who excels along the middle of the net, Hunt is an experienced leader. 
Kori Reckers Kori Reckers S Newport Central Catholic | 2024 KY is a sophomore setter for Newport Central Catholic High School. Reckers possesses strong communication skills, runs the offense successfully and makes quick decisions on the court routinely. A vocal leader, Reckers digs and pursues well. 
Sadie Smith Sadie Smith S Cooper | 2024 KY is a sophomore libero/defensive specialist for Cooper High School. Smith can deliver as a hitter from both the back row and the front row. Able to set the ball when needed, Smith moves well and covers the court extensively.