One of the best tournaments in the region resumed after a year hiatus last weekend with the Mo/Kan tournament. The tournament features elite teams from both sides of the state line. The action didn't disappoint! The field included teams and programs consistently in the hunt for state championships in their respective states and classes. 
The Field:
Bishop Miege, Blue Springs, Blue Springs South, Blue Valley, Blue Valley West, Carthage, Lee's Summit, Lee's Summit West, Liberty, Liberty North, Olathe Northwest, Park Hill South, Shawnee Mission Northwest,  St. James Academy, St. Teresa's Academy, St. Thomas Aquinas
This challenge will definitely leave you battle-tested at the conclusion. We requested but never did receive the pool results. We did our best to search the team's individual results to get an idea of how the day went. The thing we do know. St. Thomas Aquinas remained hot, taking out Liberty in the championship match. Ava Martin Ava Martin 5'10" | S Bishop Miege | 2024 State #32 Nation KS went for 10 kills in the sweep. Freshman Alea Goolsby Alea Goolsby 5'11" | OH St. Thomas Aquinas | 2025 KS added 6 kills hitting  .455. The Saints also defeated the other Liberty team in North in the semifinals. Martin and Goolsby combined for 17 kills. Sophia Bond Sophia Bond 5'6" | DS/L St. Thomas Aquinas | 2024 State KS and Kelsey Schenck dished out 27 of the team's 30 assists running the office. Liberty North was without dynamic sophomore Carlie Cisneros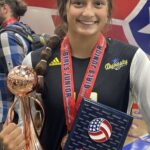 Carlie Cisneros 6'0" | OH Liberty North | 2024 State #6 Nation MO . 
Liberty had an overall strong day despite falling in the championship match. On the day they defeated. Shawnee Mission Northwest, Bishop Miege, Blue Springs South, and Olathe Northwest, The Bluejays are a team playing well, and considering their defeats have come to the hands of Liberty North and St. Thomas Aquinas, they are a team to watch as they begin the second half of the conference season. Recent commits in Ashley Mullen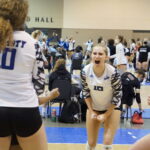 Ashley Mullen 5'10" | S Liberty | 2023 State #7 Nation MO (UCLA) and Madi Corf Madi Corf 5'11" | OH Liberty High School | 2022 MO (San Diego State) are again having strong years. Freshman Abigail Mullen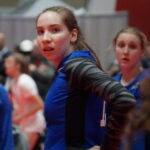 Abigail Mullen 6'1" | RS Liberty | 2025 MO is built differently. 
Olathe Northwest was surprisingly slow out of the gate, dropping their first three matches before finding their stride rattling off four straight heading into the challenge. They dropped their two matches to the two Liberty's but found success against Carthage and Lee's Summit. Sophomore pin Syler Pierce was her typical self, putting down balls throughout the day. She got help offensively from Jillian Huckabey Jillian Huckabey 6'0" | OH Olathe Northwest | 2024 State #63 Nation KS . Senior Emily Slightom Emily Slightom 5'6" | DS/L Olathe Northwest | 2022 State KS was impressive in the backcourt throughout the weekend. 
Lees's Summit dropped a tough three-set match with Liberty North. Junior middle Jordan Stout Jordan Stout 6'1" | MB Lee's Summit | 2023 State MO was electric with 13 kills in defeat. The Tigers would also suffer defeat at the hands of Carthage, Blue Springs South, and Olathe Northwest. Carthage made the journey to Kansas City and got a win against Lee's Summit, which included two tightly contested sets.  Sydnee Duldoski was a force offensively throughout the day for Carthage. Setter Raven Probert had a good showing as well. 
We briefly mentioned Liberty North earlier. They were a little shorthanded but still had the likes of Isabel Zimmerman Isabel Zimmerman 6'2" | RS Liberty North | 2022 State #30 Nation MO and Addison Beagle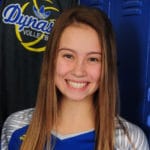 Addison Beagle 5'9" | S Liberty North | 2022 State MO on site for the day. Their only loss was the Aquinas match. They took care of St. James and Olathe Northwest, who will be in the conversation for state championships come November. Senior Ainsley Gardner and Sophomore Kananihokuao Misipeka stepped up throughout the day offensively. 
Based on available information, we are sure St. James defeated Blue Springs South and Bishop Miege. No stats were available but the Miege match was a three-set slugfest. Bishop Miege has struggled to find the win column this season but has been competitive. They dropped matches to Blue Springs South, Liberty, St. Teresa's, and St. James. 
Our second piece will share the other eight teams and their day at the tournament.